Eggs IN Oatmeal? This RD Says It's A Game Changer
Registered Dietitian
By Jessica Cording, M.S., R.D., CDN
Registered Dietitian
Jessica Cording, M.S., R.D., CDN, INHC is a registered dietitian, health coach, and writer with a passion for helping people streamline their wellness routine and establish a balanced relationship with food and exercise.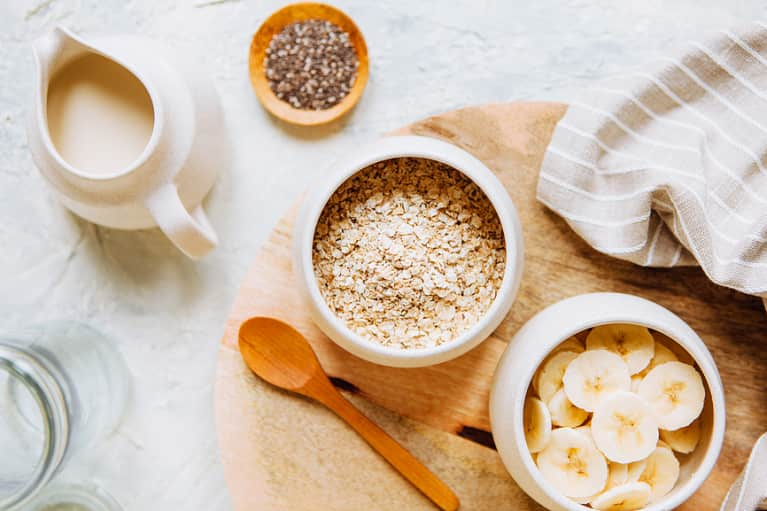 When I was a dietetic intern in the hospital and on my feet most of the day, I found that my usual breakfast of oatmeal with ground flax, fruit, and peanut butter never held me over until even close to lunch. If you've ever wondered what's in those lab-coat pockets, it's snacks.
I've always considered myself something of a mad scientist when it comes to cooking, so I started brainstorming high-protein oatmeal add-ins to give my morning meal more staying power. Protein powder and cottage cheese were a few early favorites, but when I finally gave eggs a try, I knew I'd found my game-changer. The addition of eggs makes for a fluffy, filling bowl of oats that won't make you want to go back to sleep. If you're worried that your oatmeal will taste like a scramble—don't be. Eggs, when whipped into a liquid and cooked slowly, actually turn into custard, which will make your eggs creamy, rich, and super delicious.
I typically use rolled oats because I find them more versatile, but instant or steel-cut work too—just note that cooking times will vary. Most packages of rolled and instant list ½ cup as a serving (¼ cup for steel-cut), but I usually use ⅓ cup (3 tablespoons if it's-steel cut), as it's closer to the 1-ounce USDA serving and leaves a little extra room for a tablespoon of ground flax, which adds a boost of fiber and omega-3 fatty acids. More flavors, more texture, and more nutrients for the same number of calories is a win-win situation in my book.
Here's a blank canvas recipe to get you started.
⅓ cup rolled oats
1 tablespoon ground flax
1 whole egg
⅔ cups water
Bring water to a boil. Lower heat and add the oats and flax.
Cook until liquid is almost fully absorbed.
Add egg and stir in vigorously until mixture begins to look fluffy (1 to 2 minutes). Cover pot and let sit 5 minutes before serving.
In a microwave-safe bowl, mix egg/whites, water, oats, and flax.
Microwave on high in 30-second intervals until cooked through, stirring between to prevent clumping.
One thing I love about oatmeal is how easy it is to customize. Here are a few ways to make it your own:
Use milk instead of water for a creamier texture.
To add sweet flavor without adding sugar, mix in cinnamon, pumpkin pie spices, or cocoa powder, plus vanilla extract.
Try savory spices like turmeric, ginger, garlic powder, and paprika.
As an alternative to ground flax try wheat germ, coconut flour, chia seeds, or hemp seeds. These can be cooked in or mixed in after cooking.
Cook in fruit or veggies. Berries, apples, bananas, plums, peaches, and pear are some great fruit options. On the veggie side, you've got pumpkin puree, grated zucchini, greens, and grated carrots.
Top your bowl with nuts, seeds, or nut or seed butter. Fruit also makes a great topping, or you can use savory oats as a vehicle for leftover veggies, hummus, or cheese. I especially love tahini (ground sesame paste) on savory oats.
Make a large batch of oats and portion it out into single servings. Store cooked oats in an airtight container in the fridge for up to 4 days. When you're ready to eat, microwave in 1-minute intervals until oats reach the desired temperature. Cook once, eat several times—it's a beautiful thing.
Want more #breakfastinspo? Have you ever tried eating the best breakfast for your zodiac sign? Or, if you prefer overnight oats, make sure you're adding THIS ingredient so you're not messing up your gut health!