paid content
 for

Why I Try To Include Hemp Seeds At Every Meal (And Why You Should, Too)
Registered Dietitian
By Rachael DeVaux, R.D.
Registered Dietitian
Rachael DeVaux is a registered dietitian and certified personal trainer living in Seattle, Washington. She has a bachelor's in Dietetics and Clinical Nutrition Services from Oregon State University, and is passionate about helping people look at food in terms of eating for nourishment, fuel and well-being.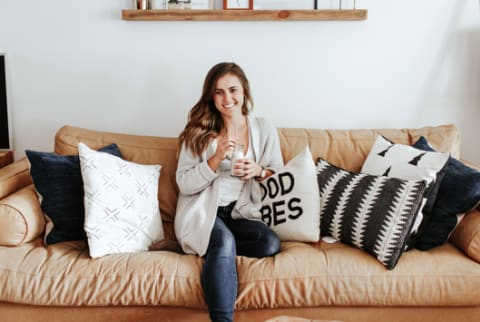 May 23, 2017
Hemp Hearts are considered a nutritional powerhouse for the range of health benefits that they offer the body. If Hemp Hearts (also referred to as hemp seeds) aren't already common in your diet, I would strongly suggest adding them into the mix right away—for their incredible nutrient profile, subtle nutty flavor, and convenience factor.
They top the protein charts.
They contain plant-based protein with 10 grams in just 3 tablespoons (30 grams), and they have almost double the amount of protein found in chia or flaxseeds, which means they provide all 10 of the essential amino acids that we need to obtain through our diet.
These little seeds pack a big nutritional punch.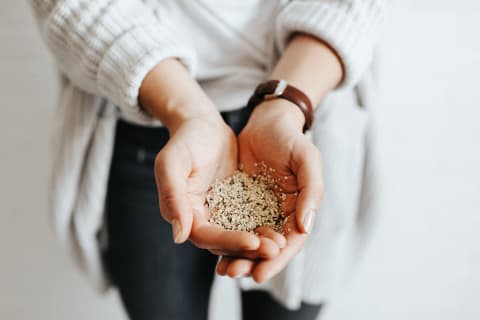 As a registered dietitian, I also love Hemp Hearts because they are rich in omega-3 and omega-6 fatty acids, which are important nutrients that need to be consumed through healthy fats in our diet. In addition to omegas, Hemp Hearts also contain the rare gamma-linoleic acid (GLA), a fatty acid linked with a host of health benefits (talk about a powerful seed!).
For how little they may look, Hemp Hearts sure offer quite the array of vitamins and minerals, including vitamin E, iron, magnesium, zinc, phosphorous, potassium, calcium, and dietary fiber.
Meet your new pantry staple.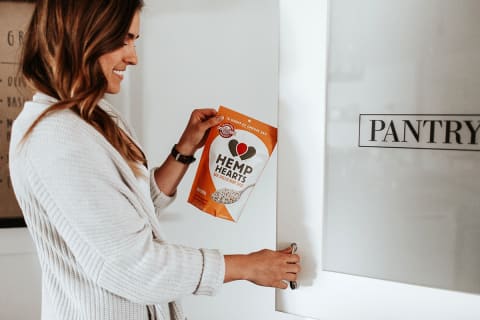 I'm a big fan of Manitoba Harvest Hemp Foods, as they shell their high-quality hemp seeds to reap the benefits of the most nutritious part of the seed: the heart. This process leaves a soft, rich, and nutty addition to any meal. The Hemp Hearts are ready to eat as is—no cooking or preparing is necessary to enjoy. Manitoba Harvest Hemp Hearts are a staple in my pantry (and should be in yours, too!), not only because they are nutritionally one of the highest-quality superfoods but also because they are incredibly versatile and can be added to anything and everything. Just make sure once you open your bag of Hemp Hearts you store them in the fridge or freezer to protect the precious omegas and extend the freshness.
The fun part: How I use Hemp Hearts.
Hemp Hearts can be sprinkled on salads, smoothies, and yogurt, but finding a place for them in your favorite recipes is a must, so get creative!
Two ways I enjoy using Manitoba Harvest Hemp Hearts in my daily life are by making hemp milk with them and by incorporating them into my favorite sauces and dips, like my hemp pesto.
I love pairing the pesto with wild salmon, arugula, and freshly cooked veggies for a meal rich in omegas and protein. I also recently started making my own nut milks from Hemp Hearts, almonds, or cashews, depending on the day. After realizing how simple it is to make (and the difference in flavor!) I've had a very difficult time turning back to store-bought nut milks. Nothing beats homemade hemp milk!
Homemade Hemp Milk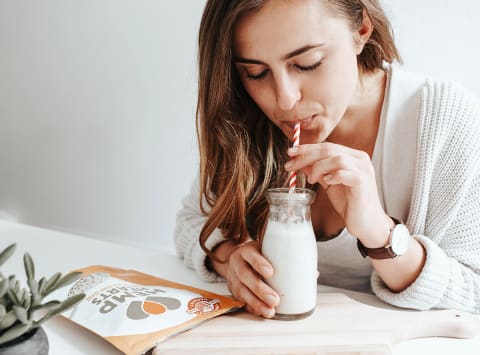 5 cups filtered water
Pinch of sea salt
¼ teaspoon cinnamon
¼ teaspoon vanilla bean
Blend all ingredients in a high-powered blender for 2 minutes (no straining necessary).
Drink as is, or refrigerate for optimal taste. Store in an airtight bottle in the refrigerator for up to 5 days. Makes 7 cups.
Hemp Pesto Baked Salmon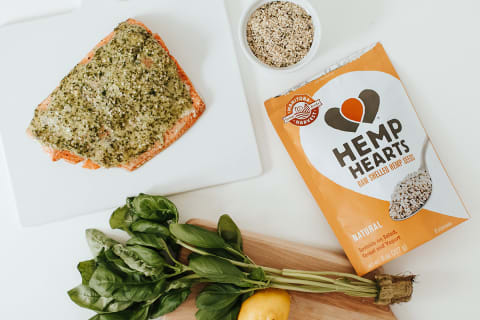 ¼ cup olive oil
1 squeezed lemon
1 tablespoon minced garlic + juice
2 cups fresh basil leaves
1 tablespoon nutritional yeast (optional, for cheesy flavor)
Salt, to taste
Pepper, to taste
2 frozen salmon filets
Preheat oven to 350°F.
Add all ingredients to food processor, excluding salmon, and pulse until a smooth consistency forms. If it comes out too thick, add in water 1 tablespoon at a time.
Rinse thawed salmon and pat dry with paper towel.
Cover baking sheet with parchment paper, lay salmon skin-side down.
Season salmon lightly with oil, salt, and pepper. Spoon on 2 tablespoons of Hemp Pesto and let bake in the oven for 8 to 12 minutes, depending on thickness of filet.
Remove from oven and serve immediately.