The Perfect Weekday Lunch: Kale Avocado Wrap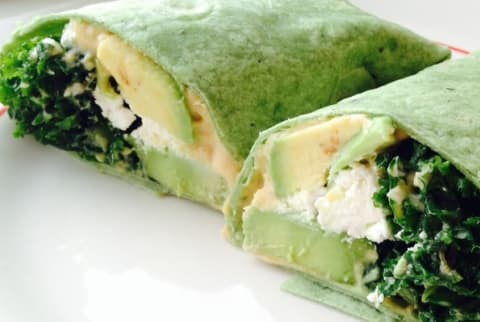 April 17, 2014
This wrap is the perfect weekday lunch. It's quick to assemble and super healthy. It will leave you feeling energized and ready to take on the rest of your day!
1 cup kale, shredded
1 tbsp olive oil
Juice of one lime
1/8 teaspoon salt
1 tbsp hummus
1/2 avocado, sliced
2 tbsp feta cheese (optional)
Spinach wrap
In a small bowl, combine kale, olive oil, lime juice and salt. Massage kale with your hands for two minutes or until it feels soft and not dry. Set aside.
Assemble wrap in the following order: hummus, avocado, feta cheese and finally kale mixture.
Anna Gannon
Anna Gannon is a writer and yoga & meditation teacher. She is the community and social media lead at Expectful, a groundbreaking meditation program for pregnancy and parenthood, where she also hosts the Expectful Podcast. She has a bachelor's in physical education and coaching from Queens College. Her work has been featured on The Huffington Post, Yoga Today, The Expectful Blog, and more.