Hungryroot vs. HelloFresh: Our Editors Tried Both — Here's How They Compare
Written by
Kelsea Samson
Kelsea Samson is a writer, content manager, certified yoga instructor and founder of The Mindfulness Program for Kids and Yoga for the Blind in Tampa, Florida.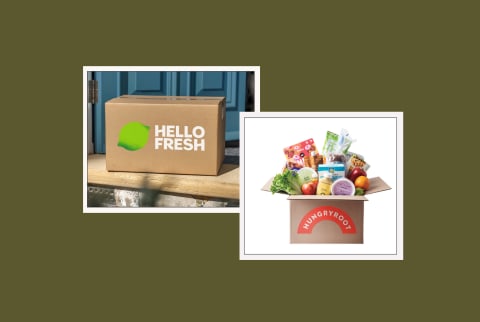 July 24, 2023
We carefully vet all products and services featured on mindbodygreen using our
commerce guidelines.
Our selections are never influenced by the commissions earned from our links.
If you're someone who's short on time, a meal kit delivery service could be just what you need to stay on top of your healthy eating goals. In testing many of the best meal delivery kits, our team is fairly split on Hungryroot vs. HelloFresh. Both enable you to order chef-designed recipe kits and prepared meals directly to your door, giving access to nutritionally sound meals on a decent budget and busy schedule.
Still, every healthy meal delivery service comes with its pros and cons. Need help deciding which meal kit is worth the cost? We've got you covered.
Hungryroot pros & cons:
Pros
Inclusive of many dietary restrictions (i.e., vegan, gluten-free, nut-free)
Recipes come together very quickly with minimal dishes needed
Options to purchase full meals and individual groceries
Mostly organic and well-sourced ingredients
Cons
Excess packaging
Some meals taste like "diet foods" and need extra flavor
HelloFresh pros & cons:
Pros
Over a hundred weekly menu items to choose from
Produce is seasonal and locally grown
Pre-measured ingredients for minimal prep
Cons
Not a lot of organic ingredients
Can't tailor meals to specific allergens
Hungryroot vs. HelloFresh at a glance:
Hungryroot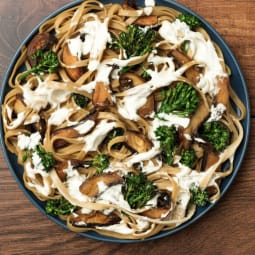 Cost per meal:
From $9.69 a serving
Delivery fee:
Free for orders over $75, $6.99 otherwise
Dietary considerations:
Gluten-free
Nut-free
Pescatarian
Vegetarian
Dairy-free
Vegan
Egg-free
Soy-free
Shellfish-free
What our tester thought:
One of our writers, Sarah Regan, reviewed Hungryroot and, while she found some recipes to be less inventive, she loved the convenience of super short cook times and healthy ingredients.
"Spending an hour in the kitchen after a full day of work just isn't always going to happen. So I found it incredibly helpful to have [recipes] come together in literally 10 minutes," Regan says.
Additionally, Registered Dietician Nutritionist and mindbodygreen's supplements editor, Molly Knudsen, M.S., RDN, reviewed the nutritional label for a Hungryroot recipe praised the fact that it was low in sodium and added sugars, despite including a flavorful sauce.
All in all, if you're interested in quick and healthy recipes, Hungryroot is a service worth trying.
Cost per meal:
From $9.99 per serving
Dietary considerations:
Low-calorie
Pescatarian
Vegetarian
Beef-free
Pork-free
Seafood-free
What our tester says:
Registered Dietician Nutritionist and mindbodygreen's supplements editor, Molly Knudsen, M.S., RDN, tested HelloFresh for herself and has compared it with many other meal delivery services.
Overall, Knudsen enjoyed her meals from HelloFresh and appreciated the flexibility the brand offers to pause and reactivate your account depending on your schedule and needs.
HelloFresh is a great option for couples or for households of up to four people. Similar to Hungryroot, the meals err on the side of familiarity, making it a great choice for people with less experience in the kitchen—but there are some more adventurous options, too.
Advertisement
This ad is displayed using third party content and we do not control its accessibility features.
Hungryroot vs. HelloFresh:
| Brand | Serving price | Max meals per week | Shipping cost | Dietary considerations |
| --- | --- | --- | --- | --- |
| Hungryroot | $10 per serving (average) | 10 | Free | Gluten-free; Nut-free; Pescetarian; Vegetarian; Dairy-free; Vegan; Egg-free; Soy-free; Shellfish-free |
| HelloFresh | From $8 per serving | 10 | $11.00 | Vegetarian; Low-calorie; Low-carb |
How does Hungryroot work?
An all-in-one recipe and grocery service and one of our picks for the 7 best plant-based delivery services, Hungryroot hangs its cap on keeping things simple. The brand's mission revolves around making healthy food easily accessible, ensuring that every recipe can be prepared in under 15 minutes using versatile ingredients.
If you prioritize nutritious meals and want to make healthier choices, Hungryroot's focus on whole foods and its commitment to sourcing organic and sustainable ingredients is bound to align with your dietary goals.
In addition to controlling the number of meals in your box, you also have the freedom to select the specific recipes and meals that you want in your order. With a vast catalog of recipes featuring the same core ingredients, the possibilities are nearly endless—which definitely makes Hungryroot stand out among its competitors.
Upon signing up, Hungryroot gives you a brief survey to identify the best options for your taste preferences, desired cooking time, equipment, and dietary needs.
You'll choose the number of meals you'd like to receive in your initial order (up to 10), which can be adjusted for future orders. For instance, you might opt for four lunches and four dinners for one person in a given week, while the following week, you may prefer three lunches and five dinners for two people.
This subscription model sets Hungryroot apart in the meal delivery industry, as it allows you to customize the plan to suit your needs rather than having to adapt your meals to fit a fixed plan.
Sample Hungryroot menu items:
Sesame Ginger Chicken + Brussels Fried Rice
Turkey Sausage Pizza Stuffed Peppers
Polenta with Plant Based Chorizo
Seared Ribeye + Baby Broccoli
Peanutty Tofu + Broccoli Fried Rice
How does HelloFresh work?
HelloFresh offers many convenient features, including easy-to-follow recipe cards and a user-friendly app to ensure success for your cooking-at-home adventures.
To begin, you'll set your preferences, allowing the system to display the most relevant recipes for you. You can select up to six options, including meat and veggies, just veggies, family-friendly, fit and wholesome, quick and easy, and pescatarian.
Next, you'll choose between a two- or four-person plan, with two to six recipes per week. HelloFresh will populate your meals, based on the preference you've selected and you'll have a designated amount of time to swap meals before your box is scheduled for delivery.
Your first delivery box, containing pre-measured ingredients and recipe cards with nutritional information and step-by-step cooking instructions, typically arrives within a week of placing your order. The box is designed with cooling technology to ensure the ingredients remain fresh for up to 48 hours.
Managing your HelloFresh account is hassle-free. If you need to skip a week or cancel your subscription, you can easily handle it through the mobile app or the website.
HelloFresh provides over 60 recipes each week, categorized by cook time and featuring notable mentions like "Hall of Fame" and "Best of 2022." Descriptors such as calorie smart, carb smart, protein smart, vegan, and more help you find recipes that align with your dietary preferences.
Sample HelloFresh menu items:
Tex Mex Beef & Pepper Enchiladas
Monterey Jack Unfried Chicken
Sweet Chili Pork & Cabbage Stir Fry
Smothered Pepper Jack Burgers
Chicken Sausage Cavatappi Bolognese
Cost of Hungryroot vs. HelloFresh:
Budget is an essential factor to consider when choosing the best meal kit service for you, and Hungryroot and HelloFresh are pretty comparable price-wise.
Hungryroot operates on a flexible pricing structure, allowing you to customize your order based on the number of servings and frequency of delivery. While the Hungryroot prices may be slightly higher than HelloFresh, the ability to personalize your meals and order additional grocery items adds value to the overall experience.
HelloFresh offers several subscription plans based on the number of servings and recipes per week. The pricing is competitive, and the meals often cost less per serving compared to eating out or ordering takeout. HelloFresh often offers promotions and discounts, making the service even more affordable.
In terms of delivery, Hungryroot provides free shipping, while HelloFresh costs about $11 per delivery.
Hungryroot costs:
3 meals of 2 servings each: $68.34, $273.36 per month, $11.39 per serving
2 meals of 4 servings each: $82.32, $329.28 per month, $10.29 per serving
Shipping cost: Free for orders over $75, $6.99 otherwise
Hello Fresh costs:
3 recipes of 2 servings each: $59.94, $239.76 per month, $9.99 per serving
2 meals of 4 servings each: $78.32, $313.28 per month, $9.79 per serving
Shipping: around $8.99 depending on your area
Hungryroot vs. HelloFresh: Dietary considerations
Everyone thrives on different eating styles, so variety and dietary considerations are other key factors to consider when choosing a meal kit service.
Hungryroot differentiates itself by focusing on plant-based, gluten-free, and allergen-friendly meals. The extensive range of options includes ready-to-eat meals, snacks, and grocery items.
Additionally, Hungryroot emphasizes customization, allowing you to personalize your orders based on your preferences and dietary restrictions. For example, you can select whether you're vegan, vegetarian, gluten-free, dairy-free, etc., as well as if you have any allergies. The filter also lets you choose what kinds of meals you gravitate toward, whether it's smoothies or stir-fries, so Hungryroot knows what to recommend to you.
HelloFresh offers a wider variety of meal choices, including options for meat lovers, vegetarians, and families. The recipes are designed to cater to different tastes and dietary preferences, providing a broader selection overall. Still, customization options are a bit limited compared to Hungryroot.
Hungryroot vs. HelloFresh: Comparing the ingredients
When it comes to ingredients, both services strive to provide fresh and high-quality products. Hungryroot focuses on sourcing organic, sustainable, and locally grown ingredients, with an emphasis on plant-based and whole foods. The brand also offers a range of pantry staples, such as sauces, grains, and snacks, to complement its meal offerings.
HelloFresh prides itself on delivering fresh, pre-measured ingredients sourced from trusted suppliers. While there is not a specific emphasis on organic or local ingredients, HelloFresh does use some organic ingredients like local and seasonal produce, and our testers found that the food always arrived at peak freshness.
Hungryroot vs. HelloFresh: Sustainability & environmental impact
HelloFresh states that its produce has a "31% lower life-cycle carbon footprint than those of the same size from a supermarket," according to an analysis the company published in 2022. We love that the company uses recyclable boxes and packaging (the only thing you can't recycle are the water liners).
On the other hand, Hungryroot aims to prioritize sustainability by utilizing as many non-GMO products as it can. What's more, the service makes a plant-based lifestyle more accessible, which is proven to have a positive impact on climate change.
Hungryroot shipping materials are also 100% curbside recyclable, and the ice packs used in the packaging are made of a liquid that can be used as plant food, and the packaging itself is recyclable.
Hungryroot vs. HelloFresh: Our verdict
Hungryroot is an excellent option for individuals who prioritize healthy, plant-based, gluten-free, and allergen-friendly meals. If you're seeking convenient, customizable, and health-focused meal solutions or if you fall into any of the categories mentioned below, Hungryroot can provide a valuable service to support your dietary needs and lifestyle.
Plant-based, vegetarian, gluten-free, dairy-free, and allergen-free lifestyles will love Hungryroot's customization and filter features, plus busy people who want health-conscious meals in 15 minutes or less. The recipes are tasty but do lean more toward tasting "healthy" than being like comfort food.
In contrast, HelloFresh's 100+ weekly menu items offer a range of comfort foods with options for health-conscious eaters as well. You can select meals labeled "calorie smart," "carb smart," or "protein smart" to align with your specific dietary goals.
Additionally, the use of fresh ingredients and the ability to control portion sizes allows you to make healthier choices while still enjoying flavorful meals. HelloFresh is also an excellent choice for busy individuals, novice cooks, variety seekers, health-conscious eaters, and those with larger family sizes.
It's worth noting that HelloFresh may not be the best fit for individuals who prefer full customization or have very specific dietary restrictions that cannot be accommodated by the available meal options.
Are meal kits worth the money?
Depending on your preferences, dietary needs, and budget, meal kit services have some standout benefits that make grocery shopping and meal prepping feel like a thing of the past.
One primary advantage of meal kits is the timesaving convenience. By providing pre-portioned ingredients and step-by-step recipes, meal kits streamline the cooking process, eliminating the need for extensive meal planning and ingredient preparation.
If you value your time and find meal planning and shopping to be time-consuming, the convenience offered by meal kits can make them worth the investment.
Plus, meal kits often come with precisely measured ingredients, minimizing food waste. Unlike traditional grocery shopping, where you may end up purchasing more ingredients than you need for a single meal, meal kits help prevent excess food from going unused. This can be financially advantageous, as you won't be throwing away unused ingredients, saving you money in the long run.
All in all, Hungryroot and HelloFresh are worthwhile investments if you value convenience, efficiency, reduced food waste, culinary exploration, and the ability to customize meals. It's important to consider your budget, lifestyle, and cooking preferences to determine if meal kits align with your needs and are worth the cost.
FAQ:
Can I lose weight on Hungryroot?

Most recipes are low to moderate calories (about 400 to 600 calories) and appropriate for some weight loss goals, depending on the person. Many high-protein recipes are available, as well as moderate to low carb.
How much does Hungryroot cost?

It depends on how much you order and what you order, but the average cost is from $9.69 per serving, which is comparable and even less expensive than some meal kit delivery services.
How much is HelloFresh for 2 meals a week?

As one of the most affordable meal kit services on the market, you can receive two meals of four servings for $78.32, which totals out to $313.28 per month and $9.79 per serving.
Is Hungryroot weekly or monthly?

Your account is set to delivery on a weekly basis, though you're always welcome to skip a delivery or pause your subscription. Just make sure to do so before your delivery finalizes so you don't get charged!
The takeaway
Choosing between Hungryroot and HelloFresh ultimately depends on preference. Hungryroot excels in offering plant-based and allergen-friendly options with a strong emphasis on customization. On the other hand, HelloFresh provides a wider range of meal choices and greater culinary exploration. Whichever way you slice it, the convenience of having meal kits delivered to your door is pretty unbeatable. These services make eating healthy easy and budget-friendly. Need more meal delivery options? Check out our comparison of Blue Apron and Home Chef.
Meet The Experts
Kelsea Samson
is a writer, content manager, certified yoga instructor and founder of The Mindfulness Program for Kids and Yoga for the Blind in Tampa, Florida.