Close Banner
Advertisement
This ad is displayed using third party content and we do not control its accessibility features.
A Full Review Of HelloFresh, From A Registered Dietitian

Registered Dietitian Nutritionist
By Molly Knudsen, M.S., RDN
Registered Dietitian Nutritionist
Molly Knudsen, M.S., RDN is a Registered Dietician Nutritionist with a bachelor's degree in nutrition from Texas Christian University and a master's in nutrition interventions, communication, and behavior change from Tufts University. She lives in Newport Beach, California, and enjoys connecting people to the food they eat and how it influences health and wellbeing.
We carefully vet all products and services featured on mindbodygreen using our
commerce guidelines.
Our selections are never influenced by the commissions earned from our links.
As a registered dietitian, I strive to curate a balanced plate at a reasonable cost. I enjoy cooking the majority of my meals at home, but my creativity in the kitchen has recently been lacking. That, plus my lack of time in the evenings, made me jump at the chance to try a week's worth of meals from HelloFresh.
Meal delivery services aim to take some of the guesswork, hassle, and monotony out of food prep. New to the meal delivery scene, I was eager to see whether HelloFresh could streamline my dinner routine and provide nourishing entrees.
Below, find my honest review of HelloFresh and more details on the meals I tried.
What is HelloFresh?
One of the most well-known meal kit delivery services, HelloFresh offers a flexible and commitment-free subscription plan, with weekly shipments of pre-portioned ingredients and easy, step-by-step recipes to prepare meals at home. HelloFresh delivers the exact pre-portioned amount of groceries (including produce, proteins, grains, spices, herbs, and sauces) you need to create chef-curated recipes at home. Keep in mind, you'll still need some pantry staples and basic cooking equipment to prepare your meals.
When you sign up for HelloFresh, you'll be prompted to select a meal plan (more on those options later). Once your account is activated, you'll choose your first week of recipes. HelloFresh offers an extensive rotating menu with over 20+ chef-designed recipes on the menu each week. The app and the website are both very easy to navigate, and you can use either platform to pick your weekly recipes.
As a member, if you would like to skip a week or cancel your subscription for any reason, you can do so through your account settings, without any penalty.
How much does HelloFresh cost?
Your weekly cost will depend on your chosen number of meals per week (2 to 6) and portions per meal (2 or 4). In general, the cost per serving of HelloFresh meals ranges from $9 to upward of $12. There's typically a flat delivery fee of $10 per box. However, right now you can get your first box shipped for free, plus 10 free meals and 3 surprise gifts. HelloFresh is a lower-cost option compared to prepared meal delivery services from brands such as Trifecta or Territory, which typically range from $12 to $17 per meal.
Here's a more detailed breakdown of HelloFresh's subscription costs:
2 recipes of 2 servings each: ~$50 per box; ~$12 per serving
3 recipes of 2 servings each: ~$60 per box; ~$10 per serving
6 recipes of 4 servings each: ~$216 per box; ~$9 per serving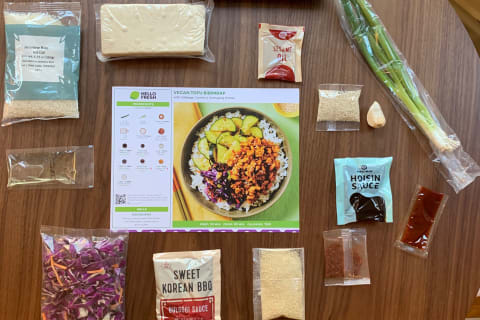 The meal selection process.
When you create your account, you can select up to six preferences for your plan. Based on these selections, the brand will recommend relevant recipes each week. But don't worry, your selections aren't set in stone—they can be updated at any time in your account details.
Meat & Veggies: Recipes that include meat, poultry, and vegetables (e.g., Chicken & Maple Carrot Power Bowls)
Veggie: Vegetarian, plant-based meals and may offer some vegan options (e.g., One-Pot Chickpea, Kale & Tomato Soup)
Family-Friendly: Meals that are more likely to be kid-approved and that are easy and speedy for caregivers to prepare (e.g., BBQ-Rubbed Chicken)
Fit & Wholesome: Calorie-conscious options that contain 650 calories or less per serving (e.g., Cranberry Dijon Pork Tenderloin)
Quick & Easy: Recipes that can be prepared in 30 minutes or less (e.g., Thai-Spiced Pork Meatballs)
Pescatarian: Recipes featuring seafood protein options, not meat or poultry (e.g., Spice Market Coconut Salmon)
Each week, there are over 50 menu and market options available to choose from, which rotate every week. There are typically a few "Hall of Fame" recipes (HelloFresh fan favorites) featured on the menu, too. Every recipe contains tags to help easily identify those that are "carb smart," veggie-focused, spicy, seasonal, Mediterranean, quick, and easy prep/cleanup.
In addition to the number of recipes you get each week as a part of your subscription, you can also purchase add-ons including soups, breakfasts, bakery items, flatbreads, lunch specials, and seasonal treats. Personally, I found the number of options a bit overwhelming. I stuck with HelloFresh's most popular plan: 3 recipes of 2 servings each.
How the meals arrived.
I was not home when the box was delivered, but the insulation and ice packs kept the food chilled and safe until I returned home to store the items. Along with the ingredients, there were printed recipe cards with step-by-step instructions for preparing the meal, with helpful cooking tips and descriptions of the pantry items and equipment that I'd need. This information is also available online during the recipe selection process, so there won't be any surprises in terms of additional ingredients needed.
Inside the box, the ingredients were grouped by recipe. I appreciated small touches such as the "cook me first" sticker on the trout, which let me know it likely had a sooner "best by" date than the other main ingredients.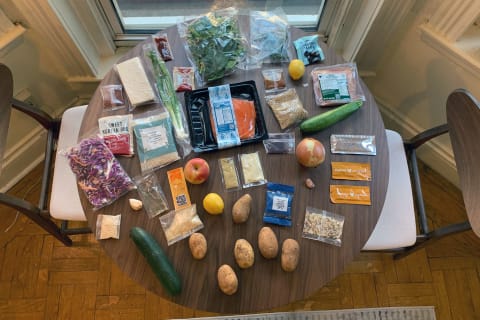 Every meal I tried.
I don't have any allergies or intolerances, and I don't adhere to a specific diet. I did, however, want to select options that had a balance of protein, complex carbs, and vegetables. This unfortunately excluded almost every pasta recipe.
After considering the abundance of options, I landed on the below meals (one meat, one fish, and one vegan recipe):
Apricot-sumac chicken with roasted zucchini, lemony bulgur & almonds
Pecan-crusted trout with apple-studded salad & thyme-roasted potatoes
Vegan tofu bibimbap with cabbage, carrots & gochujang pickles
Each of my recipes was equally easy to prepare and clean up. Every meal was tasty, but the one that surprised me the most was the vegan tofu bibimbap. The sauce was bursting with flavor, and the gochujang pickles packed the perfect amount of spice. The leftovers kept well in the refrigerator, too—which I learned when I devoured them for lunch the next day. This recipe exposed me to ingredients and flavors that I don't typically cook with, such as tofu, gochujang, and bulgogi sauce.
The apricot-sumac chicken also expanded my palate. The tartness of the Middle Eastern sumac spice paired nicely with the apricot jam, and the meal was warming and comforting on a brisk fall day.
The trout dish was the most simple, and while I enjoyed the flavors, (and even saved the recipe card to recreate it) I was left wishing that I had selected a more adventurous recipe.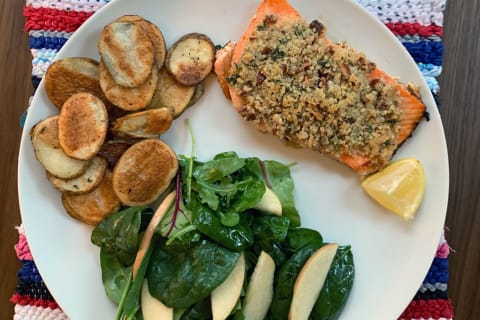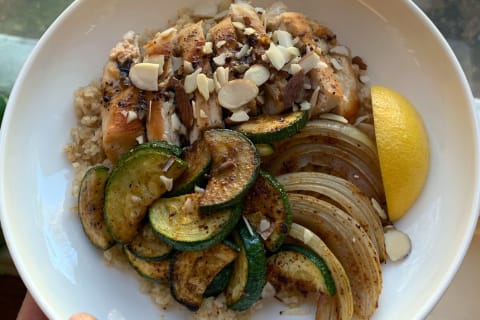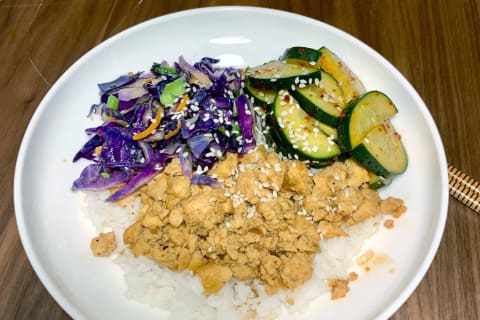 What about dietary preferences?
The HelloFresh menu does not account for many dietary preferences. There is a Veggie menu plan, but many of those meals have animal products (such as cheese), and the fully vegan options are limited. The Fit & Wholesome meals offer lower-calorie menu items—but, depending on your calorie needs as well as your other food intake throughout the day, a 650-calorie dinner may still be more than what you want to allot to a single low-calorie meal. Most meals range from 700 to 1,200 calories per serving.
HelloFresh is not suitable for people who follow a ketogenic or low-carb diet. There are some carb-smart choices, but according to the nutrition breakdown, it still looks like meals still contain 30 to 40 grams of carbohydrates per serving. Recipes are tagged when they align with the Mediterranean diet, although there are typically only two to three recipes per week with that tag.
While HelloFresh discloses common allergens and gluten for each recipe, there are no dedicated allergen-free or gluten-free menus.
HelloFresh seems most suitable for people with flexible eating patterns, like me, and for families with kids, who will likely enjoy many of the menu items. If you're looking for keto, paleo, Whole30, gluten-free, or vegan-specific meal kits, you're better off looking elsewhere.
Is HelloFresh sustainable?
I was pleased with the quality of the ingredients in my HelloFresh box, especially the fresh produce and proteins. Besides the apple, all of the produce arrived undamaged (I luckily had another apple on hand to use for the salad in the trout recipe) and kept until I was able to prepare the recipe.
While some ingredients are, not all of the food is organic. Instead, HelloFresh sources ingredients from environmentally responsible suppliers. The brand's website calls out The Better Fish ®, Wonderful Citrus, and Colavita brands, as well as the chicken welfare policy.
Meal kit deliveries are notoriously known for their excess packaging. However, much of HelloFresh's packaging is recyclable. Here's a full list of which materials you can recycle:
Plastic food wrap with the numbers 2 or 4 printed on it
Insulation (from the box)
The boxes themselves (which are also made from recycled content cardboard and can even be composted)
Ice packs (after a little prep work)
One potential benefit of HelloFresh (and other meal delivery kits) is the potential to reduce household food waste. At the end of my test week, I wasn't throwing away bags of unopened greens and unused spices, nor was I hoarding containers of sauces that would sit in my refrigerator until their expiration. Every ingredient portion from my box was used.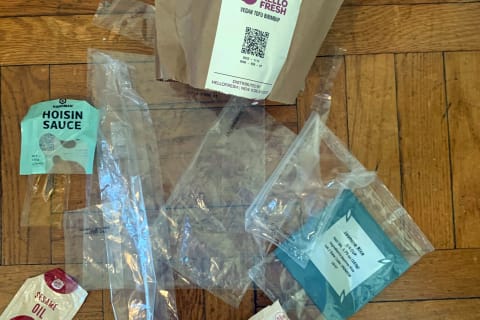 HelloFresh packaging wrappers
Image by mbg creative
Is HelloFresh worth it?
Who should try it.
Based on my experience, HelloFresh seems best suited for those without strict dietary preferences or food allergies, or for people who loathe grocery shopping but want motivation and support to cook more meals at home. HelloFresh may also be appropriate for families of 3 or 4, if you choose the 4-serving plan.
Who should skip it.
People with food sensitivities or allergies or specific dietary preferences may feel more comfortable with a different meal kit service that specializes in those eating patterns. That said, if you don't mind sifting through the recipe banks, you could find options that fit a loose criteria. People who follow keto, paleo, or Whole30 may struggle to find recipes that work for them through HelloFresh. It's also not ideal for individuals who live alone and do not want leftovers.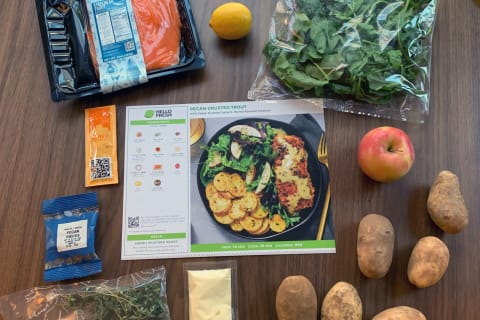 FAQ
What's the difference between HelloFresh and Blue Apron?

HelloFresh and Blue Apron are both meal kit delivery services. Each one offers a large rotating menu and is similarly priced when it comes to meals and shipping. Blue Apron also offers ready-to-cook, heat & eat, and wine options.
What's the difference between HelloFresh and Home Chef?

Home Chef is also a meal kit delivery service. Unlike HelloFresh, Home Chef's largest meal kit offering allows you to choose recipes for six people and up to six meals per week—potentially making it a more family-friendly choice than HelloFresh. Home Chef also offers oven-ready (pre-portioned ingredients in an oven-safe tin), grill-ready, and fast & fresh (microwave or oven-ready) meals.
What's the difference between HelloFresh and EveryPlate?

EveryPlate is a meal kit delivery service that is owned by HelloFresh. It's a lower-cost alternative to HelloFresh, so instead of paying $8 to $12 per serving, you can expect to pay around $5 to $7 per serving.
Is HelloFresh healthy?

Compared to most takeout options, HelloFresh meals can be considered healthy. The Fit & Wholesome HelloFresh plan options lets you choose from meals that have around 650 calories or less per serving, and vegetarian and pescatarian options prioritize recipes with vegetables and lean protein sources.
How do I cancel HelloFresh?

You can cancel your HelloFresh subscription at any time. Just log into your account, click your name in the upper right corner and then click on account settings. Then find the Plan settings page to select "Cancel Plan," which can be found under the status section.
Our final verdict.
Overall, I enjoyed HelloFresh and I appreciate the flexibility of knowing I can reactivate my account if I find myself in another cooking rut. It's a great option for couples or households that have 2 to 4 people, who want to cook and eat more at home, and who don't mind paying prices just shy of takeout to do so. The meals are tasty, and while there are some more adventurous options, many recipes err on the side of familiarity—making it a great choice for people without a ton of cooking experience. PSA: If you sign up now, you can get 10 free meals + free shipping + 3 surprise gifts.
Watch Next
Enjoy some of our favorite clips from classes
Watch Next
Enjoy some of our favorite clips from classes
What Is Meditation?
Mindfulness/Spirituality | Light Watkins
Box Breathing
Mindfulness/Spirituality | Gwen Dittmar
What Breathwork Can Address
Mindfulness/Spirituality | Gwen Dittmar
The 8 Limbs of Yoga - What is Asana?
Two Standing Postures to Open Up Tight Hips
How Plants Can Optimize Athletic Performance
What to Eat Before a Workout
How Ayurveda Helps Us Navigate Modern Life
Messages About Love & Relationships
Love & Relationships | Esther Perel
Love Languages
Love & Relationships | Esther Perel
Related Videos (10)
What Is Meditation?
Box Breathing
What Breathwork Can Address
The 8 Limbs of Yoga - What is Asana?
Two Standing Postures to Open Up Tight Hips
How Plants Can Optimize Athletic Performance
What to Eat Before a Workout
How Ayurveda Helps Us Navigate Modern Life
Messages About Love & Relationships
Love Languages
Advertisement
This ad is displayed using third party content and we do not control its accessibility features.
More On This Topic
more Food
Advertisement
This ad is displayed using third party content and we do not control its accessibility features.
Advertisement
This ad is displayed using third party content and we do not control its accessibility features.