An Honest Review Of Territory Foods, From A Meal Delivery Skeptic

Editorial Operations Manager
By Emily Kelleher
Editorial Operations Manager
Emily Kelleher is the editorial operations manager at mindbodygreen. Her work has appeared in Shape, Well + Good, Greatist, Romper, Fatherly, and more.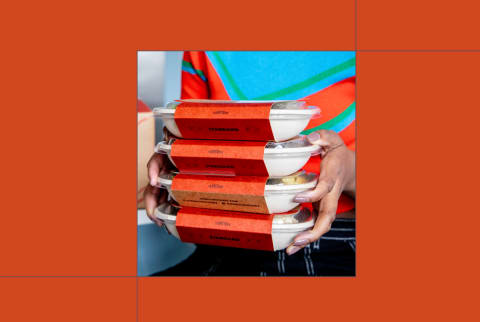 November 9, 2022
We carefully vet all products and services featured on mindbodygreen using our
commerce guidelines.
Our selections are never influenced by the commissions earned from our links.
As someone who unwinds by making an elaborate dinner after a long day of work, I'm not your standard candidate for a meal delivery service. Aside from being a vegetarian, I'm a fairly adventurous eater, so most of the meals I've seen offered by delivery services sound, frankly, uninteresting. Put simply: I'm just not a meat-and-potatoes kind of girl. All that considered, it's hard for me to justify the extra packaging and cost just to have my carrots pre-chopped and my spices pre-measured.
But when I found out that Territory works with local chefs and registered dietitians to develop its recipes, and the opportunity came up for me to try meals like miso pesto ramen and cashew kale caesar, I couldn't turn it down—especially when I saw the number of vegetarian options!
Keep reading for my honest review.
How does Territory work?
Territory foods is a meal delivery service that works with registered dietitians to source premade meals from local chefs, small businesses, and restaurants in the area. The menu available in my Brooklyn ZIP code included options from Springbone Kitchen, a health-focused bone broth company with several restaurants in New York; LP's Kitchen, a New Jersey–based meal prep small business; and The Well, a trendy, integrative medicine spa.
There's no subscription or commitment required for Territory's meal programs—just choose between two, four, six, or 12 single-serve meals per week. The meals are delivered to your door, requiring just a minute or two in the microwave before they're ready to eat. Deliveries occur twice per week to ensure the freshest ingredients.
If you do sign up for a subscription, Territory will prompt you to rate your meals each week and will then preselect menu options based on your feedback. You can edit these selections as well, but it's nice to know that if you forget, your meals will be tailored to your preferences. Menus rotate each week, featuring up to 90 different items, and incorporate ingredients in season in your area.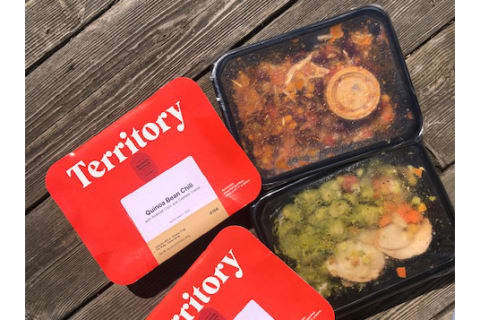 How much does Territory cost?
Prices vary by meal, which range from $14.95 to $16.95 per serving (less for à la carte items, like carrot cake muffins and cold brew). Delivery is a flat fee of $7.95 with a $1 upcharge if you live in New York or San Francisco.
Territory is definitely unique in not requiring a subscription to order, making it a great option for someone who wants to try something new without committing to a full meal plan. Those who do choose to subscribe receive a 5% discount and can pause or cancel their subscription at any time.
Dietary considerations.
Territory has one of the most robust offerings I've seen in terms of dietary restrictions. The meal options can be filtered for paleo, low carb, plant-based, keto-friendly, Whole30, Mediterranean, pre/postpartum, and under-500-calorie meals. Regardless of your selection, every menu item is made without gluten, dairy, or refined sugar.
As a vegetarian, I found there were plenty of satisfying choices. The meals were lower carb than I'm used to, but they didn't leave me unsatisfied. However, I will note that options for keto and paleo folks were fairly limited during the week I tried Territory—only four paleo and two keto meals were available.
Quality & sustainability.
Territory packaging is made from recycled materials, and the preassembled selection needs less packaging than most meal kit delivery services.
I also loved seeing familiar businesses on the menu because it made me confident that my food was local—as opposed to other companies that source ingredients from one centralized location, regardless of where the meals are traveling. To go the extra mile, Territory purchases carbon offsets supporting projects for reforestation for all their local deliveries.
As far as ingredients go, Territory prioritizes noninflammatory options, meaning the meals are rich in produce, high-quality proteins, and whole grains. As mentioned, they also skip gluten, dairy, processed oils, and refined sugar. All animal proteins are raised without antibiotics or hormones, and seafood is sustainably farmed. The company uses only non-GMO corn and soybeans, due to the undesirable environmental impact of GMO corn and soybean crops.
The exact meals I tested.
I tried the quinoa bean chili and the ginger-peanut chickpeas with braised sesame cabbage and garlic broccoli. The chili was flavorful and fresh, and the chickpeas were served in a silky sauce that I will definitely be attempting to recreate at home. Some premade meal services can be skimpy on serving size, so I doubted that I'd walk away full, and fully prepared to supplement my meals.
However, I was pleasantly surprised by how filling both of these meals were, especially considering my vegetarian restrictions and the fact that Territory's meals are gluten- and dairy-free.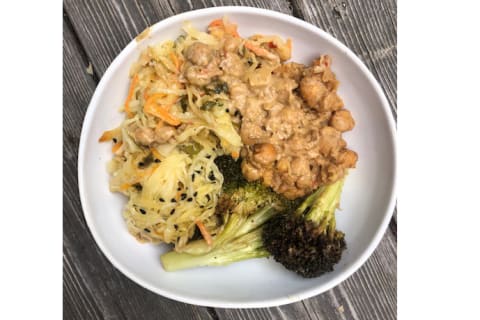 I had my roommate try the cauliflower gnocchi primavera with broccoli pesto, and she said it surpassed her favorite Trader Joe's cauliflower gnocchi by a long shot.
The only downside of Territory, as far as I can see, is that because it's premade, the act of preparing your meals can feel a bit lackluster, as if you're just heating up leftovers (albeit chef-prepared ones). The twice-weekly deliveries do help ensure you're not eating meals past their prime (so long as you eat them soon after delivery), but if you're someone who has a hard time eating anything that wasn't prepared that day, this might not be the best meal delivery service for you.
Our Final Verdict
Territory Foods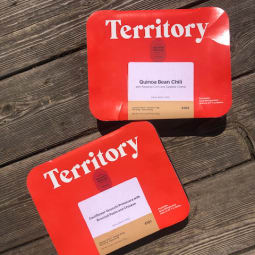 Pros:
Creative, flavorful meals
No subscription required
Cons:
Limited options for some diets
More expensive
Dietary restrictions:
Gluten free
Dairy free
Plant based
Keto
Paleo
Low carb
Mediterranean
Low calorie
Price:
$15 to $17 per meal
Shipping fee:
$8 ($9 for NY or SF)
Who should try it:
As far as meal delivery services go, Territory definitely delivers some of the highest-quality meals out there. If you're looking to have chef-made meals delivered to your door and are willing to pay for it, this is the meal delivery service for you. What's more, I love that no subscription is needed.
Who should skip:
Territory foods might not be the right choice for people following a strict keto or paleo diet since it offers fewer menu items in these categories. It's also not ideal for those who dislike the taste of a reheated meal.
FAQ
Territory vs. Freshly

Territory and Freshly have a similar model, with both delivering premade meals that require only reheating. The services differ in dietary content, with all Territory meals being gluten-, dairy-, and refined-sugar-free.

Territory meals tend to cater to a more sophisticated palate, which, of course, comes at an additional cost. While 12 meals per week from Freshly come out to about $10 per meal, Territory meals range from $15 to $17 each.

Territory does not require a subscription, whereas Freshly does. Freshly is likely the best option for busy families, whereas Territory is better suited for those who live alone, have specialized diets, or don't want to commit to a subscription.
Where does Territory deliver?

Territory is currently available in New York City and some surrounding suburbs, Los Angeles, San Francisco, parts of Virginia, Houston, Dallas, Atlanta, Baltimore, Phoenix, Philadelphia, San Diego, and Orange County, California.
The takeaway.
Territory foods delivers creative, balanced, premade chef- and dietitian-developed meals straight to your door—and I think the flavors and convenience justify the price. After all, it converted this meal delivery skeptic into a fan. Try it out yourself, or discover more of our favorite meal delivery services, if you want something quick and easy.
Meet The Experts
Emily Kelleher
is the editorial operations manager at mindbodygreen. Her work has appeared in Shape, Well + Good, Greatist, Romper, Fatherly, and more.