HelloFresh vs. Green Chef: How The Healthy Meal Delivery Services Compare

Registered Dietitian Nutritionist
By Molly Knudsen, M.S., RDN
Registered Dietitian Nutritionist
Molly Knudsen, M.S., RDN is a Registered Dietician Nutritionist with a bachelor's degree in nutrition from Texas Christian University and a master's in nutrition interventions, communication, and behavior change from Tufts University. She lives in Newport Beach, California, and enjoys connecting people to the food they eat and how it influences health and wellbeing.

Expert review by
Jaime Schehr, N.D., R.D.
Naturopathic Physician and Registered Dietitian
Jaime Schehr, N.D., R.D., is a nationally recognized expert in integrative medicine and nutrition, based in New York City. She holds dual licenses as a naturopathic physician and a registered dietitian, from University of Bridgeport and University of Nebraska respectively.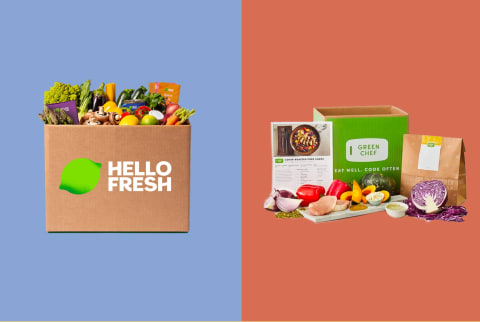 April 21, 2023
Our editors have independently chosen the products listed on this page. If you purchase something mentioned in this article, we may
earn a small commission
.
There's no shortage of meal kit delivery services to choose from. HelloFresh launched in 2012 as one of the first big players on the scene and has since acquired other meal delivery services, including Green Chef, a popular choice for people who value clean eating and ethically sourced ingredients. As a registered dietitian, I was eager to compare HelloFresh and Green Chef.
So what's the difference between these two? And which one is right for you? I tested a week's worth of both—and today, I'm sharing all the details on cost, recipe variety, dietary considerations, ease of preparation, quality of ingredients, and overall taste.
Advertisement
This ad is displayed using third party content and we do not control its accessibility features.
HelloFresh at a glance
Meals per week: 2 to 6 meals per week
Cost per meal: from ~$9 per serving
Delivery fee: $10 delivery fee
Pros:
30+ new meals each week
Offers family-friendly and quick and easy meals
Cons:
Doesn't accommodate allergens
Limited organic ingredients
Who should try it?
Busy families/couples
People who don't like grocery shopping
Picky eaters
Who should skip it?
People with severe food allergies
People who prioritize organic ingredients
Advertisement
This ad is displayed using third party content and we do not control its accessibility features.
Green Chef at a glance
Meals per week: 2 to 4 meals per week
Cost per meal: from ~$12 per serving
Delivery fee: $10 delivery fee
Pros:
Certified organic produce and eggs
Meals can serve up to 6 people
Cons:
Pricier than other meal plans (including HelloFresh)
Who should try it?
People who prioritize organic ingredients
People who don't like grocery shopping
Couples or larger families
Who should skip it?
People with severe food allergies
Those on a tighter budget
Advertisement
This ad is displayed using third party content and we do not control its accessibility features.
How does HelloFresh work?
To sign up for HelloFresh, you'll just need to head to the brand's website, where you'll first be prompted to customize your preferences. HelloFresh has plans for the below dietary categories:
Meat & Veggies
Veggie (vegetarian and some vegan options)
Family-Friendly
Fit & Wholesome
Quick & Easy
Pescatarian
Advertisement
This ad is displayed using third party content and we do not control its accessibility features.
Next, you'll select how many meals (2 to 6) you wish to receive each week, and for how many people (2 or 4). The price per box depends on these numbers (more on that later). Before you finish and pay, you're able to see the soonest delivery date available for your box. Once your account is set up, you can then select the specific recipes you want for your first week.
Recipes will be suggested based on the dietary preferences you selected at the beginning, but you'll still have access to choose from all available recipes for that week. Plus, you can always update your meal preferences in your account later.
Each meal delivery box is insulated and contains ice packs to keep ingredients chilled and fresh during transportation. Printed recipe cards for your selected meals are included in the box—and the recipes are also available online, in case you accidentally throw those materials out.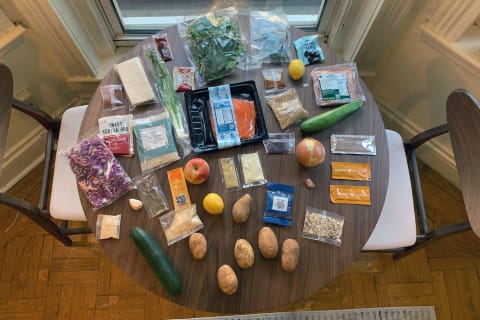 HelloFresh ingredients
Image by mbg creative
How does Green Chef work?
The Green Chef sign-up process is very similar to HelloFresh. To start, you can pick from these dietary preferences:
Protein-packed
Keto
Vegetarian
Vegan
Mediterranean
Fast & Fit
Gluten-free
Advertisement
This ad is displayed using third party content and we do not control its accessibility features.
Plan sizes range from 2 to 4 meals per week for 4 or 6 people, meaning you can feed a larger family than with HelloFresh, but you can't select as many meals per week.
In terms of shipping, the ingredients also arrive in an insulated box. Many ingredients for Green Chef meals arrive pre-measured and pre-prepped (think already cubed butternut squash), which is incredibly convenient and cuts back on food waste.
In my experience, the ingredients from both services were high quality and arrived fresh, even though both were delivered when I was out of the house.
How the costs compare
Green Chef meals are a bit more expensive than HelloFresh. The cost per serving falls between $12 and $14, whereas HelloFresh meals typically range from $9 to $12 per serving. Note, both services do charge a flat shipping fee of around $10 per box.
Here's a more detailed breakdown of costs per plan:
3 recipes of 2 servings each:
Green Chef: ~$80 per box; ~$324 per month; $13.49 per serving
HelloFresh: ~$60 per box; ~$240 per month; ~$10 per serving
4 recipes of 4 servings each:
Green Chef: ~$192 per box, ~$767 per month, $11.99 per serving
HelloFresh: ~$148 per box, ~$592 per month, $10.99 per serving
HelloFresh meal
Image by mbg creative
Every meal I cooked
I tried three meals from HelloFresh and four meals from Green Chef. In full transparency, I have no food allergies, intolerances, or aversions—so both companies' entire menu selection was fair game for me.
HelloFresh offers 40+ recipes to choose from each week, while Green Chef has 32 possible meals. Both menus are rotating, meaning new recipes are added or swapped out weekly. I personally get bored with meals easily, so I appreciate that both companies offer this level of variety. That said, recipe selection is more limited if you are specifically looking for gluten-free, keto, vegetarian, or vegan meals.
I specifically wanted to try meals with varying protein sources, so I chose one meat, one fish, and one vegan option from HelloFresh. I also focused on selections with lots of vegetables, which excluded many of the pasta and rice dishes.
For Green Chef, I was only able to personally select one recipe—the others were chosen for me.
Every HelloFresh meal I tried:
Apricot-Sumac Chicken with roasted zucchini, lemony bulgur & almonds
Pecan-Crusted Trout with apple-studded salad & thyme-roasted potatoes
Vegan Tofu Bibimbap with cabbage, carrots & gochujang pickles
Every Green Chef meal I tried:
Cauliflower & Couscous Bowls with kale, carrots, tomatoes, dates, almonds, and miso-tahini sauce
Sunny Southwest Beef Patties with veggie hash, fried egg, Cheddar cheese, crema, and Cholula
Roasted Chicken with Lemon Crema with butternut squash, Brussels sprouts, and Parmesan hazelnuts
Keto Cinnamon Ricotta Pancakes with toasted pecans and creme fraiche
Key takeaways on the meals provided:
Green Chef's premade sauces and produce prep stood out: Green Chef's signature premade sauces elevated the Cauliflower & Couscous Bowls and the Roasted Chicken with Lemon Crema. Truly, I wish I could buy that miso-tahini sauce from the grocery store. I also loved that the sauces were premade and portioned and the vegetables were pre-chopped, which really expedited the cooking time and cut down on packaging. HelloFresh meals (especially the Vegan Tofu Bibimbap) also had delicious sauces, but they required mixing several ingredients.
Both meal kits came with easy-to-follow instructions: HelloFresh and Green Chef both provided step-by-step instructions with photos, helpful cooking tips, and a list of equipment and pantry items needed for the recipe.
Both meal kits required multiple cooking modes: While the recipes were clear and easy to follow, every meal I tested called for the use of multiple pots and pans for the stovetop and oven. Getting the timing of all these moving parts right may be challenging or intimidating for newbie home chefs.
Both provide quality ingredients: I was impressed by the quality of the ingredients I received from both brands. The produce was fresh and kept well in the fridge or the pantry. Again, Green Chef guarantees certified-organic produce, whereas HelloFresh does not. Non-produce ingredients in both boxes (e.g., grains, proteins, and dairy) may or may not be organic.
Both services offer a variety of healthy and more indulgent meal choices: Both companies know the ins and outs of creating a healthy and tasty plate, with robust menus that feature lean proteins, fresh vegetables, healthy fats, whole grains, and loads of flavor. Note: Healthy and indulgent mean something different to everyone. For me, indulgent refers to a plate that has more simple carbohydrates (such as HelloFresh's Crispy Chicken & Bacon Alfredo).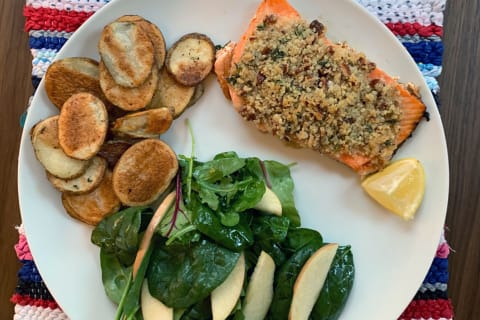 HelloFresh meal
Image by hellofresh vs. greenchef
How the taste compares
Now let's dive into the specifics. While I enjoyed almost every meal I tried from HelloFresh and Green Chef, the only recipe that did not sit well with me was the Keto Cinnamon Ricotta Pancakes. The meal was too dense for my taste, and the pancakes were a bit grainy. Albeit, they may have been a good option for someone following a keto diet (or, of course, with different taste preferences).
In terms of freshness and flavor, there wasn't a clear winner. Each box contained two recipes I adored, and one that left me satisfied but not super excited (the Pecan-crusted trout and the Sunny Southwest Beef Patties).
Both companies provide an assortment of options that won't leave you bored, but HelloFresh's menu felt more familiar and comfortable than Green Chef's, which was a bit more unique with more veggie-forward options.
A few examples of the typical HelloFresh meal:
Meatballs with Bulgogi Sauce plus roasted carrots, ginger rice & creamy sriracha
Fancy French Onion Beef Tenderloin with rosemary fingerlings, lemony asparagus & horseradish cream
Green Chef's menu might be more appealing to a foodie or adventurous eater, with recipes such as:
Peruvian-Style Barramundi with Chimichurri smoky roasted fingerling potatoes, honey-lime carrots
Harissa-Spiced Sweet Potato & Mushroom Bowls with kale rice, pistachios, lemon-honey sour cream, Schug sauce
The Green Chef menu selection was more appealing to me than HelloFresh. I loved the focus on vegetable-forward recipes and the fun sauce and spice mixtures I likely wouldn't have come up with on my own.
On the flip side, most recipes on the HelloFresh menu were carbohydrate-heavy and included pasta, rice, or potatoes as the primary ingredient. I had to dig a little harder to find dishes that were balanced to my liking for carbohydrates, vegetables, and protein.
Dietary considerations
HelloFresh and Green Chef account for similar dietary preferences, including gluten-free choices. Green Chef does offer keto-friendly and low-carb options, and it's a better choice if you follow a keto, paleo, or low-carb eating pattern.
HelloFresh provides some "carb-smart" meals, but those recipes still contain at least 30 to 40 grams of carbohydrates per serving. For comparison's sake, two of the Green Chef recipes I received had a total of 15 to 17 grams of carbohydrates per serving.
While neither service is positioned as a weight loss tool, Green Chef's Fast & Fit preference and HelloFresh's Fit & Wholesome offer lower-calorie recipe choices.
Both HelloFresh and Green Chef disclose common allergens for each recipe, but you can't filter menu items by allergen—and both brands note that all foods are produced in a facility that processes eggs, milk, fish, peanuts, sesame, shellfish, soy, tree nuts, and wheat.
HelloFresh seems best suited for people with flexible eating patterns and families that need kid-friendly recipes.
Adds-ons & special features
HelloFresh offers a robust add-on selection with soups, breakfasts, bakery items, flatbreads, lunch specials, and seasonal treats.
Green Chef's add-ons include several breakfast and lunch options as well as stand-alone proteins such as wild-caught sockeye salmon and organic chicken cutlets.
Sustainability & environmental impact
In general, meal kits don't have a great reputation when it comes to sustainability. Fortunately, Green Chef and HelloFresh each make an effort to reduce environmental impact. Green Chef proudly calls itself the No. 1 Sustainable Meal Kit, touting that the company offsets 100% of its direct carbon emissions and plastic packaging.
In 2022, a HelloFresh analysis found that its meals have a 31% lower life-cycle carbon footprint than those of the same size from a grocery store.
Boxes, plastic-packing, and ice packs from both brands are recyclable—just be sure to double-check the websites to see what's eligible for curbside pickup in your area. Check out this page for more details on HelloFresh's recycling information and this page for Green Chef.
As we've mentioned, Green Chef guarantees its produce and eggs come from USDA-certified organic farms. The website states that animal proteins are sourced from farms that meet the brand's strict animal welfare standards. Unfortunately, we were unable to track down exactly what those criteria are.
HelloFresh may provide some organic ingredients, but it varies. The brand says it undergoes a "rigorous process" to choose responsible ingredient suppliers, in an effort to contribute to a "greener future." The website also clearly states its chicken welfare policy.
If you value organic eating, Green Chef is a better choice.
Customer service & cancellation
HelloFresh and Green Chef are both subscription services. However, you can cancel, pause, or skip weekly deliveries at any time, all through your online account. What's more, it's easy to reactivate your plan if or when you're ready to come back.
The order and delivery process was smooth sailing for me for both services. Ingredients arrived in pristine condition, so I never needed to interact with customer service. However, recent Trustpilot reviews for HelloFresh and Green Chef both have customers citing having to reach out to customer service for missing or damaged ingredients or confusion around how to order.
FAQ:
How long do Green Chef meals last?

Green Chef ingredients typically stay fresh for five days (with proper storage) after arrival. Green Chef's website notes that recipes containing seafood should be prepared and consumed within three days of receiving the shipment.
What are the downsides of HelloFresh?

One potential downside to HelloFresh is the cost (you could likely prepare the same recipes with grocery store ingredients at a lower cost). In addition, the meals still have to be prepared, so you will still be spending time cooking. If your goal is to eliminate meal preparation at home, a meal kit delivery service like HelloFresh may not be for you.
How much does Green Chef Cost?

The cost of Green Chef depends on the number of meals and servings of that meal you get a week. The weekly cost of a box may range from $80 to $288, and the cost per serving is usually between $12 and $14.
The takeaway
HelloFresh and Green Chef are both great meal kit delivery services to help break the monotony of your habitual weekly dinners, cut down time spent at the grocery store, and minimize food waste. The best choice for you truly depends on your budget and your dietary preferences. If you have specific dietary needs, you might consider others such as the best gluten-free meal delivery services or the best keto meal delivery.