The 8 Best Keto Meal Delivery Services Of 2022 For High-Fat, Low-Carb Meals
mbg Deputy Commerce Editor
By Braelyn Wood
mbg Deputy Commerce Editor
Braelyn Wood is the Deputy Commerce Editor at mindbodygreen. She has a B.S. in journalism from Northwestern University, along with a certificate in marketing.

Expert review by
Molly Knudsen, M.S., RDN
Registered Dietitian Nutritionist
Molly Knudsen, M.S., RDN is a Registered Dietician Nutritionist with a bachelor's degree in nutrition from Texas Christian University and a master's in nutrition interventions, communication, and behavior change from Tufts University. She lives in Newport Beach, California, and enjoys connecting people to the food they eat and how it influences health and wellbeing.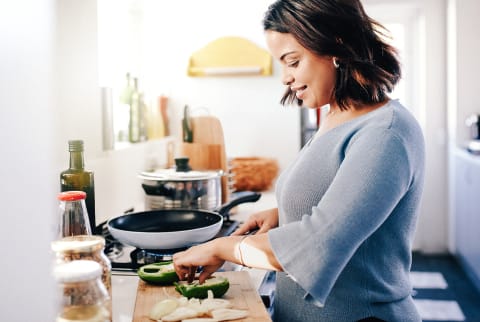 Image by mapodile / iStock
Our editors have independently chosen the products listed on this page. If you purchase something mentioned in this article, we may
earn a small commission
.
Last updated on June 6, 2022
Whether you prefer plant-based or high-protein meals, your diet is a personal choice—and for many, a ketogenic diet reigns supreme. Designed to mimic your body's state during fasting, it requires a strict breakdown of macronutrients that's high in fats and low in carbohydrates. This keeps your body in ketosis—or a state of burning fat for fuel rather than carbohydrate. Needless to say, keeping up with keto means planning meals in advance or signing up for the best keto meal delivery services.
Not only do keto meal delivery services take the guesswork out of the math required to stay in ketosis, but they also save you hours of grocery shopping and meal prepping. Whether you opt for microwave-ready entrées or a meal kit, these services send everything you need for a nutritious, keto-friendly meal right to your front door.
What is a keto diet?
A keto diet emphasizes a high consumption of fats with a moderate intake of protein and a super-low amount of carbohydrates. In fact, most people consume less than 10% of their daily calories from carbs or about 25 to 50 grams per day. This strict intake of foods puts your body into a state of ketosis, where it burns fat or ketones as the primary fuel source rather than glucose.
The types of keto meal delivery services.
The exact dietary requirements for staying in ketosis varies by person, and not every brand pays strict attention to the ratio of fat, protein, and carbohydrates in their recipes. Many brands will label a meal as keto if it's low in carbs, while others follow a strict macros as part of their vetting process. Transparent nutrition labels are the easiest way to ensure your meal delivery service works for you.
Additional factors to consider are the price and number of meals you need delivered. Keto beginners can benefit from curated plans developed by dietitians to account for breakfast, lunch, and dinner, while longtime keto fans may just want to expand their recipe collection with a meal delivery kit. Regardless of your preference, it's worth noting that most services offer cheaper pricing as you increase the number of meals ordered.
How we picked
We considered how many keto meals a brand offered each week to ensure your taste buds never get bored.
Keto may already be a pretty strict diet—but customers should still be able to filter further for allergens and dietary preferences.
Meal boxes get a bad rep for waste, but we searched for the companies trying to change that notion. We vetted each brand's commitment to staying green as part of our requirements.
Every food budget is different, so we provided a range of options to suit different allowances.
mbg's pick of the best keto meal delivery services of 2022
The takeaway.
Opting for a keto meal delivery service is one of the easiest ways to stick to the high-fat, low-carb diet—and it's never been easier to find a plan that works for you. Whether you're seeking a meal kit like Green Chef to make dinner for your entire family or need a curated meal plan like Fresh n' Lean that accounts for three square meals a day, there's a worthy option to meet your needs. Better yet, we've already vetted them for sustainability, quality, and price.
Braelyn Wood
mbg Deputy Commerce Editor
Braelyn Wood is the Deputy Commerce Editor at mindbodygreen. She has a B.S. in journalism from Northwestern University, along with a certificate in marketing. After interning at Bustle Digital Group and Cosmopolitan, her love of products (and a good deal) led her to the commerce space, and she joined Meredith Corporation as its first health and wellness-focused shopping writer. During this time, her byline appeared in Health, Shape, InStyle, People, and Travel Leisure, as she covered topics like workout gear, home goods, and coronavirus essentials to help shoppers lead healthier lives. In her current role, she helps readers find the best deals, uncover the latest launches, and understand which items are worth the splurge (or not) from her home in Brooklyn, New York.