Fresh N' Lean Review + How It Compares To Other Options, From A Holistic Nutritionist

Certified holistic nutrition consultant
By Lindsay Boyers
Certified holistic nutrition consultant
Lindsay Boyers is a nutrition consultant specializing in elimination diets, gut health, and food sensitivities. Lindsay earned a degree in food & nutrition from Framingham State University, and she holds a Certificate in Holistic Nutrition Consulting from the American College of Healthcare Sciences.

Expert review by
Molly Knudsen, M.S., RDN
Registered Dietitian Nutritionist
Molly Knudsen, M.S., RDN is a Registered Dietician Nutritionist with a bachelor's degree in nutrition from Texas Christian University and a master's in nutrition interventions, communication, and behavior change from Tufts University. She lives in Newport Beach, California, and enjoys connecting people to the food they eat and how it influences health and wellbeing.
In this Fresh N' Lean review, we'll dive into the specifics of the service (cost, dietary considerations, and menu options, among other things) and highlight my experience testing Fresh N' Lean and trying the meals for myself.
What is Fresh N' Lean?
Fresh N' Lean is a pre-made meal delivery service focused on healthy, chef-cooked, mostly-organic meals. Unlike meal kits, which include pre-portioned ingredients and recipes, Fresh N' Lean sends fully cooked meals that are ready to heat and eat. The meals arrive fresh (not frozen) and last in the refrigerator for up to one week.
The company caters to a variety of dietary preferences (more on those later) and refreshes its meal offerings every week, so you'll always have variety. If you sign up for a meal plan, you can select up to 21 meals per week. Fresh N' Lean offers breakfast, lunch, and dinner options, but you don't need to select all three courses. If you don't want to commit to a full meal plan, you can choose five or seven days of either breakfast only, or just entrees. The minimum weekly order size is five meals.
For those who prefer to skip the meal plan all together, there's an a la carte menu.These orders require a minimum spend of $85 per box and are subject to availability. In other words, you may not have the same menu variety as you would with a dedicated meal plan—but the a la carte menu gives you the chance to mix and match types of meals and add bulk items, sides, and snacks.
Fresh N' Lean pros & cons
Pros:
Organic ingredients
Variety of meal plans
Can mix & match for different dietary preferences
Most meals are gluten-free (but the company isn't certified)
Cons:
Limited bulk breakfast options
Expensive with smaller plans
Limited customization
How much does Fresh N' Lean cost?
The cost of Fresh N' Lean depends on whether you choose a meal plan or a la carte, and of course the quantity of meals you order. As with most meal delivery services, the higher quantity you select, the lower the price per meal. Cost is also dependent on the type of meal plan; for example, paleo and keto meals have a higher per-meal price than vegan meals.
The price per meal starts at $9.99, with the highest cost per meal reaching $15.99—that's if you only order five meals per week from one of the more expensive plans. The minimum spend for an a la carte box is $85.
You do need a subscription for Fresh N' Lean, but you can skip a shipment or cancel the service at any time. The delivery schedule defaults to once a week, but you can request bi-weekly, tri-weekly, and quad-weekly delivery, depending on your preference.
Fresh N' Lean ships for free in the contiguous U.S. if you spend at least $100 per week. For orders that cost less than $100, shipping is about $6 to $10 (depending on where you live).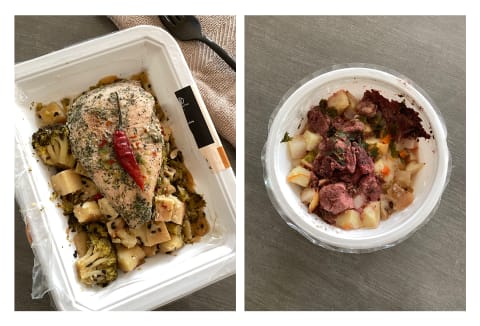 Fresh N' Lean menu
Fresh N' Lean has a robust menu and caters to many dietary restrictions and preferences. There are seven meal plans: protein+ (high-protein), keto, paleo, standard vegan, low-carb vegan, whole30-approved, and Mediterranean. The bulk order option allows you to mix and match various proteins, vegetables, and starches to create your own meals.
In total, there are about 100 meals to choose from across all seven meal plans. You can stick with one option, or add meals from each meal plan if you want more variety in your weekly boxes.
The menus are updated weekly and include various entree and breakfast options. Each plan gets about three to seven new menu items per week, and all new meals are tagged with a "new" banner to help you easily identify which ones were recently added to the rotation.
When I tested Fresh N' Lean, I signed up for the paleo meal plan and received nine entrees.
Every meal I tried:
Ginger sesame steak with sweet potatoes
Kung Pao chicken with broccoli and roasted sweet potatoes
Cilantro-lime salmon with roasted broccoli
Slow-cooked rosemary-thyme beef with root vegetables
Spiced cauliflower with shrimp
Salmon chipotle bowl
Bearnaise grass-fed steak with roasted sweet potatoes
Guajillo chicken with cauliflower and grape tomato
Beef teriyaki bowl (we got two of these)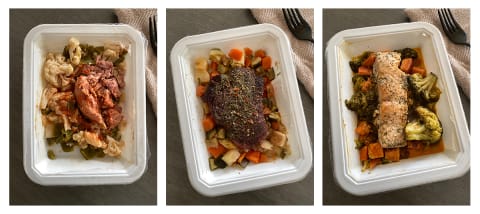 My review of Fresh N' Lean meals
Overall, the meals tasted pretty good. I wasn't blown away, but I wasn't expecting to be. Mostly, I wanted something that I could quickly eat during a busy day without having to put much effort in—and that is exactly what I got. The meals were a bit bland for my tastes, but most have instructions to season with salt and pepper, which did improve the taste. Those who prefer to use less salt and seasoning will likely enjoy the meals as they come.
You can heat the meals in an oven, air fryer, or microwave, or on the stovetop. Fresh N' Lean provides instructions for each method, but if you choose anything other than the microwave, you have to transfer your meals to another container. I tried all heating options and preferred using the oven. Cooking the meals in the oven only took a little longer than the other methods: about 10 minutes compared to three or four in the microwave.
Most of the food I cooked in the microwave tasted fine, but any meals with zucchini or cauliflower got a bit watery. I'd recommend sticking to the oven or air fryer for those types of meals.
Fresh N' Lean dietary considerations
With seven meal plans to choose from, Fresh N' Lean can cater to many dietary needs and preferences. There are high-protein, keto, paleo, Whole30-approved, Mediterranean, and vegan meals. While the company is not certified gluten free, most meals are gluten-free.
When choosing a meal plan, you can request exclusion of up to three ingredients. Fresh N' Lean also asks if you have any shellfish, soy, wheat, or sesame allergies at signup, so your meal plan can be curated around any foods you need to avoid.
While the meals aren't necessarily "calorie-controlled" or targeted toward weight loss, the portion sizes are on the smaller side and the company says many people have successfully lost weight when following its meal plans.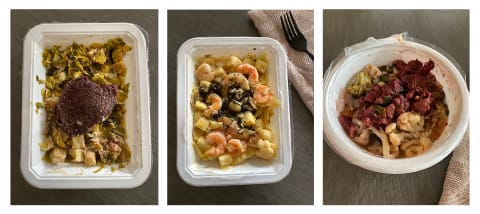 Fresh N' Lean sustainability & quality
Fresh N' Lean is one of a handful of meal delivery services that prioritizes organic ingredients. While the company isn't certified organic, they do use organic ingredients whenever possible. All organic ingredients are marked with an asterisk on the packaging, and I'd say 95% of the ingredients in the meals I tried were organic. If an ingredient is not organic, it's sourced from local suppliers and is still GMO-free.
The meats are high-quality, too. The company partners with animal protein suppliers who ensure their livestock is humanely treated. All beef, elk, and venison is grass-fed; poultry is antibiotic-free and free-range; and fish is sustainably sourced.
Fresh N' Lean also limits the types of oils used in each recipe, using only olive, coconut, avocado, and walnut oils. The keto meal plan specifically only uses avocado and walnut oils. Most meals are gluten-free, and many are dairy-free.
In addition to food quality, the company values sustainability. While the meals are packaged in plastic trays with plastic wrap, everything is curbside-recyclable and the plastic is BPA-free. There was minimal packaging in the box when it was delivered. The meals were stacked in a cardboard box with a layer of insulation material and three ice packs. The box is recyclable, and the insulation and gel-pack filling are biodegradable.
As for potential food waste, there likely won't be much (unless you really don't like a mea)l. The portions are on the smaller side, and I could easily finish each one. Prepared meal delivery services are a great way to limit food waste, as you won't be buying groceries that could potentially go bad in your fridge before you have a chance to use them up.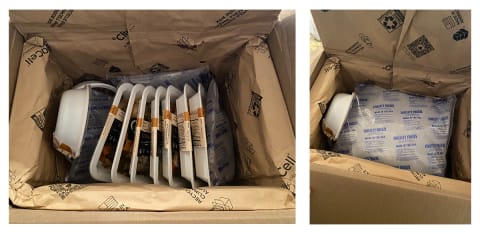 Fresh N' Lean vs. the competitors
| Brand | Type | Serving Price | Max Meals Per Week | Shipping Cost | Dietary Considerations |
| --- | --- | --- | --- | --- | --- |
| Fresh N' Lean | Fresh entrée | $9.75 | 21 | Free | Paleo/ Keto/ Vegan/ Mediterranean/ High-protein/ Low-carb |
| Flex Pro Meals | Frozen entrée | $8.50 | 21 | $9.99 | Keto/High-protein/Low-carb/Gluten-free/Dairy-free/Pork-free/Beef-free |
| Factor | Fresh entrée | $11 | 18 | $9.99 | Keto/ Vegetarian/ Vegan/ Low-calorie/ High-protein |
| Meal Pro | Fresh entrée | $14.59 | 20 | Varies by location | Keto/High-protein/Low-carb/Low-sodium/Low-fat/cholesterol/Renal |
| Trifecta | Fresh entrée | $15 | 21 | $9.99 | Gluten-free/ Paleo/ Keto/ Vegetarian/ Vegan |
| Pete's Real Food | Fresh entrées; frozen meals | $14 | 30 | Free | Gluten-free; Dairy-free; AIP; Low FODMAP |
FAQ:
How to cancel Fresh N' Lean

Fresh N' Lean is a weekly subscription service, but you can cancel or skip a week anytime. The only caveat is that you have to submit a cancellation request before Friday at 11:59 pm PT to have it take effect for the following week's delivery.
Fresh N' Lean vs Trifecta

Fresh N' Lean and Trifecta are both prepared meal delivery services focusing on quality ingredients. All meals are made with organic ingredients whenever possible. Trifecta has six main meal plans, as well as a bulk meal prep option, similar to Fresh n' Lean.

One of the biggest differences between these two meal delivery services is that Trifecta doesn't allow you to choose your own meals. The meal plans are "chef's choice," meaning you pick the quantity of meals you want, and Trifecta will fill your box for you. You can indicate certain preferences, such as avoiding red meat or mushrooms—but other than that, you don't have control over which meals you get.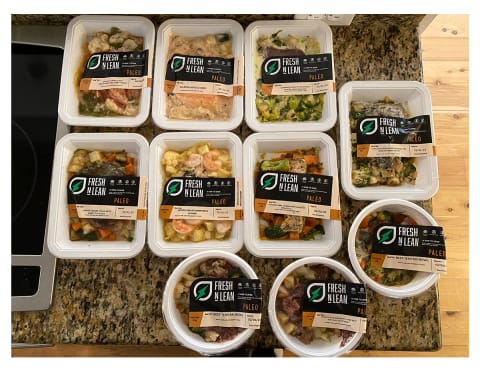 The takeaway
Even as someone who loves to cook, I can appreciate the convenience of meal delivery services. Fresh N' Lean takes the convenience factor to a whole new level, offering fully-cooked and plated meals delivered straight to your doorstep. While I wasn't particularly blown away by any of the meals I received, I could tell the ingredients were high-quality and I loved the variety it offered to my typically turnkey weekly meal plan.

Lindsay Boyers
Certified holistic nutrition consultant
Lindsay Boyers is a holistic nutritionist specializing in gut health, mood disorders, and functional nutrition. Lindsay earned a degree in food & nutrition from Framingham State University, and she holds a Certificate in Holistic Nutrition Consulting from the American College of Healthcare Sciences.
She has written twelve books and has had more than 2,000 articles published across various websites. Lindsay currently works full time as a freelance health writer. She truly believes that you can transform your life through food, proper mindset and shared experiences. That's why it's her goal to educate others, while also being open and vulnerable to create real connections with her clients and readers.