The 8 Best Meal Delivery Services For Weight Loss Of 2022

mbg Contributing Writer
By Brittany Loggins
mbg Contributing Writer
Brittany Loggins is a freelance writer covering health, wellness, and all things lifestyle.

Expert review by
Molly Knudsen, M.S., RDN
Registered Dietitian Nutritionist
Molly Knudsen, M.S., RDN is a Registered Dietician Nutritionist with a bachelor's degree in nutrition from Texas Christian University and a master's in nutrition interventions, communication, and behavior change from Tufts University. She lives in Newport Beach, California, and enjoys connecting people to the food they eat and how it influences health and wellbeing.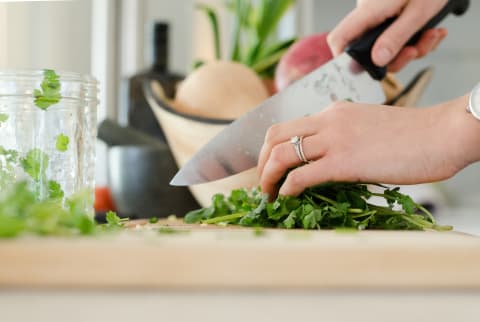 Image by Alyson McPhee / Unsplash
Last updated on September 20, 2022
Our editors have independently chosen the products listed on this page. If you purchase something mentioned in this article, we may
earn a small commission
.
Meal planning can be a total drag, but the benefits are undeniable. Research shows1 a link between prepping your food and higher diet quality, as well as lower odds of obesity. But sometimes the last thing you want to do on a busy Sunday is spend hours in the kitchen planning for the week ahead—and that's where the best meal delivery services for weight loss can help.
A meal delivery service sends either preportioned meals or all the ingredients to make them right to your door. This ensures you can select fare that supports your individual nutrition goals and encourages the consumption of a vast array of foods for more dietary diversity.
But what exactly is the best meal delivery service for weight loss? We tapped Leslie Bonci, RDN, CSSD, LDN, a registered dietitian and nutrition consultant to provide insight into whether a meal delivery service can help you lose weight and how to pick the healthiest option for you.
What's the best meal delivery service for weight loss?
First things first, a healthy weight looks different for everyone. If you do decide to pursue weight loss, the most sustainable approach is often the slow and consistent one, as evidenced in a 2017 study.
It's also important to find an eating plan that truly makes you feel satisfied and nourished, as a variety of diets with different macronutrient (carbs, protein, and fat) ratios have been linked to weight loss, such as the Mediterranean diet, keto diet, and plant-based eating. Plus, a lower number on a scale is often one of the least impressive benefits of these eating plans; a Mediterranean diet also has links to better heart health2, longevity3, and a higher concentration of good gut bacteria4.
All that said, Bonci recommends focusing less on meals that cut out ingredients and more on options that allow you to add more ingredients, such as veggies and fibers with whole grains, beans, and nuts.
Does meal delivery help you lose weight?
Meal kits can be helpful because they include "measured, not unlimited portions," according to Bonci. She also points out that it's important to make sure the portion sizes offered will be satisfying enough—and if you find them lacking, Bonci recommends supplementing with extra produce.
How we picked:
From sustainable farming to recyclable packaging, we picked out the companies prioritizing Mother Earth.
Allergies and dietary restrictions can make it hard to find an eating plan that works for you, so we made note of the companies that allow you to customize ingredients.
Some meal plans can be expensive, so we've noted a range of options for different budgets.
We picked out a range of meal kit types, including those that come prepared along with kits that let you channel your inner chef.
Our picks for the best meal delivery services of 2022:
Are meal kits worth the money?
Depending on the complexity of the meals you like to make at home, a meal kit can definitely be worth the money. Available for a vast range of budgets, they help you mix up your meals to keep them interesting without spending exorbitant amounts of money on a rare superfood ingredient that you use only once. Plus, it's possible to find options that start at just $5 per serving, which may be cheaper than some of your current go-to meals.
FAQ
What is the best meal delivery service for weight loss?

Weight loss is often a more complex topic than calories in versus calories out (or expended). When specifically focused on how your diet can impact your weight loss goals, it's important to stick with an eating plan that meets your dietary restrictions and allergy constraints. Equally important, your meals should be packed with nutrients that support your overall well-being. Any of the meal delivery services above should meet these needs—it's all about what's best for you and your body.
What is the healthiest meal delivery service for weight loss?

All of the options above prioritize health, nutrient intake, and portion size. If you want a diet-focused option that covers every meal, BistroMD is your best bet; amateur chefs wanting to take charge in the kitchen will love Green Chef; and plant-based eaters wanting to maximize their whole food intake should keep an eye on Mosaic Foods.
Can you lose weight on HelloFresh?

Ultimately every recipe offered by a brand has a different nutritional breakdown that could affect whether it supports or hurts your weight loss goals. It's important to pay attention to what recipes you're putting into your cart, as well as the nutritional breakdown of those meals and how it works into your preferred eating plan.

To help narrow down the healthiest recipes HelloFresh offers, select the Fit & Wholesome plan. It caps meals at 600 calories per serving and keeps prep time under 30 minutes, allowing the meal kit to work into your weight loss eating plan. Just remember the company is not designed for weight loss, so most vetting will need to be done by you when ordering.
The takeaway.
When you're trying to lose weight, a meal delivery service can be an easy hack to keep you on track with a nutrient-dense and satisfying meal. Whether you're paleo, keto, or plant-based, these curated services can help you streamline the meal prep process to ensure the foods you eat nourish your body and support your overall longevity. Bonus: Our top picks are also committed to staying green.
Reset Your Gut
Sign up for our FREE doctor-approved gut health guide featuring shopping lists, recipes, and tips

Brittany Loggins
mbg Contributing Writer
Brittany Loggins is a freelance writer covering health, wellness, and all things lifestyle. She spent time on staff at CBSNews.com and TODAY.com, where she wrote about everything from breaking news to the best scented candles. Brittany is a graduate of the University of Georgia with a Bachelor's degree in consumer journalism—and you can still find her cheering on the Bulldogs every single chance she gets.