This RD's Go-To Breakfast Ideas Front-Load The Day With Nutrients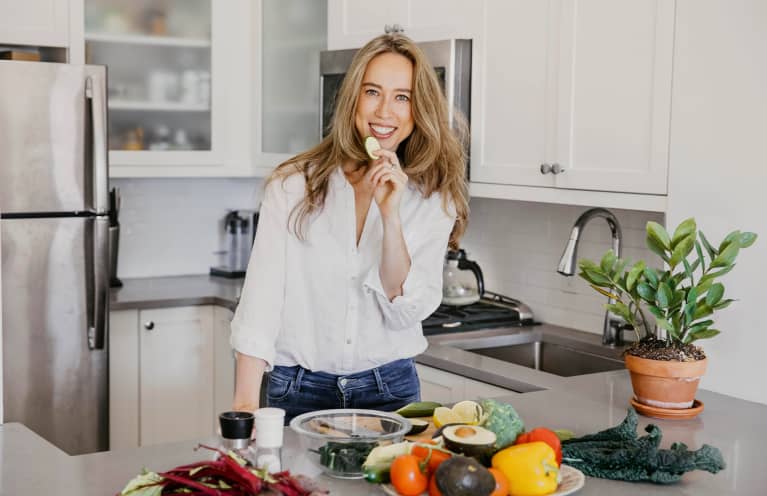 Our editors have independently chosen the products listed on this page. If you purchase something mentioned in this article, we may
earn a small commission
.
It's
National Nutrition Month
! All month long, we're highlighting the importance of a personalized nutrition approach and celebrating R.D.s across a range of specialties—hospitals, schools, community programs, universities, private practice, industry, and beyond.
Out of 193 countries worldwide, the U.S. currently comes in 46th place for life expectancy. The driving forces behind this statistic are multifaceted, but part of the problem is a health care approach that's reactive instead of proactive and preventive. Integrative nutritionist Ella Davar, R.D., CDN, is an exception to that rule. Longevity is front of mind in her nutrition practice.
Davar approaches each patient in a personalized and holistic manner, emphasizing preventive wellness and long-term health. Not only a dietitian, Davar is also a bilingual Russian-American health coach, radio host, speaker, author, yogi, and theta healer. Based in Miami and New York City, Davar specializes in integrative, healthy-aging nutrition and lifestyle interventions.
To help promote balance, Davar's upcoming book, Driven Women Wellness: Your Guide to Self-Care for Self-Preservation, offers a cohesive list of priorities, plans of action, and hacks to help women reach wellness goals while managing their busy lifestyles in a sustainable way.
I caught up with Davar to learn more about her long-term approach to personalized nutrition, get a glimpse into her morning wellness routine, and hear about her quick, nutrient-loaded breakfast ideas that any busy person will appreciate!
What does this year's National Nutrition theme "Personalize Your Plate" mean to you?
As an integrative dietitian, I specialize in longevity, and my work has always been focused on personalized diet and lifestyle interventions. I take into account different aspects of clients' lives, such as health conditions, work schedule, family circumstances, religion and food preference, allergies, intolerances, and sensitivities.
The population group that I focus on are young to middle-aged women and men with diverse backgrounds and health conditions. To me, this year's National Nutrition Month banner "Personalize Your Plate" means that we celebrate our bio-individuality and embrace the fact that we all have unique lives and specific circumstances that define our relationship with the food on our plates, our bodies, and our health.
Do you follow a specific dietary pattern?
My dietary pattern is inspired by the Mediterranean diet, which is scientifically proven to be associated with greater chances of health and longevity. I also follow a Mediterranean lifestyle by focusing on locally sourced seasonal produce, homegrown food through gardening, homemade meals, and family-style eating.
I approach dietary pattern recommendations for each client holistically. In addition to lab values and genetics data, I examine how key lifestyle facets (e.g., sources of stress, physical activity, support system, etc.) affect their health status. I've discovered that an active lifestyle, community living, loving family relationships, and spirituality are critical traits of cultures around the world who live the longest, healthiest lives.
What's your go-to nutrient-dense meal right now (breakfast, lunch, or dinner)?
My day tends to be front-loaded with nutrient- and calorie-dense meals, followed by a light dinner. My favorite meal is breakfast because I usually wake up hungry and full of energy after my morning yoga or stretching routine. When I don't have a lot of time to cook, I enjoy making a quick greens or berry smoothie with an organic greens powder, collagen, nut butter, wild berries, and spinach or kale.
When I do have the time to cook a proper breakfast for myself and my family, my go-to meal is a vegetable frittata with broccoli, zucchini, mushrooms, and onion. I serve up the frittata with sourdough toast made with organic flour and grass-fed ghee, topped with avocado, lox, or goat cheese and a greens salad.
Is there one "MVP" healthy food or meal addition you're personally loving right now?
I am really obsessed with my matcha tea right now. I make sure to choose the highest quality, ceremonial-grade organic matcha tea. Making my morning matcha is a daily ritual I look forward to. I also love the calm, focused energy it gives me, allowing me to feel sharp but not anxious and jittery. And, of course, I love the built-in natural caffeine, antioxidants (like the catechin EGCG), and L-theanine, aka nature's "chill pill."
Connect with Ella at www.nutritionistella.com and on social @nutritionistella.