7 Creative Ways To Get More Nutritious Veggies In Your Family's Diet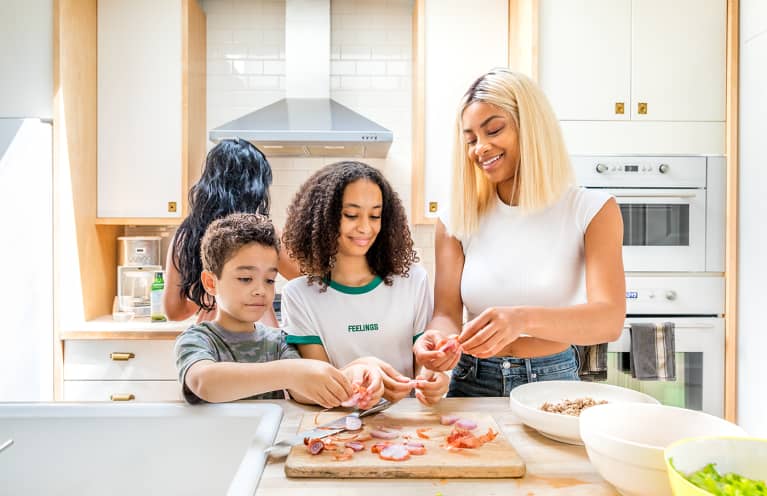 Our editors have independently chosen the products listed on this page. If you purchase something mentioned in this article, we may
earn a small commission
.
Here's an uncomfortable stat: Nine out of 10 kids in America aren't getting enough veggies, according to the Centers for Disease Control (CDC), and the same is true for us grown-ups. Whether it's because vegetables take too long to prep or people don't like the way they taste, there are dozens of reasons we're not getting our veggies.
The problem is that those veggies—whether we eat them raw or cooked—contain powerful nutrients that help fight disease. So getting ample amounts is pretty darn important. I wrote the cookbook Eating in Color as a tool for families to get more fruits and veggies on their plates. Selfishly, I wanted to create a guide for my own family because I saw how my oldest kid gravitated toward beige foods and wasn't embracing colorful veggies as much as I'd hoped. And truthfully, my husband wasn't much of a veggie eater, either.
As a nutritionist, I'm always looking for easy and fun ways to get those important nutrients into my recipes and onto our plates. So I've put together seven totally doable strategies to get more veggies in the mix:
Getting your family excited about trying new foods can be as simple as taking them to the store or farmers market and letting them pick out any veggie that looks cool or interesting. Then search for a recipe together that uses the ingredient. Even if your crew doesn't end up loving it, I guarantee that they'll at least try it.
And never underestimate the power of growing something. If you plant some bell peppers or cherry tomatoes and watch them grow together, you'll feel that connection to your food, and your family will be much more inclined to sample what they grew.
2.
Go for "easy veggies."
Time is precious and it's true that some vegetables take quite a bit of preparation and effort before you can enjoy them. That's why I keep "easy veggies" on hand at all times. Easy veggies are things that require no (or minimal) prep, like cherry tomatoes, mini cucumbers and bell peppers, baby carrots and sugar snap peas. All you need to do is rinse them and put them in a bowl, and that makes it much more likely that your family will eat them.
Let's face it, a lot of people (kids and adults) don't enjoy vegetables because they don't like their flavor. But adding cheese and other kid-approved ingredients can help complement veggies, making them a whole lot more palatable.
One of my favorite ways to do just that is by serving up Del Monte® Veggieful® Pocket Pies. Each product provides a full serving of vegetables and can be prepared in just minutes. The Pocket Pies come in familiar flavors like broccoli potato cheddar and spinach artichoke Parmesan, all encompassed in a tasty cauliflower crust. Another fave of mine are the Veggieful Veggie Bowls, a delicious, portable combination of whole grains and veggies with a tasty sauce. You can eat these cold or warm, for a delicious meal on-the-go. Plus, older kids can prepare these on their own.
Parents tell me all the time how sick they are of offering their kids vegetables, just to have them turn their noses up. It can take 15 to 20 exposures to a new food for a child to actually try it, so keep plating them. My advice: Put small bowls of veggies out for lunch, dinner, and snacks so your family members are more likely to add them to their plate.
I know that parents don't have a ton of time to prepare healthy meals. I see you, and I get it! That's why you need to maximize any extra minutes you have on the weekend, in the morning, or whenever. For example, if I'm cutting up cucumbers (my son's favorite) for lunch on Sunday, I'll spend a few extra minutes cutting up extras and packing them into small containers to put in his lunch throughout the week. Or I might roast some extra sweet potato rounds to use in salad and grain bowls. Fit it in when you can, and you'll reap the rewards later.
Everyone loves food that's interactive, which is why dips and finger foods are so popular. I love putting together snack and dinner trays that have a variety of wholesome foods on them, from cheese, crackers, and lean meats to fruit, veggies, and nuts.
If you like to get creative, you can find all kinds of cool ways to arrange veggies, like making a Frankenstein out of them for Halloween or a turkey at Thanksgiving. When you serve vegetables with other favorite foods, you will be amazed at how quickly the veggies disappear.
7.
Make it a #familygoal.
Believe it or not, parents are the biggest influence on their child's eating habits. So what's on your plate determines what's going to be on your daughter's or son's plate. If you talk about how much you hate broccoli or how you think spinach is gross, guess what? Your kiddo is likely to take that to heart and skip that healthy produce, too.
Be a veggie hero and set a good example for your kids. Who knows—you just might discover some delicious veggies that you've never tried before.