Close Banner
Advertisement
This ad is displayed using third party content and we do not control its accessibility features.
33 Healthy Breakfast Recipes To Start Your Day Off Right

mbg Nutrition & Health Writer
By Abby Moore
mbg Nutrition & Health Writer
Abby Moore is an editorial operations manager at mindbodygreen. She earned a B.A. in Journalism from The University of Texas at Austin and has previously written for Tribeza magazine.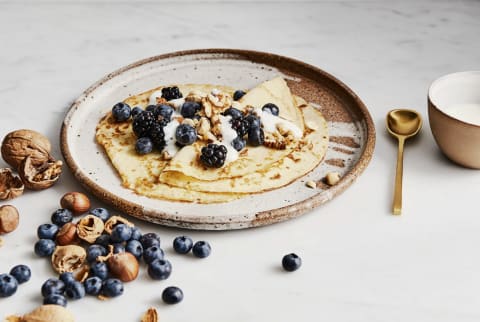 Image by Rochelle Eagle / Contributor
The arguments about whether or not breakfast is the most important meal of the day seem to never end. Some say breakfast gives you energy and kick-starts your metabolism for the day. Others argue fasting in the morning can support healthy aging1 and weight management and enhance gut health2. What we often forget when it comes to the "breakfast argument," is that researchers are referring to the timing of the meal, not the meal itself.
Even if you're intermittent fasting, you can enjoy breakfast foods at lunch or dinner. We rounded up a list of 33 healthy and delicious breakfast recipes, so you can have your (pan)cake and eat it too—no matter the time of day:
1.
Gluten-free banana pancakes with raspberry sauce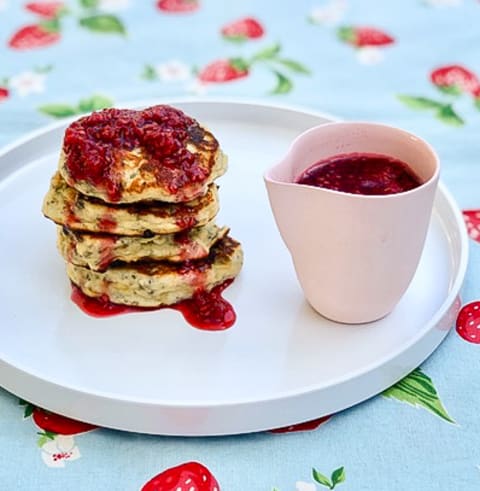 Image by Frances Largeman-Roth / Contributor
These gluten-free banana pancakes are full of fiber and healthy fats from the chia seeds and almond flour. With just two scoops of mbg's grass-fed collagen+, they help support healthy skin, hair, and nails.*
Drizzle them with the homemade raspberry sauce to boost vitamin C levels and balance the richness of the chocolate chips.
2.
Vegan quinoa breakfast frittata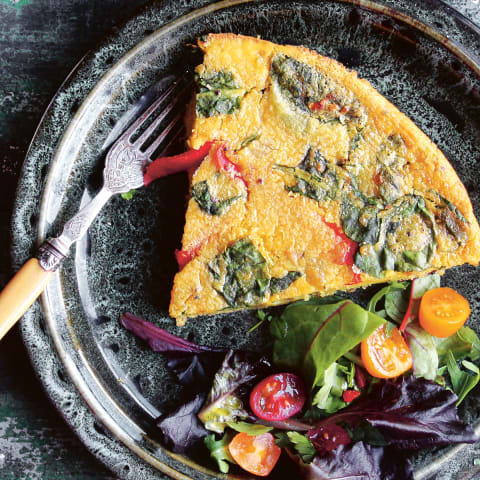 Image by Gemma Ogston / Contributor
Finally, a breakfast frittata that vegans can enjoy. In this take on the classic breakfast, eggs are replaced with a batter made of chickpea flour, water, and olive oil. The addition of quinoa, chickpea flour, and the medley of veggies makes this a nutrient-dense breakfast.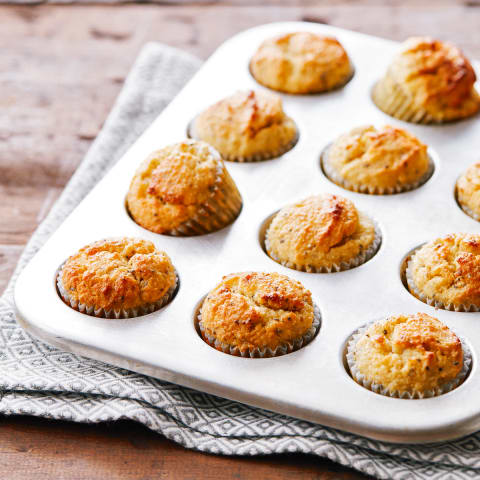 Image by Ghazalle Badiozamani / Contributor
Waking up to the fresh, citrus scent of these keto lemon muffins is a great way to start the day. With just 6 grams of fat and 2.8 grams of protein per muffin, these tasty breakfast pastries will keep you in ketosis.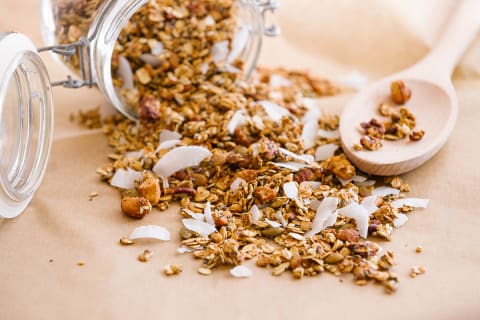 Who doesn't love the sweet and satisfying crunch of granola? Whether it's on top of a smoothie bowl, yogurt, or on its own with milk, this banana coconut granola is sure to hit the spot.
With only seven ingredients and no refined sugar, you'll never want to buy store-bought granola again.
5.
3-ingredient protein pancakes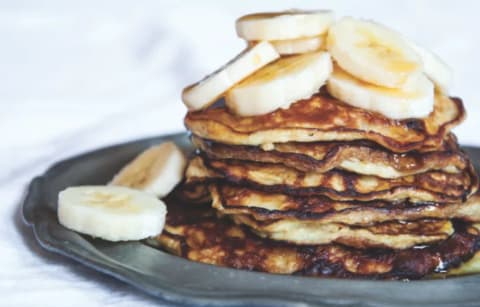 Photo by High Protein Pancakes
There's nothing worse than waking up with a pancake craving and realizing you're missing the ingredients. Enter: three-ingredient protein pancakes. One banana, two eggs, and baking powder—that's all it takes to satisfy your breakfast craving. Plus, the nutrient-packed ingredients will keep you satiated longer than traditional pancakes might.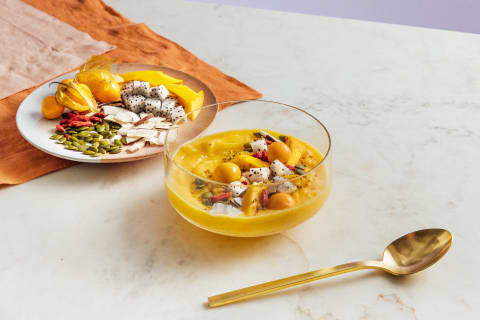 Image by Hannah Schwob / mindbodygreen
You know the old saying find your beach? Well, this tropical smoothie bowl is ours. The frozen mango and pineapple in this bowl will make you feel like you're sipping it seaside. While you may not actually be splashing around in saltwater, the addition of collagen powder can help your skin maintain healthy moisture levels.*
Image by Harald Walker / Stocksy
With just a few simple ingredient swaps, English muffins can become keto-friendly. The recipe is single-serving and takes just five minutes to whip up, but go ahead and double or triple it to meal prep for the week. Top them with avocado and a poached egg for added flavor.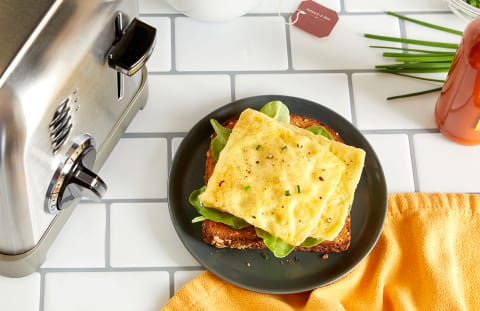 Image by JUST / Contributor
An egg scramble is a good way to utilize any veggies in your fridge on the verge of spoiling. Simply saute your vegetables in olive or avocado oil, and mix in two eggs for protein. Sprinkle with salt, pepper, and red pepper flakes for a kick. If you're following a plant-based diet, consider substituting JUST Egg.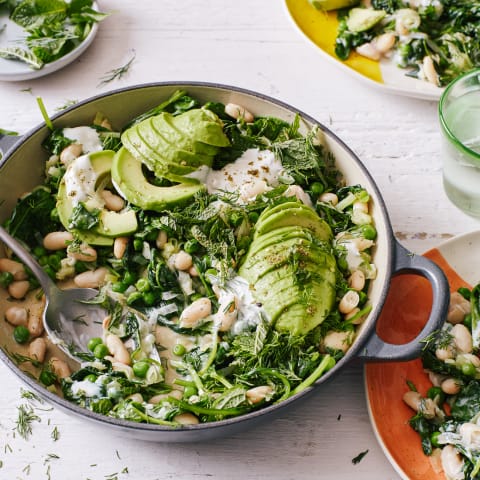 Image by Lizzie Mayson / Contributor
The combination of fresh herbs, spices, and vibrant green vegetables makes this vegan green shakshuka a refreshing morning meal. The veggies in this dish provide vitamins A, B5, B6, C, E, and K, as well as folate, potassium, manganese, and thiamine to keep you energized throughout the day.
Image by Lauren Volo / Contributor
Who says pizza is just for dinner? This keto breakfast pizza uses eggs as the base and gets its salty flavor from the pepperoni and mozzarella cheese. If you're vegetarian, swap the meat for hearty vegetables, like mushrooms or broccoli or whatever you may have on hand.
11.
Vegan gluten-free cinnamon rolls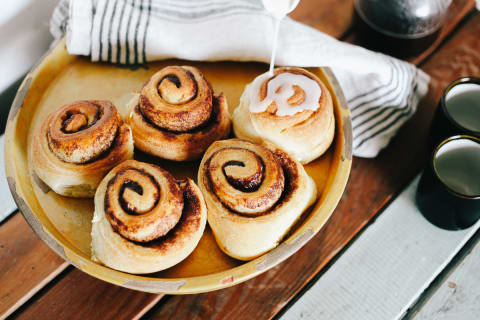 Image by Treasures & Travels / Stocksy
12.
2-ingredient green juice
Image by Tatjana Zlatkovic / Stocksy
Buying a green juice from your favorite café may start out as a treat but can slowly turn into an expensive habit. The good news is, you can make this two-ingredient green juice at home without a juicer. With just water and 1 tsp. of mbg's organic veggies+ powder, it provides a healthy dose of magnesium, calcium, iron, and vitamin C.
13.
Mushroom and spinach oatmeal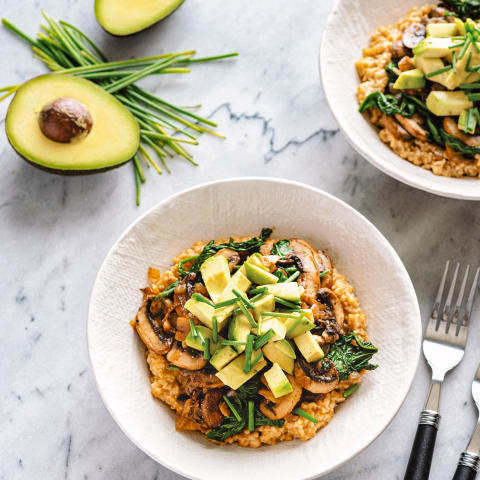 Image by Jackie Sobon / Contributor
With high levels of zinc, iron, and fiber, steel-cut oats are nutritious on their own. Adding vegetable broth and sauteed vegetables to your oats makes them even more nutritious. If the thought of savory oatmeal sounds strange to you, just think of it like a breakfast grain bowl.
14.
Mediterranean diet banana bread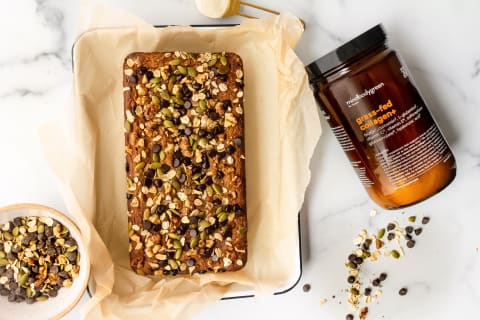 Image by Maggie Michalczyk
Though it may taste like dessert, this banana bread is free of refined sugar and saturated fats and incorporates whole grain flour for fiber and protein. By swapping refined sugar for honey and apple sauce, and replacing butter with olive oil, the recipe fits into a Mediterranean diet.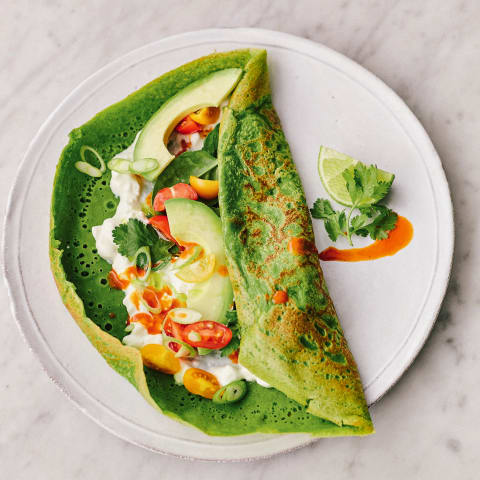 Image by David Loftus / Stocksy
Pancakes don't often call spinach to mind, but these green spinach pancakes prove the breakfast item can be enjoyed savory or sweet. The recipe calls for a dollop of cottage cheese and hot sauce, but they could also be topped with a poached egg, sans spice.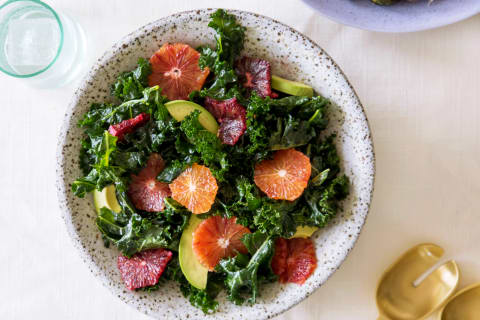 Image by Ivan Solis / Stocksy
Salad may not be the first thing you're craving when you wake up, but that's about to change. This breakfast salad provides fiber and probiotics from kale and vitamin C from the citrus fruits. The dressing is made with maple syrup, so you'll still have some semblance of traditional breakfast foods.
17.
Butternut squash pancakes
Image by Liz & Max Haarala Hamilton / Contributor
With a combination of savory (Parmesan and rosemary) and sweet (maple syrup), these butternut squash pancakes are anything but ordinary. Because of the butternut squash, these pancakes are packed with vitamins A and C, magnesium, and potassium.
18.
Avocado blender muffins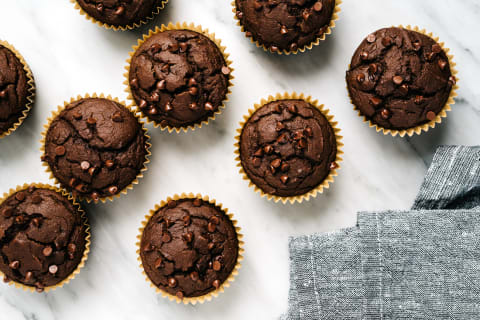 Image by Cameron Whitman / Stocksy
These avocado blender muffins will spare you the arm workout of hand-mixing batter. Not only are they simple to make, but they're nutrient-rich from the avocado, chickpea flour, and apple cider vinegar—even with the cocoa powder and chocolate chips.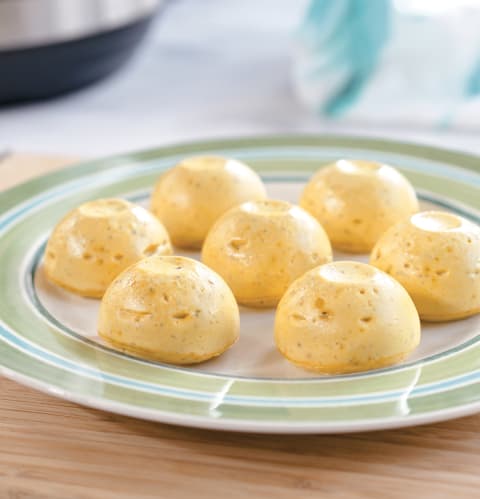 These tofu breakfast bites are the vegan version of poached eggs. Flavored with marjoram, paprika, and the Indian spice, kala namak, they can turn bland toast into a decadent brunch. Plus, the combo of tofu and nutritional yeast provides you plenty of protein.
20.
Keto chicken and waffles
Image by Andrew Cebulka / Stocksy
These keto chicken and waffles are baked in the oven and battered with almond meal for a healthy take on fried chicken. The waffles also incorporate almond meal and ground flaxseed for fiber-packed brunch or dinner and coconut milk for a subtle lactose-free sweetness.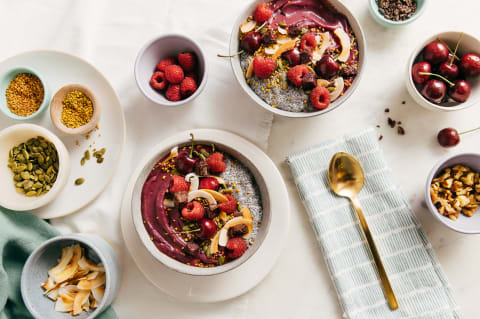 Image by Hannah Schwob / mbg Creative
This acai bowl is dairy-free, keto, and loaded with nutrients like beta-carotene, omega-3s, and fiber. Unlike a traditional smoothie bowl, this one is enhanced with a layer of creamy coconut chia pudding.
22.
Flourless chocolate banana muffins
Image by Nassima Rothacker / Contributor
The peanut butter/chocolate combo is a beloved classic, and these flourless chocolate banana muffins are a healthy, filling way to enjoy it. Coconut sugar, maple syrup, and vanilla paste will fool you into thinking these vegan muffins are an indulgent dessert.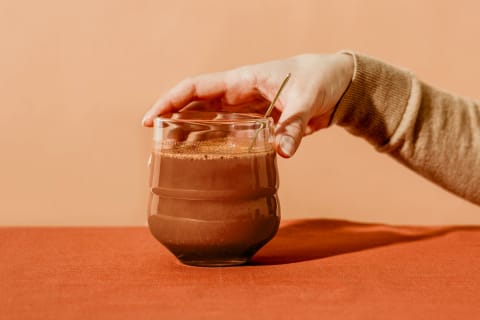 Image by Tatjana Zlatkovic / Stocksy
Why wait until Thanksgiving to enjoy pumpkin pie? This pumpkin pie smoothie is a healthy way to enjoy it any morning. The hemp seeds are rich in healthy fats, and the pumpkin puree contains low-glycemic carbohydrates and antioxidants.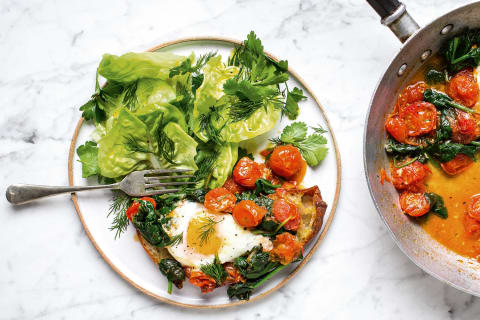 These tomato and thyme eggs are sprinkled with herbs and spices and meant to be enjoyed with a thick slice of sourdough bread and a fresh side salad. The tomatoes contain antioxidants like lycopene and protein from free-range eggs.
25.
Rooibos and barley fig rolls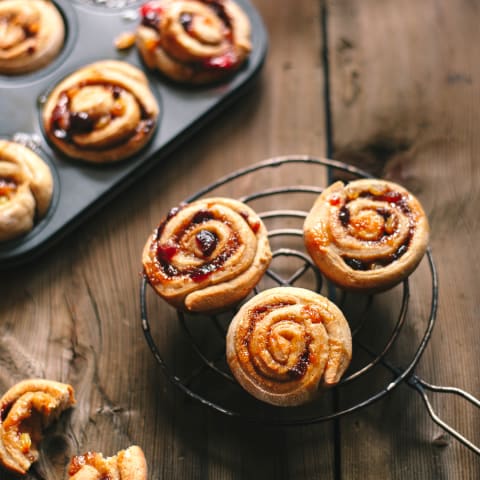 Image by Pixel Stories / Stocksy
Made with whole grains, caffeine-free tea leaves, and organic coconut oil, these rooibos, and barley fig rolls have a sweet and unique flavor profile. The sticky filling contains calcium and fiber from the figs and vitamin C from the orange zest.
26.
Tomato and chive waffles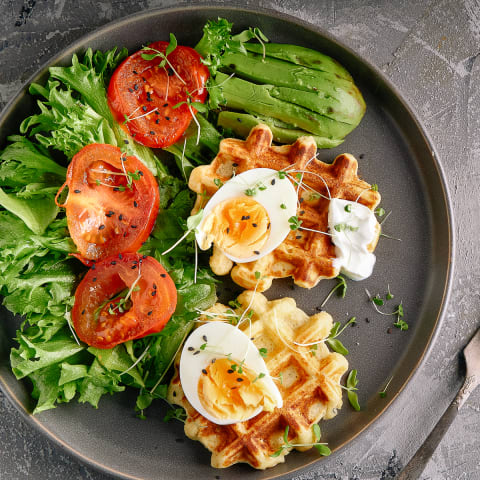 These tomato and chive waffles contain a blend of flours with a lower glycemic index than traditional wheat flour. Since they're savory, they can be topped with avocado for added potassium and healthy fats or an egg for protein.
27.
Blueberry beauty smoothie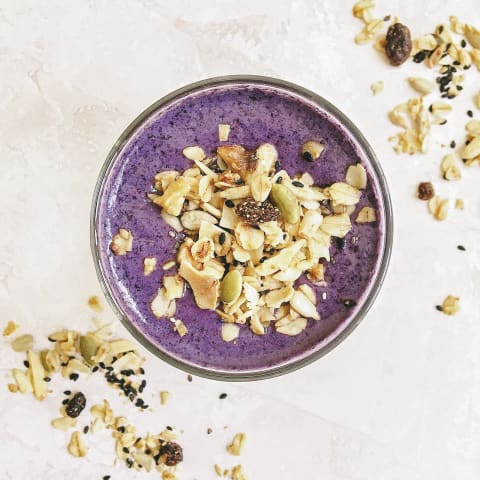 The blueberries in this blueberry beauty smoothie are a bright burst of vitamins C and B6, as well as potassium and folate. The coconut oil and flaxseeds contain healthy fats to keep you fuller than your standard smoothie.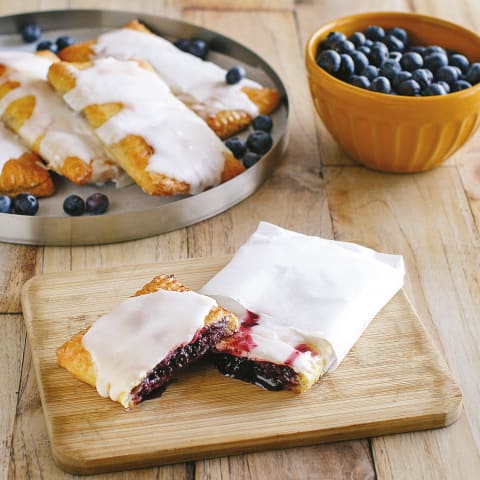 Image by Faith Gorsky & Lara Clevenger
These keto toaster pastries replicate the nostalgic flavors of a frozen toaster pastry, without the excess sugar or preservatives. The antioxidant-rich blueberry filling and decadent vanilla frosting are made with erythritol instead of sugar to keep you in ketosis.
Image by Ksenia Avdulova / Contributor
This breakfast burrito contains both bone broth and sauerkraut for gut-friendly benefits. The "tortilla" is made of pasture-raised eggs, and the filling calls for avocado and greens but can be subbed with the veggies of your choice. Top with hot sauce for an extra kick.
Image by Eliesa Johnson / Contributor
This ginger peach smoothie contains anti-inflammatory and antioxidant properties from the fresh ginger. The bananas add both creaminess and nutrients, like potassium and magnesium. This is the perfect smoothie to enjoy at the peak of stone fruit season.
31.
Dairy-free crepes with coconut yogurt and berries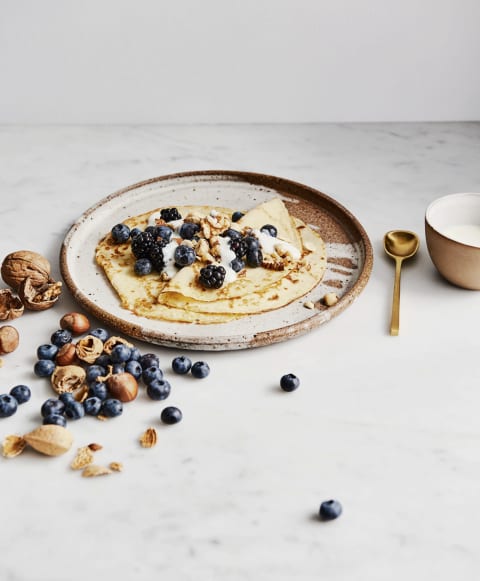 Image by Rochelle Eagle / Contributor
Not only are these coconut crepes decadent, but they're simple to make, with only five ingredients. Swapping butter for coconut oil (both in cooking and for the topping) makes these perfect for anyone with lactose intolerance.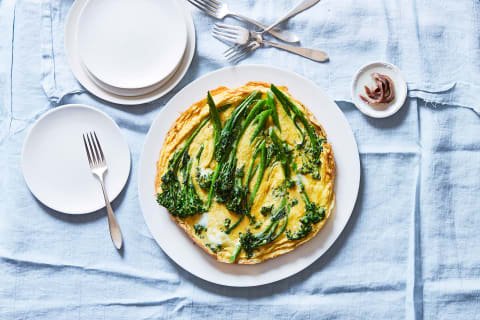 Image by Linda Pugliese / Contributor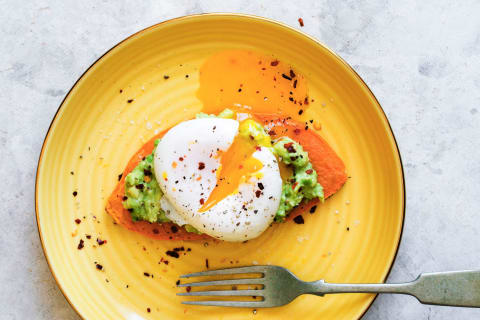 Image by Nadine Greeff / Stocksy
Sure, eggs with a simple sprinkle of salt and pepper can be good, but they get old. Spice things up with these harissa poached eggs, that combine antimicrobial properties of allium veggies3 and heart-healthy olives.
Watch Next
Enjoy some of our favorite clips from classes
Watch Next
Enjoy some of our favorite clips from classes
What Is Meditation?
Mindfulness/Spirituality | Light Watkins
Box Breathing
Mindfulness/Spirituality | Gwen Dittmar
What Breathwork Can Address
Mindfulness/Spirituality | Gwen Dittmar
The 8 Limbs of Yoga - What is Asana?
Two Standing Postures to Open Up Tight Hips
How Plants Can Optimize Athletic Performance
What to Eat Before a Workout
How Ayurveda Helps Us Navigate Modern Life
Messages About Love & Relationships
Love & Relationships | Esther Perel
Love Languages
Love & Relationships | Esther Perel
Related Videos (10)
What Is Meditation?
Box Breathing
What Breathwork Can Address
The 8 Limbs of Yoga - What is Asana?
Two Standing Postures to Open Up Tight Hips
How Plants Can Optimize Athletic Performance
What to Eat Before a Workout
How Ayurveda Helps Us Navigate Modern Life
Messages About Love & Relationships
Love Languages
Advertisement
This ad is displayed using third party content and we do not control its accessibility features.
More On This Topic
more Food
Advertisement
This ad is displayed using third party content and we do not control its accessibility features.
Advertisement
This ad is displayed using third party content and we do not control its accessibility features.