Mother's Day Brunch Done Right: Add These Gluten-Free Banana Pancakes To The Menu
Registered Dietitian
By Frances Largeman-Roth, R.D.
Registered Dietitian
Frances Largeman-Roth, R.D. is a Registered Dietitian Nutritionist, a New York Times best selling author and nationally recognized nutrition and wellness expert.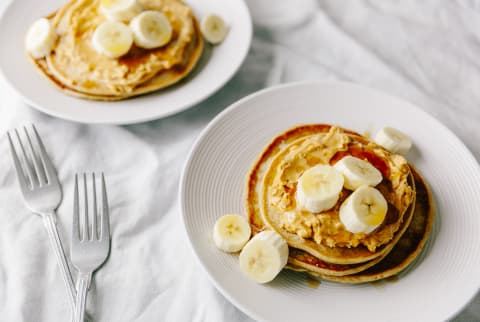 Image by Kirsty Begg / Stocksy
May 10, 2020
Mom deserves an extra-special meal this Mother's Day: These decadent yet healthy banana pancakes are packed with good-for-you ingredients: The chia seeds add fiber and ALA omega-3 fatty acids, which can help reduce inflammation in the body. The raspberries add a gorgeous splash of color to the pancakes, plus a nice boost of vitamin C and folate.
And to round out the recipe: Add mindbodygreen's grass-fed collagen+, a hydrolyzed protein-rich collagen powder that supports healthy skin, hair, and nails.* Research has shown that collagen can support skin elasticity1 by promoting your body's own collagen production.* It's able to do so because hydrolyzed collagen peptides are absorbed more easily2 than regular collagen molecules and therefore can be used throughout the body.* But the formula also contains vitamin C and vitamin E, meaning there's extra antioxidant support for your whole body.*
The result? An indulgent stack that tastes rich and doughy yet provides so many health and beauty benefits—not that mom needs any help looking even more beautiful, of course.*
Gluten-Free Banana Pancakes With Raspberry Sauce
Makes 6 servings (2 pancakes per serving)
Ingredients:
½ cup gluten-free flour
½ cup almond flour
2 scoops mbg grass-fed collagen+
2 teaspoons baking powder
2 teaspoons chia seeds
¼ teaspoon sea salt
¼ cup chocolate chips
2 large overripe bananas, mashed
1 teaspoon vanilla extract
1 egg or egg substitute, whisked
1 tablespoon extra-virgin olive oil
½ cup unsweetened oat milk or milk of your choice
Butter or cooking spray for the pan
9 ounces (1½ packages) fresh raspberries
¼ cup pure maple syrup
Method:
Combine the flours, collagen powder, baking powder, chia, salt, and chocolate chips in a large mixing bowl. In a separate bowl, combine the bananas, egg, oil and milk and combine well. Add half of the wet ingredients to the dry and mix. Add the remaining wet ingredients and combine until fully mixed; set aside.
In a medium saucepan, combine the raspberries and maple syrup in a medium saucepan over medium heat. Bring to a simmer and cook for 8 minutes. Stir and remove from heat.
While the sauce cooks, make the pancakes. Heat a large skillet or griddle over medium-high heat. Coat with butter or cooking spray. Use a ¼-cup measure to add the batter to the hot pan. Cook pancakes for 3 minutes per side, until fluffy and golden. Transfer cooked pancakes to a plate and continue making pancakes until all the batter is used.
Serve the pancakes with about 2 tablespoons of the raspberry sauce.
*If you are pregnant, breastfeeding, or taking medications, consult with your doctor before starting a supplement routine. It is always optimal to consult with a health care provider when considering what supplements are right for you.
Frances Largeman-Roth, R.D.
Registered Dietitian
Frances Largeman-Roth, R.D. is a Registered Dietitian Nutritionist, a New York Times bestselling author and nationally recognized nutrition and wellness expert. Frances is the author of Smoothies & Juices: Prevention Healing Kitchen, Feed the Belly: The Pregnant Mom's Healthy Eating Guide and Eating In Color: Delicious, Healthy Recipes for You and Your Family. She is also the co-author of the bestselling The CarbLovers Diet.

Frances is a freelance writer and recipe developer for numerous publications, including Today.com, Parents, and Parade. She has appeared on numerous national TV shows, including The Today Show, The Dr. Oz Show, The Rachael Ray Show, Good Morning America, Access Hollywood Live and CNN. Frances contributes expert quotes to national publications and also helps healthy food brands share their message. Frances is a member of the James Beard Foundation and the Academy of Nutrition and Dietetics. She received her undergraduate degree at Cornell University and completed her dietetic internship at Columbia.

Frances, her husband and three kids live in Brooklyn, NY. To learn more, go to her website, or follow her on Instagram.