How To Make A Refreshing Collagen Powder Smoothie Bowl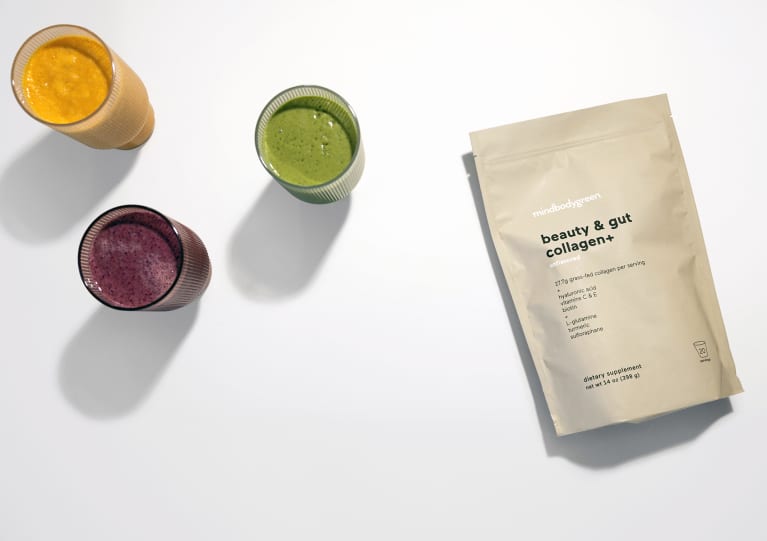 Last updated on July 2, 2021
Who doesn't crave a tropical vacation, no? It may not be a one way ticket to white sand and ocean waves, but this smoothie bowl is about as refreshing as a beachside vacation. Well, that might be a bit of an exaggeration, but we promise this treat is about as close to a getaway as a smoothie bowl can be: With one bite, you'll practically feel a warm breeze through your hair and your complexion start to illuminate.*
Well, the latter might not be in your imagination. This bowl is filled with good-for-skin ingredients thanks to mbg's beauty & gut collagen+.* Collagen is the oh-so-important structural protein that keeps our skin looking firm yet supple. But collagen starts declining as we age, as well as due to things like UV damage and oxidative stress.
That's why adding a collagen supplement to your skin care routine is such a vital part of your overall skin care goals: Your body is able to absorb hydrolyzed collagen supplements, where the amino acids (or, what makes up collagen supplements) travel all over providing your cells with the building blocks of collagen and other proteins, like keratin.* And in the case of the skin, it's been shown in clinical studies that collagen supplements are able to promote collagen and elastin production by supporting your skin cell's fibroblasts, as well as maintaining healthy moisture levels and smoothing fine lines.*
But this specific blend goes a step further by adding several additional bioactives. It contains things like vitamins C & E, antioxidants that are vital parts of the collagen synthesis process.* There's also hyaluronic acid, a naturally occurring humectant that can help your skin hold in moisture.* Then there are key bioactives like turmeric, SGS, and L-glutamine for full-body benefits.*
Pretty impressive skin care benefits considering all you had to do was add one scoop to a smoothie bowl.*
The refreshing recipe is below, but just know if you don't have all the same toppings or would rather swap in another frozen fruit, by all means! Think of this as a guided suggestion, which you can riff off of. The real mainstay is the collagen powder; as long as you've got your scoop of that? You can glow on.*
Tropical Smoothie Bowl With mbg beauty & gut collagen+
Yields: 1 serving
Prep time: 10 minutes
In a blender, add all ingredients and blend until smooth. Transfer to bowl and garnish with toppings.
Some suggested garnishes:
Garnish
Mango
Coconut flakes
Dried goji berries
Dragonfruit
Gooseberries
Pumpkin seeds
Bee pollen
Flaxseeds