paid content
 for

Plant-Based Before Noon: 4 mbg Staffers Share Their Favorite Breakfasts
NASM Certified Personal Trainer
By Matt Scheetz, NASM-CPT
NASM Certified Personal Trainer
Matt Scheetz is a brand strategist at mindbodygreen and a NASM-certified personal trainer.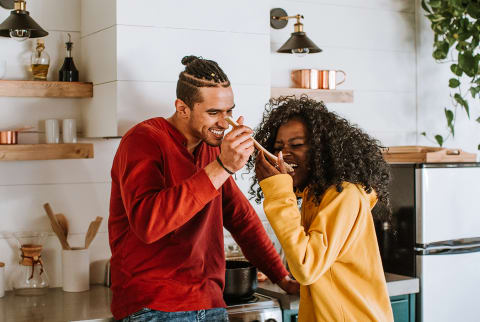 Image by Leah Flores / Stocksy
May 11, 2020
For team mindbodygreen, breakfast time is sacred time. We believe that a healthy, plant-based breakfast is the best way to set ourselves up for a successful and productive day. What does this mean? Well, it looks a bit different for everyone (as you'll see).
But across the board, it means a meal that's sustainable, packed with plant-based protein, and so simple to make that we can do it with our eyes closed (as they tend to be some mornings). After all, when we prepare a meal that's good for us AND the planet, we're inspired to make better food choices throughout the day.
We asked mbg staffers about their favorite ways to kick-start each day. The results had us drooling all the way until lunch, so we figured it was only fair to share them with you. From breakfast tacos stuffed with JUST Egg Folded, a loaded quinoa bowl with ALL the things, or superfood-packed overnight oats—whipping up something that nourishes both our bodies and our planet is just one small way to make a big impact.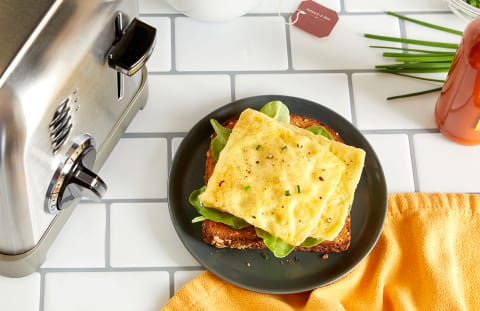 Image by JUST / Contributor
Sarah R (Editorial Assistant):
My staple as of late has been a plant-based scramble—I use JUST Egg because it's the closest in taste and texture. I love this recipe because it's super versatile and you can add all sorts of veggies, beans, or whatever is in your fridge! Sometimes I'll throw it on top of some sprouted bread for avocado toast or with some almond butter—it's a complete protein!
Kristine T (Senior Health Editor):
My go-to breakfast is plant-based overnight oats. I'll throw it together Sunday night, and that will last me for at least three days. I've been trying to get more protein in my diet so I pack it with plant-based sources like flaxseeds and nut butter and then top it off with sliced banana and cacao nibs (what better way to start your day out than with a little chocolate?).
Image by Cameron Whitman / Stocksy
Jamie S (Editorial Assistant):
A born and bred Texan, I'm passionate about my breakfast tacos. While I play around with the ingredients (sometimes it's mushrooms; other times it's diced bell pepper or spinach), it's always a three-step formula: a serving of JUST Egg Folded, veggies, and vegan cheese scrambled together on a pair of grain-free tortillas. I'll top them with a drizzle of hot sauce (a nonnegotiable for me) and some avocado if I'm feeling fancy.
Courtney H (Director of eCommerce):
Breakfast is my favorite, and I have a couple of staples in my rotation. When I feel like baking, I'll whip up my grain-free banana bread (always topped with almond butter). But if I need something on the go, I swear by my cauliflower, blueberry, and greens smoothie—with some plant-based protein powder thrown in!
Shop this story:

Matt Scheetz, NASM-CPT
NASM Certified Personal Trainer
Matt Scheetz is a brand strategist at mindbodygreen. He's a NASM-certified personal trainer, so he's usually the person everyone comes to when they need a new workout routine. He's usually at the gym before the sun rises, which makes sense since his favorite hobby is eating things that make it necessary to be at the gym before the sun rises.