This 5-Minute Keto English Muffin Recipe Will Transform Your Mornings

Contributing Health & Nutrition Editor
By Stephanie Eckelkamp
Contributing Health & Nutrition Editor
Stephanie Eckelkamp is a writer and editor who has been working for leading health publications for the past 10 years. She received her B.S. in journalism from Syracuse University with a minor in nutrition.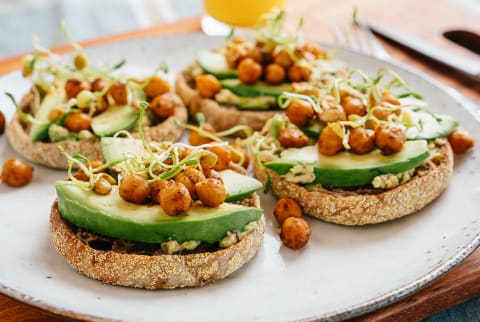 Image by Harald Walker / Stocksy
August 3, 2019
We carefully vet all products and services featured on mindbodygreen using our
commerce guidelines.
Our selections are never influenced by the commissions earned from our links.
English muffins are the perfect accompaniment to eggs and an ideal base for avocado toast. But just like any of the carb-rich delights you may have once enjoyed for breakfast, they're a no-go on a low-carb keto diet or paleo diet.
The good news: By making strategic ingredient swaps and adding in the appropriate keto-friendly foods, you can still find comfort in this breakfast staple without sabotaging your keto goals.
To see that we're not bluffing, scroll down for the incredibly simple keto English muffin recipe (that also happens to be grain-free, dairy-free, and gluten-free) from the new cookbook Everyday Keto Baking by Erica Kerwien.
What makes this English muffin recipe keto-friendly?
To keep your total carb intake low (so you can stay in that fat-burning state known as ketosis), this keto English muffin recipe forgoes traditional flour for high-fiber, high-protein, and high-fat ingredients like almond flour, coconut flour, egg whites, and avocado oil. Together, these ingredients somehow manage to achieve a bread-like texture that you can slice in half and toast to perfection, making it the ideal bread substitute for your next breakfast sandwich.
The best part: This is a super-quick, single-serve recipe—simply mix up the ingredients and microwave (or bake) in the same ramekin. From start to finish, it takes just 5 minutes, making it possible even on your busiest mornings.
5-Minute Single-Serve Keto English Muffin
Each muffin contains 5 grams of protein and 3 grams of fiber to help keep you full, and just 5 grams of carbs. And while there's just 1 gram of fat, you can slather on your favorite healthy fats, like avocado or nut butter, to fuel your keto fire.
Yields 1 muffin (2 halves)
¼ cup blanched almond flour
1 tablespoon coconut flour
⅛ teaspoon baking soda
⅛ teaspoon salt
1 large egg white
½ teaspoon avocado or coconut oil
2 tablespoons warm water
Add the flours, baking soda, and salt to a small ramekin or microwave-safe bowl, and mix well with a fork. (Pro tip: Use a 3½-inch ramekin, which holds about 4 ounces of liquid.)
Add the egg white, oil, and water, and mix well.
With a fork, spoon, or your fingers, flatten the batter so it's even on top.
Microwave* the ramekin for 2 minutes.
Turn the ramekin upside down to slide out the muffin.
Slice into 2 muffin halves and toast each slice.
Spread with butter, peanut butter, jam, smashed avocado, or an egg.
*If you don't have a microwave or don't use one, you can bake the muffin, but it does crumble a bit. To bake it, generously oil the inside of the ramekin or bowl, and bake in a preheated oven or toaster oven at 400°F for 15 minutes or until solid. You may need to slide a knife along the sides to wiggle the muffin out of the ramekin.
Based on an excerpt from Everyday Keto Baking by Erica Kerwien with the permission of Fair Winds Press. Copyright © 2019.
And do you want to turn your passion for wellbeing into a fulfilling career? Become a Certified Health Coach! Learn more here.