You'll Want To Make A Batch (Or Two) Of These Keto Lemon Muffins This Weekend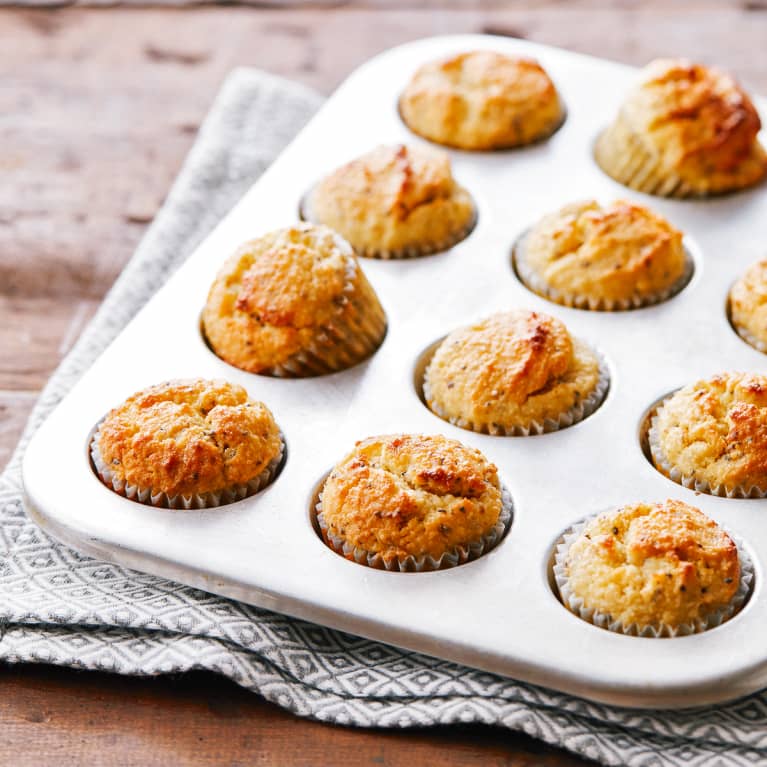 Lemon poppy seed muffins are a classic, but even the classics sometimes benefit from an update. This recipe, from Keto-Friendly Recipes: Bake It Keto by Jennifer Marie Garza, makes them a little better for us. With the clever swap of chia seeds for poppy seeds and the addition of collagen peptides, these keto muffins pack a protein punch.
Collagen peptides are the building blocks of collagen and is the form of collagen that is accessible for our body to absorb—it's what makes it useful as a supplement. But what are the benefits of a collagen supplement? As we age, our collagen levels naturally decrease. Adding a supplement counteracts this and helps support healthy skin, hair, and nails by promoting elasticity and cellular hydration.*
In this recipe, Garza uses the zest and juice of a lemon to ensure the flavor comes through, and careful use of almond and coconut flour give them the perfect texture while keeping keto.
4 ounces cream cheese, at room temperature
4 large eggs, at room temperature
1 teaspoon grated lemon zest
2 tablespoons lemon juice
1 teaspoon vanilla extract
1¼ blanched almond flour
¾ cup Swerve confectioners' sweetener
4 tablespoons butter, at room temperature
2 tablespoons whole chia seeds
1 tablespoon ground chia seeds
1½ teaspoons unflavored collagen peptides
¾ teaspoon baking powder
½ teaspoon salt
2 tablespoons coconut flour
Preheat the oven to 350°F. Line the cups of a 12-cup muffin tin with cupcake liners and spray the liners with nonstick cooking spray.
In a medium bowl using a hand mixer, beat the cream cheese, eggs, lemon zest, lemon juice, and vanilla until combined. Add the almond flour, sweetener, butter, coconut flour, whole chia, ground chia, collagen peptides, baking powder, and salt, and beat until combined.
Use an ice cream scoop to spoon the mixture equally into the muffin cups. Bake for 30 to 35 minutes, until a toothpick inserted into the center of a muffin comes out clean.
Nutritional Information (per serving): Calories 92, Fat 6 g, Protein 2.8 g, Carbs 7.3 g, Fiber 1 g
Excerpted from Keto-Friendly Recipes: Bake It Keto © 2020 by Jennifer Marie Garza. Photography © 2020 by Ghazalle Badiozamani. Reproduced by permission of Houghton Mifflin Harcourt. All rights reserved.