Yes, Keto Toaster Pastries Exist — Here's Exactly How To Make Them
mbg Associate Editor
By Jamie Schneider
mbg Associate Editor
Jamie Schneider is the Associate Editor at mindbodygreen, covering beauty and health. She has a B.A. in Organizational Studies and English from the University of Michigan, and her work has appeared in Coveteur, The Chill Times, and Wyld Skincare.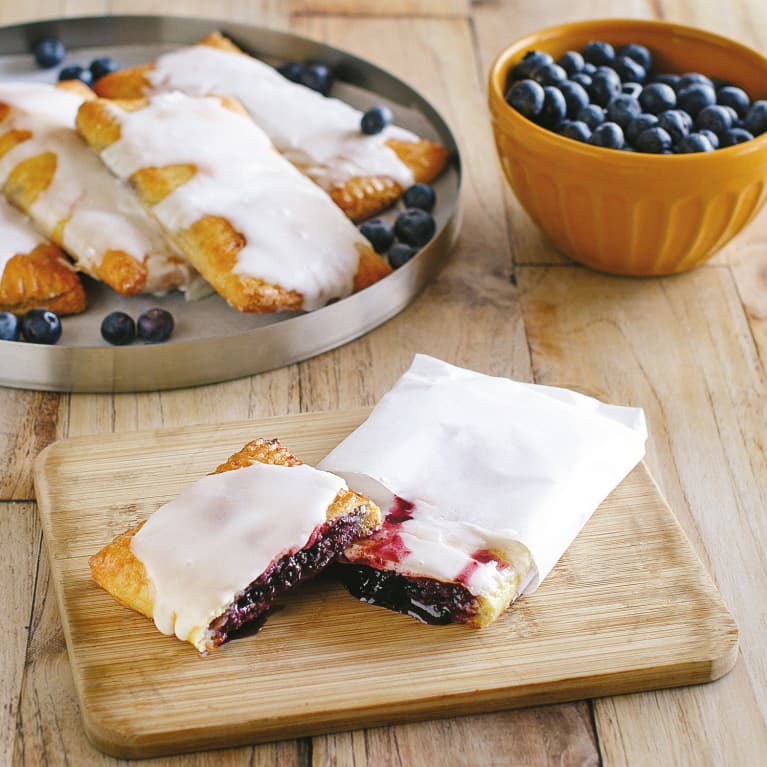 If you're a recent convert to the keto-craze, chances are you probably miss bread. With this breakfast pastry recipe that's 100% keto-approved, you'll be prepared for any weekend brunch opportunity that comes your way. Ingredients like apple cider vinegar help with detoxification, while the blueberry filling is a great way to incorporate antioxidants into your diet and balance blood sugar levels.
The beautiful thing about breakfast pastries is that you can fill them with any flavor of jam you like. Blueberry is a classic, but strawberry comes in at a close second. You can even eat them without the icing for a crunchier, flaky treat, but if you're an icing person, you'll love these as is! They'll smell so heavenly coming out of the oven—we dare you not to eat the entire tray.
Blueberry Breakfast Pastries
Yields 6 large pastries | Serves 12
Blueberry Filling Ingredients:
1½ cups frozen blueberries
4 tablespoons powdered erythritol
½ tablespoon good-quality red wine vinegar
⅛ teaspoon stevia glycerite
⅛ teaspoon salt
1¼ teaspoons powdered fruit pectin
3 cups shredded low-moisture part-skim mozzarella cheese
2 ounces cream cheese
3 large eggs, divided
1 teaspoon apple cider vinegar
10 drops liquid stevia
½ teaspoon pure vanilla extract
2 cups almond flour
2 teaspoons baking powder
Coconut oil spray, for your hands
1 tablespoon water
Vanilla Icing Ingredients:
¾ cup powdered erythritol
3 tablespoons heavy whipping cream
1 tablespoon fresh lemon juice
2 teaspoons water
¼ teaspoon pure vanilla extract
Pinch of salt
For the Blueberry Filling:
In a medium saucepan over medium heat, add the frozen blueberries, powdered erythritol, red wine vinegar, stevia glycerite, and salt.
Cover the saucepan and cook 10 minutes.
Turn off the heat and stir in the pectin.
Cool to room temperature, then refrigerate to chill, about 30 minutes.
In a large microwave-safe bowl, add the mozzarella and cream cheese. Microwave for 60 seconds, then give it a stir and continue microwaving in 20-second increments until the cheese is fully melted and combined when stirred.
In a small bowl, whisk together two eggs, the apple cider vinegar, liquid stevia, and vanilla.
In a medium bowl, whisk together the almond flour and baking powder.
Stir the egg mixture into the melted cheese until combined, and then stir in the almond flour mixture until it forms a dough.
Oil your hands and knead the dough until it comes together as a ball. Divide the dough into two equal portions, forming each into a ball.
Roll each ball of dough out between two pieces of parchment paper to a rectangle 12 inches long by 9 inches wide.
Cut each rectangle in half widthwise, creating two (9-by-6-inch) sections. Then cut each section widthwise into thirds, creating a total of six (6-by-3-inch) rectangles.
Preheat the oven to 375°F. Line two large baking trays with Silpat liners or parchment paper.
Spoon 2 tablespoons chilled blueberry jam onto each of the six rectangles, spreading it in an even layer but leaving a ¼-inch border along the outside.
To seal each pastry, carefully pick up one rectangle of dough that doesn't have filling and place it directly on top of a pastry with filling. Lightly press down the edges to seal, and then use a fork to crimp. Continue this way until all six pastries are formed.
Carefully place the pastries on the prepared baking trays (use a metal spatula to help transfer them).
In a small bowl, whisk together the remaining egg and water, and lightly brush the egg wash on top of each pastry (discard the extra egg wash). Cut four slits in the top of each pastry so steam can escape.
Bake until the pastries are golden, about 18 to 20 minutes, rotating the trays once halfway through. Cool the pastries completely before icing.
In a small bowl, stir together all ingredients for the icing.
Spread the icing onto the cooled pastries and let it harden before serving.
Calories: 250 | Fat: 19 g | Protein: 13 g | Sodium: 326 mg | Fiber: 3 g | Carbohydrates: 25 g | Net Carbohydrates: 6 g | Sugar: 3 g
Excerpted from Keto Bread by Faith Gorsky and Lara Clevenger. Copyright © 2019 by Simon & Schuster Inc. Used with permission of the publisher, Adams Media, an imprint of Simon & Schuster. All rights reserved.