Make These Fudgy Chocolate Avocado Blender Muffins For A Healthy Pick-Me-Up Treat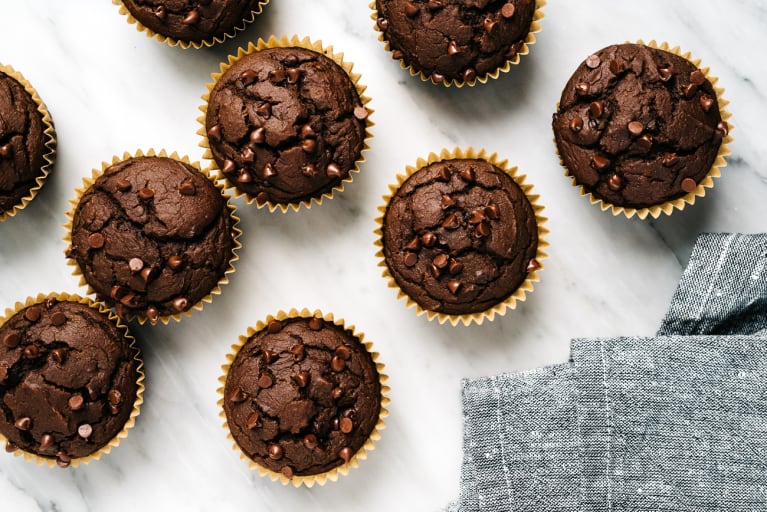 Our editors have independently chosen the products listed on this page. If you purchase something mentioned in this article, we may
earn a small commission
.
One of the easiest ways to turn social distancing "lemons into lemonade" is to treat yourself to some healthy baking! The result is delicious and in keeping with a more sedentary (temporary!) lifestyle than a traditional goodie made with refined flour and sugar.
Even if you're an absolute baking newbie, these Double Chocolate Avocado Blender Muffins are easy to master, and you'll get a sense of some nutritious staple baking ingredients. They taste utterly decadent, but you could absolutely enjoy them for a balanced breakfast or snack. Pro tip: I put them in the oven at 350°F for 5 to 10 minutes to reheat, smothered with peanut or almond butter!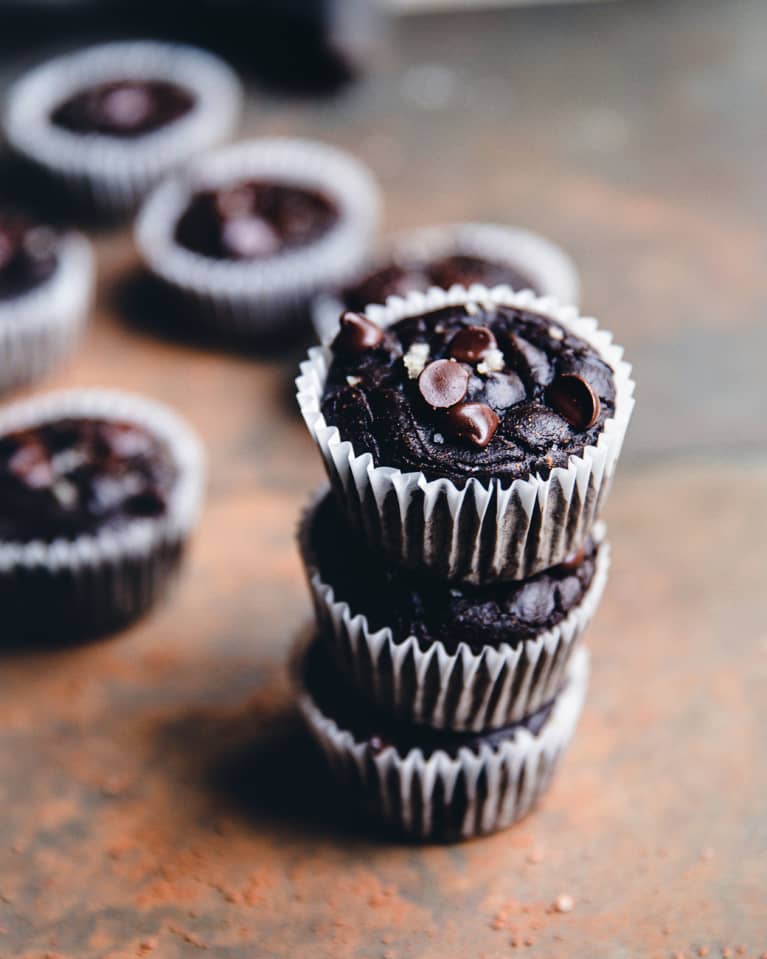 Double Chocolate Avocado Blender Muffins
1 cup unsweetened almond milk
2 large eggs, room temperature
1 medium ripe avocado, mashed (½ cup)
½ cup maple syrup
2 teaspoons vanilla extract
1 teaspoon apple cider vinegar or white vinegar
½ cup Dutch-processed cocoa powder (you can use cacao, but it will be a little lighter in color, and the flavor isn't quite as rich)
1½ teaspoons baking powder
1 teaspoon baking soda
⅛ teaspoon sea salt
1 cup chickpea flour
¾ cup plus ⅓ cup dark or semisweet chocolate chips
Coarse sea salt for garnish
Preheat oven to 350°F.
Line a 12-cup cupcake tin (or two 6-cup tins) with liners.
Combine all ingredients except chocolate chips, in the order listed, in a high-powered blender or food processor. Purée until smooth. If using a blender, you may need to use the tamper to help blend. You can also stop a few times to scrape down with a spatula, which can help ensure everything is blended evenly.
Remove food processor or blender container from the base (carefully remove food processor blade as well), then stir in ¾ cup chocolate chips (or 1 cup chocolate chunks). Distribute batter evenly among the cupcake liners, filling approximately ¾ of the way.
Shake tins gently to even out batter. Sprinkle batter with remaining ⅓ cup chocolate chips.
Bake for 17 minutes, until muffins are firm to touch but "jiggle" a little. Resist the urge to open the oven!
Allow to cool in the tin for 10 minutes. The muffins will deflate just a bit but should not cave in.
After 10 minutes, use a fork to gently remove muffins from tins. They will still be pretty soft at this point, but they will continue to firm as they cool. Place on a cooling rack, and allow to cool for another 15 minutes.
Sprinkle coarse sea salt on top of muffins. Leftover muffins will keep tightly sealed at room temperature for 2 days, in the refrigerator for 5 days, or in the freezer for 3 months. (I keep my muffins in the refrigerator.)
To reheat, microwave them for 13 seconds.
Reduce the almond milk to ½ cup.
Sub ½ cup monk fruit sweetener for maple syrup.
Sub 1 cup blanched almond flour for chickpea flour.
Sub stevia-sweetened chocolate chips for regular chips.
You'll have enough batter to fill tins approximately ⅔ of the way full instead of ¾. Bake for 22 minutes, or until a toothpick inserted into the center comes out mostly clean with just a bit of batter and the muffins feel firm to touch. Cooling instructions are the same.