Make These Fudgy Chocolate Avocado Blender Muffins For A Healthy Pick-Me-Up Treat

By Laura Lea Bryant
mbg Contributor
Laura Lea Bryant is a certified health-supportive chef and cookbook author living in Nashville, Tennessee.
Image by Cameron Whitman / Stocksy
March 19, 2020
We carefully vet all products and services featured on mindbodygreen using our
commerce guidelines.
Our selections are never influenced by the commissions earned from our links.
Even if you're an absolute baking newbie, these Double Chocolate Avocado Blender Muffins are easy to master, and you'll get a sense of some nutritious staple baking ingredients. They taste utterly decadent, but you could absolutely enjoy them for a balanced breakfast or snack. Pro tip: I put them in the oven at 350°F for 5 to 10 minutes to reheat, smothered with peanut or almond butter!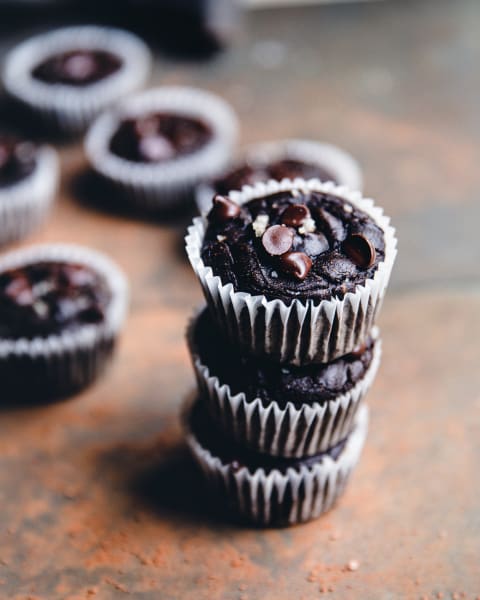 Double Chocolate Avocado Blender Muffins
Ingredients:
1 cup unsweetened almond milk
2 large eggs, room temperature
1 medium ripe avocado, mashed (½ cup)
½ cup maple syrup
2 teaspoons vanilla extract
1 teaspoon apple cider vinegar or white vinegar
½ cup Dutch-processed cocoa powder (you can use cacao, but it will be a little lighter in color, and the flavor isn't quite as rich)
1½ teaspoons baking powder
1 teaspoon baking soda
⅛ teaspoon sea salt
1 cup chickpea flour
¾ cup plus ⅓ cup dark or semisweet chocolate chips
Coarse sea salt for garnish
Method:
Preheat oven to 350°F.
Line a 12-cup cupcake tin (or two 6-cup tins) with liners.
Combine all ingredients except chocolate chips, in the order listed, in a high-powered blender or food processor. Purée until smooth. If using a blender, you may need to use the tamper to help blend. You can also stop a few times to scrape down with a spatula, which can help ensure everything is blended evenly.
Remove food processor or blender container from the base (carefully remove food processor blade as well), then stir in ¾ cup chocolate chips (or 1 cup chocolate chunks). Distribute batter evenly among the cupcake liners, filling approximately ¾ of the way.
Shake tins gently to even out batter. Sprinkle batter with remaining ⅓ cup chocolate chips.
Bake for 17 minutes, until muffins are firm to touch but "jiggle" a little. Resist the urge to open the oven!
Allow to cool in the tin for 10 minutes. The muffins will deflate just a bit but should not cave in.
After 10 minutes, use a fork to gently remove muffins from tins. They will still be pretty soft at this point, but they will continue to firm as they cool. Place on a cooling rack, and allow to cool for another 15 minutes.
Sprinkle coarse sea salt on top of muffins. Leftover muffins will keep tightly sealed at room temperature for 2 days, in the refrigerator for 5 days, or in the freezer for 3 months. (I keep my muffins in the refrigerator.)
To reheat, microwave them for 13 seconds.
For a low-sugar version:
Reduce the almond milk to ½ cup.
Sub ½ cup monk fruit sweetener for maple syrup.
Sub 1 cup blanched almond flour for chickpea flour.
Sub stevia-sweetened chocolate chips for regular chips.
You'll have enough batter to fill tins approximately ⅔ of the way full instead of ¾. Bake for 22 minutes, or until a toothpick inserted into the center comes out mostly clean with just a bit of batter and the muffins feel firm to touch. Cooling instructions are the same.
Recipe excerpted from
Simply Laura Lea
by Laura Lea. Reprinted with permission from Blue Hills Press, 2020.

Laura Lea Bryant
Laura Lea Bryant is a Certified Health-Supportive Chef in Nashville, TN. She graduated from The Chef's Training Program at the Natural Gourmet Institute (NGI) in 2013. Laura Lea published her first & best-selling cookbook in 2017, The Laura Lea Balanced Cookbook. Her second book, Simply Laura Lea, came out in 2020. Laura Lea based her business, Laura Lea Balanced, in her hometown to Nashville. The goal of LL Balanced is to dispel common misconceptions of healthy eating with her simple, comfort-food inspired and family-friendly recipes. In addition, she hopes to increase awareness about the relationship between food and mental, emotional and physical health.