17 Plant-Based Breakfast Ideas That Pack A Protein Punch
Founder & CEO of The Tasteful Pantry
By Jennifer Wang
Founder & CEO of The Tasteful Pantry
Jennifer Wang is the founder and CEO of The Tasteful Pantry, a healthy lifestyle company and blog.. She holds a BS in finance from the University of Pennsylvania.

Expert review by
Molly Knudsen, M.S., RDN
Registered Dietitian Nutritionist
Molly Knudsen, M.S., RDN is a Registered Dietician Nutritionist with a bachelor's degree in nutrition from Texas Christian University and a master's in nutrition interventions, communication, and behavior change from Tufts University. She lives in Newport Beach, California, and enjoys connecting people to the food they eat and how it influences health and wellbeing.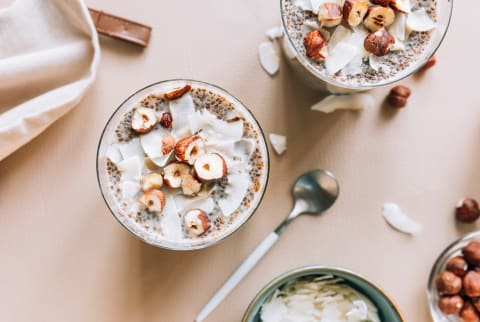 Image by Nataša Mandić / Stocksy
July 19, 2020
For many, smoothies and overnight oats are the only meals that come to mind when thinking of plant-based breakfasts. While both options can be healthy and delicious, they can get old pretty fast. Thankfully, there are plenty of other protein-packed, plant-based options for your morning meal.
Incorporating protein and fiber into your breakfast can keep you satiated and energized for longer, which may prevent overeating later in the day. These 17 easy and delicious plant-based breakfasts go beyond boring oatmeal. Plus, they'll give you the nutrients you need to get through the day.
1.
Post-workout green smoothie
If you like to hit the gym first thing, this post-workout green smoothie is a great option. It's packed with protein and healthy fat from the avocado, making it perfect for recovery after getting your sweat on.
For a simple, no-frills breakfast packed with healthy ingredients, enter this superfood cereal. It's got tons of nuts, seeds, and other superfoods for a homemade cereal that outshines anything you could buy in the store. And it even doubles as a granola come snack time!
4.
Apple cinnamon overnight oats
These apple cinnamon overnight oats are perfect for a convenient morning meal. Make it ahead of time so it's ready to go in the morning. When you want to eat it, simply warm the oats for one minute, add an extra splash of almond milk, a drizzle of maple syrup, and a spoonful of your favorite nut butter.
Image by Eliesa Johnson / Contributor
For a quick and refreshing breakfast, give this ginger peach smoothie a try. The ginger is high in antioxidants and anti-inflammatory properties. The flaxseeds are high in omega-3s and fiber, which helps to keep you fuller longer than a normal fruit smoothie might.
6.
Raw berry pomegranate bowl
This pomegranate bowl is both vegan and raw, making it another good option for a light, but filling breakfast. Pomegranates are a nutritional powerhouse packed with antioxidants, vitamin C, and more. Since this recipe doesn't involve any cooking, you can have it in just a few minutes.
This chia pudding recipe is another great make-ahead option. The chia seeds are full of omega-3s, which can aid the body in balancing hormones and keep you regular. Make a few batches to last you throughout the week, and switch up your toppings to keep things interesting.
For the ambitious folks, we have this sprouted spelt bagel recipe. It's not as quick as the other recipes, so maybe save this one for the weekend. It does, however, make eight better-for-you bagels. This gives you the option to freeze the leftovers or share with friends and neighbors.
9.
Three-ingredient banana pancakes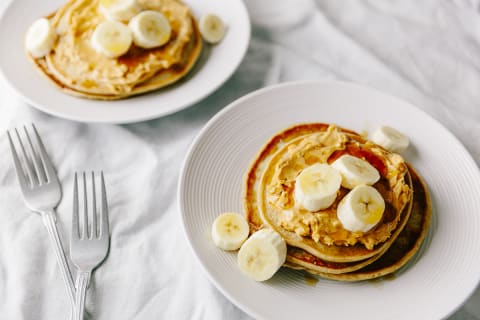 Image by Kirsty Begg / Stocksy
These three-ingredient pancakes only take about 10 minutes to make and are packed with nutritious oat bran. Though the ingredient is often overlooked, just one cup of cooked oat bran1 contains around six grams of fiber and seven grams of protein. To make these, mix together 3/4 cup of oat bran, half of a ripe banana, and 1/2 cup of your favorite plant-based milk.
This recipe calls for Worcestershire sauce, so look for a vegan version or leave it out altogether. Add in some scrambled tofu for more protein, and you've got yourself a complete breakfast.
11.
Savory quinoa porridge
You may typically enjoy porridge with oats, honey, and fruit. If you're bored of that version, though, consider swapping your oats for a savory quinoa breakfast bowl.
The quinoa, kale, and pesto recipe (sans poached egg) is one of our favorites, but any plant-based toppings would work. When cooking the quinoa, replace half of the water with veggie broth for added flavor.
If you're still craving sweet porridge, but want the complete protein that comes with quinoa, this superfood breakfast bowl may be a better fit. The carbohydrates, fiber, and protein will keep you full until lunch time, plus the berries are loaded with healthy antioxidants.
If fresh berries aren't in season, opt for frozen. They're cheaper and oftentimes contain more nutrients and flavor, since they're frozen at peak season.
Hummus is super easy to make and the main ingredient is either chickpeas or white beans (like in this white bean mediterranean hummus)—both of which are full of fiber and protein. Shake up your morning toast by topping it with some hummus and a sprinkle of hemp seeds for extra protein and healthy fats.
Image by Trent Lanz / Stocksy
Nut butter toast is a great way to start your day off with a little sweetness (but not too much) while still getting in your protein. Top your toast with your favorite all-natural or homemade nut butter. That can be a meal on it's own, but if you want even more flavor, add bananas, berries, or a sprinkle of cinnamon.
These flourless chocolate chip muffins are full of protein from the chickpeas and nut butter. Those two ingredients also serve as binding agents, eliminating the need for flour or eggs. The bananas, which act as a natural thickening agent and a sweetener, are loaded with magnesium and potassium.
This dish may sound impressive, but it's actually super easy. Simply fill a tortilla of your choice with caramelized onions, sautéed spinach, and tempeh. That's all it takes to make a decadent, but healthy and protein-packed breakfast quesadilla.
17.
Baked squash topped with beans
Baked beans on toast is British classic. Using squash instead of bread can deliver a similar flavor, while enhancing the nutrition content. There's no official recipe for this one—it all comes down to preference and what's in season.
Jennifer Wang
Founder & CEO of The Tasteful Pantry
Jennifer Wang is the founder and CEO of The Tasteful Pantry, a healthy lifestyle company and blog that provides advice, product reviews, and resources for healthy and mindful living, with a special emphasis on "free form" living. She holds a B.S. in finance from the University of Pennsylvania. Jennifer has also been a spinning instructor for over 10 years and has been doing Pilates for over five years.
In her free time, she enjoys long runs on the beach and teaching meditation in Los Angeles.