Nutritionists Open Up A Can: The Best Ways To Eat Chickpeas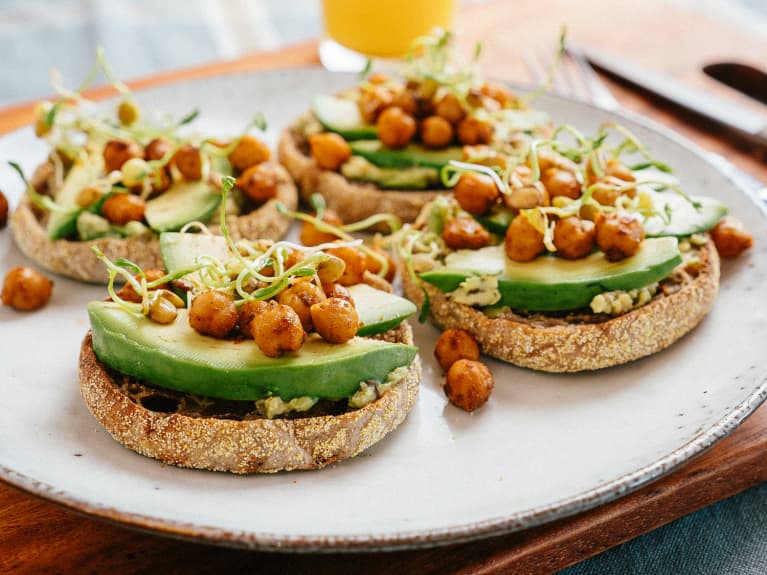 To avoid unnecessary social contact, you may have stocked up on a few nonperishable items at the grocery store this week. But just because those beans won't go bad anytime soon doesn't mean you should put off making them.
We consulted registered dietitians Jess Cording, M.S., R.D., CDN, and Abby Cannon, J.D., R.D., CDN, to find out some of the healthiest (and tastiest) ways to use your canned chickpeas—and yes, they're the same as garbanzo beans.
Which chickpeas should I buy?
While any chickpeas will do, Cannon prefers "those that specify they were soaked before being cooked, and even better if they were soaked with kombu."
Kombu is a sea vegetable rich in minerals and commonly used to enhance Japanese noodle broths. According to Cannon, the amino acids in kombu help breakdown starches in the beans, making them softer and more digestible.
How to eat canned chickpeas.
Not only are these superfoods super tasty, but they're also extremely versatile. Meaning, no matter how long you're socially isolated, you won't run out of ways to make chickpeas.
"Chickpeas are wonderful to add directly to your dish—like salad, pasta, or soup—for extra protein and fiber," Cannon told us. If you're craving a satisfying crunch, she recommends roasting them with avocado oil and plain ol' sea salt.
To help spruce up the flavor, though, Cording likes to add fresh seasoning. "I like to roast mine with different herbs and spices and make a deconstructed falafel bowl with cauliflower rice, greens, and hummus or babaganoush," she told us.
Both R.D.s recommend making your own hummus as a dip for raw veggies or a spread for your sandwiches. Though staying at home might tempt you to snack, remember to prioritize normal meals.
If you've yet to think about dinner, this delicious, oil-free chana masala might just hit the spot.
4 cloves
1 tsp. tea (any black drinking tea)
1 stick cinnamon
1 tsp. cumin seed
½ tsp. aniseed
7 to 8 shakes of black pepper
2 bay leaves
1 tsp. any garam masala of your choice
1 tsp. coriander seed
½ tsp. cumin seed
2 red dry chilies or red pepper flakes
½ tsp. baking soda
2 medium-size onions, finely chopped
2 tomatoes, finely chopped
2 tsp. green coriander, finely chopped
Soak the chickpeas for 6 to 8 hours or overnight. Then rinse, and add the baking soda and 2 glasses of water. Wait for half an hour.
Drain the water and rinse again so that all the baking soda is washed out. (This way, the chickpeas will come out evenly cooked.)
Add to the pressure cooker with 3 glasses of water for 3 minutes. Then reduce the flame and cook for about 20 minutes. Now set it aside, and it will cook in its own pressure.
Dry-roast the second group of spices.
In the pressure cooker, mix the first and second group of spices, onion, tomato, and coriander. Cook for 5 minutes until the gravy becomes thick.