3-Ingredient Pancakes That Are Chock-Full Of Protein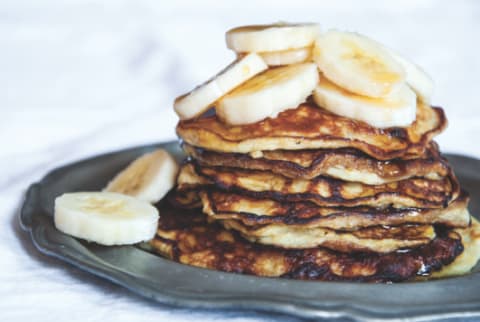 February 18, 2017
Three-ingredient pancakes are really a thing. All that stands between you and breakfast are three little ingredients that you probably have handy.
These pancakes aren't the light and fluffy kind you're probably used to—they're super creamy and rich-tasting. Because they're made with banana, eggs, and baking powder, they have a strong banana flavor. Want to tame that down a bit? Add some chocolate chips to the mix.
3-Ingredient Protein Pancakes
Ingredients
1 ripe banana, plus more for serving (optional)
2 large eggs
½ teaspoon baking powder
Method
1. Add the banana to a bowl and mash it until it's nice and creamy—no lumps.
2. Crack the eggs into another bowl and whisk until they are thoroughly mixed.
3. Add the baking powder to the bowl of banana and then pour in the eggs. Whisk to completely combine everything together.
4. Heat cooking oil in a skillet or griddle over medium heat.
5. Once the skillet is hot, add 2 tablespoons of batter into the pan to make the pancake.
6. Cook until the sides appear set (you won't see any bubbles), then carefully flip the pancake.
7. Once the pancake is cooked on that side, remove the pancake from the heat and place on a plate.
8. Continue these steps with the rest of the batter. Serve with sliced banana, if desired.
These pancakes are pretty thin, they scrunch up easily, and they're a little difficult to flip. I used both a spatula and a fork to help flip them over and to remove them from the pan.
Excerpted from
High-Protein Pancakes
by Pamela Braun, with the permission of the Countryman Press, a division of WW Norton & Company. Copyright © 2017.
Pamela Braun
Pamela Braun is the force behind the blog MyMansBelly.com. Her recipes have appeared in the New York Times, Shape, and the LA Times. The author of Jerky Everything, Braun lives in Dallas, Texas.