How To Make The Best Homemade Nut Butter + 5 Must-Try Recipes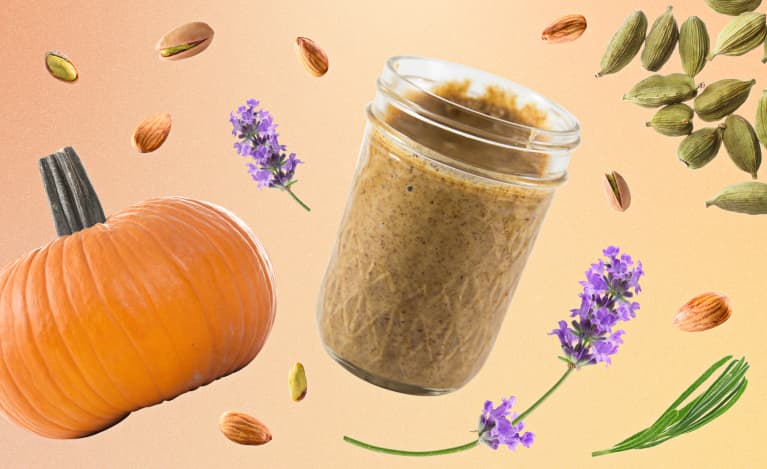 It's no secret that the wellness world is obsessed with nut butters, and for good reason. The scoopable paste offers a convenient way to get a quick hit of healthy fats and proteins (or to make sure you're getting those necessary elements in your green smoothie!). While we love to buy a good nut butter as much as the next person, it's shockingly easy to make your own—and it offers a few distinct advantages.
Making your own nut butter can also be healthier, simply because you can control exactly what you're putting in it. Many nut butters found in stores can contain cane sugar, canola oil, and more, but you'll know exactly what's in your homemade nut butter because you put it there.
Speaking of knowing the ingredients, making your own nut butter allows you to be playful and experiment. Here's an oft-forgotten culinary secret: you can make nut butter out of any nuts and seeds. You can mix your nuts and seeds.
While pistachio butter can be hard—if not impossible—to find in stores, it's easy to come across pistachios, which, if you follow the steps below, means you're just minutes away from spreadable goodness. Once you have your base nut butter, you can play around, adding seasonings and healthy extras (all of which we'll discuss more below). But first...
How to make your own nut butter.
First, choose your nuts. This can be any kind of nut—pistachios, macadamia nuts, almonds, walnuts, pecans, and peanuts (yes, they're a legume, but they've been paraded as a nut for long enough to be on this list) all make wonderful nut butters. You can also do seeds like pepitas or watermelon seeds, and, of course, you can mix your nuts and seeds.
The next step is roasting your nuts. This can be skipped (then you'll simply have a raw nut butter), but roasting the nuts helps unlock their nutrients, and it heightens their flavor profile. To roast, just preheat the oven to 350 degrees Fahrenheit, then spread your nuts and seeds out in a single layer on a parchment-lined pan. Roast until the nuts are just turning golden, which will be anywhere from 5 to 15 minutes, depending on the size of the nut. One thing to be aware of: if you're mixing your nuts, be sure to roast different-size ones on different baking sheets. Nuts can quickly go from toasted (yum!) to burnt (not so yum!), so you want to be able to remove the nuts as soon as they begin to turn golden, which will be far faster the smaller the nut is.
Now, add your nuts to a food processor or a high-powered blender (like a Vitamix or Blendtec). Begin to process the nuts. At first, a powder should form (hello, nut flour!), and then a clumpy paste. At one point, you'll ask yourself if there's any way the thick, lumpy paste will turn into nut butter, and the answer is yes—you just need patience. Let the blender or food processor go for 10 to 15 minutes, scraping down the sides every few minutes. Just when you've given up all hope, the oils in the nuts will release, and a creamy, rich nut butter will appear as if by magic. That means it's time to add in your extras.
How to customize your own flavored nut butter.
First of all, you'll want to add fine-grain sea salt to taste, processing for a minute or two until it's well-seasoned throughout. At the same time you add the salt, you can add any number of mix-ins. These are a few of our favorite combos:
Lavender Almond Nut Butter
Use almonds as a base, then add a dried culinary lavender, a splash of vanilla extract, and a drizzle of honey, when you add the salt. Process until smooth.
Cardamom Pistachio Nut Butter
Use pistachios as a base, then add a pinch of cardamom and a drizzle of date paste when you add the salt. Process until smooth.
Pumpkin Pie Cashew Nut Butter
Use cashews as a base, then add a dash of pumpkin pie spice and a drizzle of maple syrup when you add the salt. Process until smooth.
Use hazelnuts as a base, rubbing the skins off with a clean dish towel after roasting before you process them (they don't need to all be gone; just take a quick pass at it). Add in vanilla extract, a drizzle of maple syrup, and a generous drizzle of melted dark chocolate when you add the salt. Process until smooth.
Extra Protein-Packed Nut Butter
Use any nut you'd like as a base, then add a few spoonfuls of hulled hemp hearts when you add the salt. Process until smooth.
Store all of your nut butters at room temperature for a few weeks, or—even better—in the fridge to protect the delicate fats.
Want to turn your passion for wellbeing into a fulfilling career? Become a Certified Health Coach! Learn more here.