11 Delicious Mediterranean Diet Snack Recipes & Ideas To Try

mbg Nutrition & Health Writer
By Abby Moore
mbg Nutrition & Health Writer
Abby Moore is an editorial operations manager at mindbodygreen. She earned a B.A. in Journalism from The University of Texas at Austin and has previously written for Tribeza magazine.
The Mediterranean diet is considered one of the best diets for overall health, including benefits for your heart, metabolism, mood, memory, and gut. The combination of fresh food, healthy fats, and flavorful spices make the eating style nonrestrictive and easy to follow.
While there are plenty of ways to enjoy the Mediterranean diet during breakfast, lunch, and dinner, let's not skimp on snacktime. We rounded up 11 of the best Med-diet-approved snack recipes to satisfy your stomach in between meals.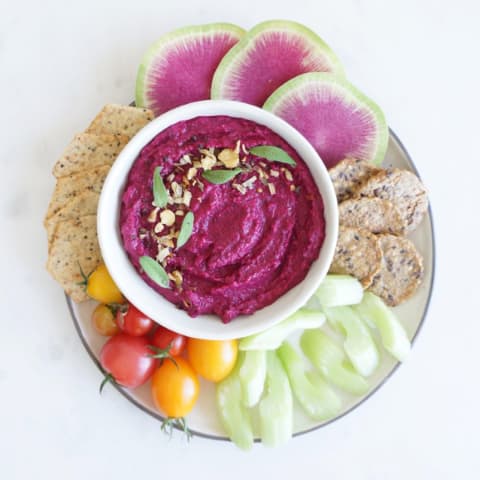 Image by Mascha Davis, R.D., MPH / Contributor
This vibrant beet and sage bean dip is rich in antioxidants, vitamin C, and fiber. It has a slightly coarse texture, but if you'd like it creamier, just blend a little longer. This dip pairs well with carrots, cauliflower, celery, radish, or daikon.
2.
Mediterranean Mixed Nuts
If you're used to buying premade trail mixes, that's about to change, thanks to this recipe from registered dietitian and nutritionist Isabel Smith, R.D., CDN. This homemade trail mix combines roasted nuts and seeds for a protein- and fiber-packed snack.
Ingredients
2 to 3 tablespoons is 1 serving
⅓ cup pistachios
⅓ cup sunflower seeds
⅓ cup walnuts
⅓ cup almonds
Method
Roast the nuts until golden brown. Mix them together, and enjoy.
3.
Baked Feta With Greens & Lemon-Tahini Dressing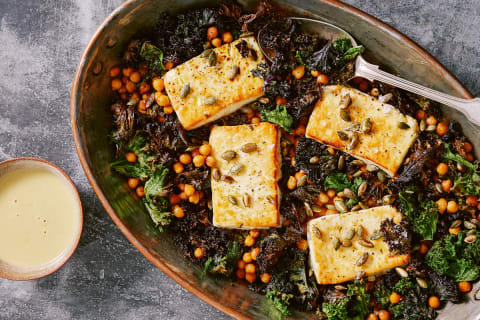 Image by Patricia Niven / Contributor
This baked feta is served with kale and dressing, so it's practically a salad—right? The smoked paprika and cayenne pepper add a kick to the salty, creamy feta blocks, and the roasted chickpeas provide a delightful crunch. Trust us, you're going to want to eat this for lunch, a snack, and again at dinner.
4.
White Bean Mediterranean Hummus
This creamy hummus dip, also developed by Smith, is delicious with raw vegetables or whole-grain pita bread. The tahini and spices in this recipe provide a nutty and herbaceous flair compared to standard hummus.
Ingredients
1 can or box (15 oz.) white beans
2 tbsp. tahini
3 tbsp. extra-virgin olive oil
2 tbsp. water
½ tsp. garlic powder
½ tsp. onion powder
½ tsp. oregano, chives, or basil (your choice!): Use 1 tbsp. if fresh or use as directed for dried
Dash of salt
Dash of pepper
Method
Blend in the food processor until smooth, and serve with your favorite veggies, crudités, or whole wheat pita.
5.
Spicy Garlic Brussels Sprouts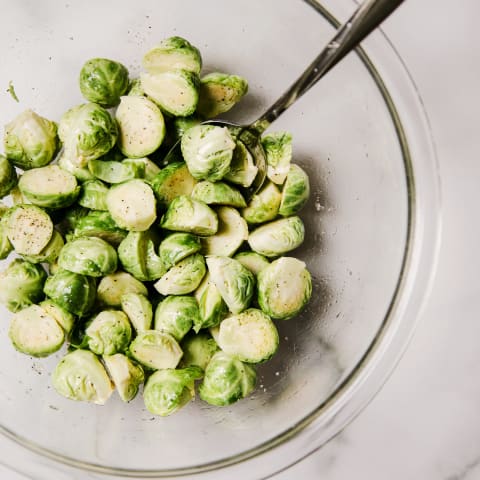 Image by Kelly Knox / Stocksy
These spicy, snackable Brussels sprouts are perfect for a road trip or a midday pick-me-up. After cooking, store them in the fridge—unlike most Brussels sprouts dishes, this recipe is served cold.
Who said salads have to be boring? This quick 15-minute chickpea salad, developed by certified nutritionist and chef Serena Poon, C.N., combines legumes with fresh veggies, hemp hearts for protein and fiber, and salty feta for added flavor.
Ingredients
1 (15-oz.) can chickpeas (drained and rinsed)
1 pint cherry tomatoes, halved
½ cucumber, diced
¼ cup sliced kalamata olives
¼ cup herbed vegan or regular feta
Juice of 1 lemon
2 tbsp. extra-virgin olive oil
1 tbsp. red wine vinegar
¼ cup fresh parsley, finely chopped
3 tbsp. fresh basil, finely chopped
¼ tsp. garlic powder
Pinch of sea salt and black pepper
1 tsp. hemp seeds
Directions
Combine everything in a large bowl, toss to combine, and serve.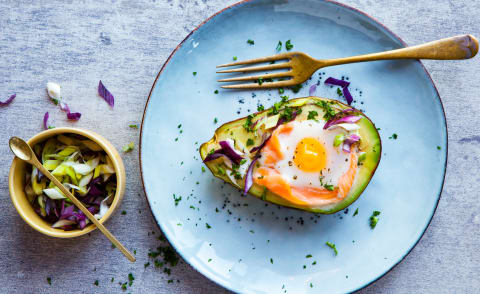 Photo by Nadine Greeff / Stocksy
Eating two boiled eggs a couple of hours before dinner is a healthy way to satisfy your hunger. To make them, boil the water before dropping the eggs in. If you're going for hard-boiled eggs, let them bathe in the pot for 10 minutes; for soft boiled (aka jammy eggs), 6½ minutes is just enough.
This quinoa granola, also created by Poon, is delicious on its own, with almond milk, or as a topping for Greek yogurt. It's gluten-free and naturally sweetened with pure maple syrup and monk fruit.
Makes 7 servings (½ cup equals 1 serving)
1 cup organic steel-cut oats
½ cup uncooked quinoa
2 cups raw almonds, roughly chopped
½ tsp. monk fruit sweetener
1 pinch sea salt
3½ tbsp. coconut oil
¼ cup maple syrup
Instructions
Add oats, quinoa, almonds, monk fruit sweetener, and salt to a large mixing bowl and stir to combine.
To a small saucepan, add coconut oil and maple syrup and warm over medium heat for 2 to 3 minutes, whisking frequently. Stop when the two are totally combined.
Immediately pour over the dry ingredients and stir to combine until all oats and nuts are thoroughly coated. Arrange on a large baking sheet and spread into an even layer.
Bake for 20 minutes at 340°F.
Remove from the oven and stir the granola around with a spatula. Put it back in for 5 to 10 more minutes (until granola is deep golden brown and very fragrant).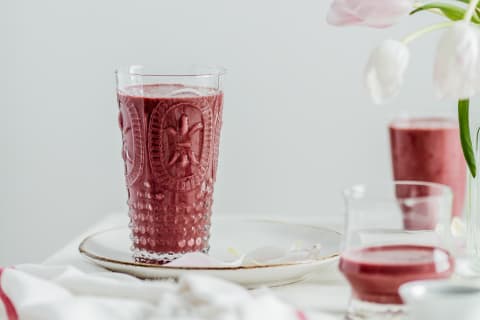 Image by Tatjana Zlatkovic / Stocksy
The cherries in this cherry-almond smoothie are loaded with anti-inflammatory antioxidants, while the almond milk Greek yogurt provides protein to help promote muscle growth and repair. Together, the ingredients make this smoothie an effective (and tasty) post-workout snack.
10.
Almond Butter & Banana Yogurt Bowl
This yogurt bowl, provided by Poon, can be made with traditional Greek yogurt or coconut yogurt for anyone sensitive to lactose. The combination of protein-packed almond butter and fiber-rich flaxseed meal will keep you satiated until mealtime.
Ingredients
4 cups unsweetened coconut or regular Greek yogurt
2 medium bananas
¼ cup creamy almond butter
¼ cup flaxseed meal
1 tsp. cinnamon
Instructions
Divide yogurt between four bowls and top with banana slices.
Warm almond butter and drizzle 1 tablespoon on each bowl on top of the bananas.
Sprinkle with flaxseed meal and ground cinnamon to serve.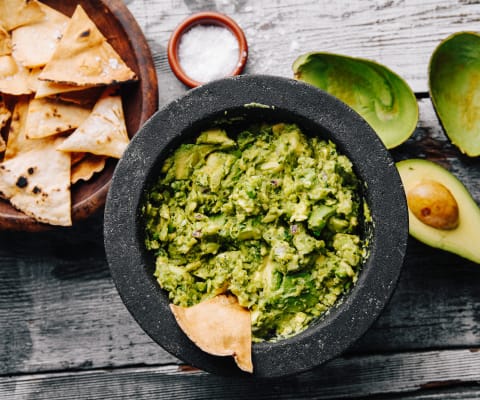 Think guacamole is as green as it can get? Think again. This superfood-packed guacamole incorporates kale, edamame, and pumpkin seeds for extra nutrients. Serve with whole-grain pita bread or veggies for a delightful midday "meal."

Abby Moore
mbg Nutrition & Health Writer
Abby Moore is an editorial operations manager at mindbodygreen. She earned a B.A. in Journalism from The University of Texas at Austin and has previously written for Tribeza magazine. She has covered topics ranging from regenerative agriculture to celebrity entrepreneurship. Moore worked on the copywriting and marketing team at Siete Family Foods before moving to New York.