The Best Way To Cook Dried Beans Is Shockingly Simple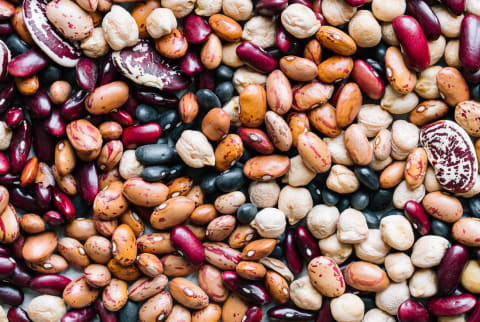 Image by Nadine Greeff / Stocksy
March 21, 2020
You can probably find as many ways to cook beans as there are people who cook them. If you already cook beans, you likely have a preferred method, and I won't try to talk you out of it. Many traditional recipes call for aromatic vegetables such as onions, often some meat, and perhaps a mix of spices. These recipes make delicious beans.
However, I want to suggest another approach to cooking beans, which I use, and which we detail in our Basic Beans (recipe below). In this method, we cook a pot of beans with only water and a little bit of salt.
We use this method for two reasons.
The first reason is that beans taste great! And, in cooking with only water and salt, we bring forth their beany-ness as much as possible. This comes in handy later when we add them to a dish as a specific flavor element. Then we get the bean flavor we want, and we can add other flavors separately, in the exact amount and form we want. This makes us more precise, and better, cooks.
The second reason, which is related, is that we almost always make a large pot of beans well beforehand and then cook the beans we are going to serve a second time as part of a separate recipe. That second cooking is a great time to add any additional flavors, if desired, that might improve our specific dish. The second cooking might be making refried beans (for which we add cooking fat and onions) or heating the beans in a pan as part of a burrito filling. We can even add a little fresh-squeezed lime juice before adding them cold to a dish. Keeping the initial cooking as simple as possible helps us present the beans in the way that's best when we actually serve them.
Basic Beans
Makes a large jar—usually enough for several dishes
This is a basic template that you may have to adjust depending on the type and age of beans you are using. For soft beans (like butter beans) that take on a lot of water, you may need to add a little more water than noted here and shorten the cooking time a little. For harder beans—which can include many heirloom beans from Mexico, chickpeas, or beans that have been sitting a while in the pantry—you may need a little less water to finish. You may also need to increase the cooking time.
Ingredients
1 pound dried beans
8 cups hot tap water
1 tablespoon kosher salt
Directions
Preheat the oven to 250°F.
Wash the beans in a colander, removing any rocks or hollow beans.
Put the beans and water in a Dutch oven or oven-safe pot with lid. Place the covered pot in the oven and bake for 100 minutes.
Uncover, add the salt, and stir the beans a little bit with a wooden spoon to help dissolve the salt into the water.
Re-cover and bake for 15 minutes more, or longer if needed to attain the desired texture.
Pull the pot from the oven, remove the lid, and let cool.
Transfer the beans to a large jar or bowl along with enough liquor to keep them submerged.
These beans will keep in the fridge for up to 2 weeks. Perfect for staying indoors!
Reprinted with permission from
The Baja California Cookbook
by David Castro Hussong & Jay Porter, copyright © 2020. Published by Ten Speed Press, a division of Penguin Random House, Inc.
David Castro Hussong & Jay Porter
Contributing writers
David Castro Hussong and Jay Porter are co-authors of The Baja California Cookbook.
David was born into one of Ensenada's oldest families and made his name cooking in New York (Eleven Madison Park and Blue Hill at Stone Barns) and San Francisco (Cala) before returning home to open his own restaurant, Fauna, at the Bruma resort and winery in the Valle de Guadalupe.
Jay Porter is a writer and restaurateur known for opening The Linkery and El Take It Easy in San Diego and The Half Orange in Oakland. Previously based in San Diego and Baja California, he now calls Oakland, California home.