mbg Food Contributor
By Abigail Hopkins, R.N.
mbg Food Contributor
Abigail Hopkins is a Registered Nurse, culinary nutrition expert, and co-founder of That Clean Life.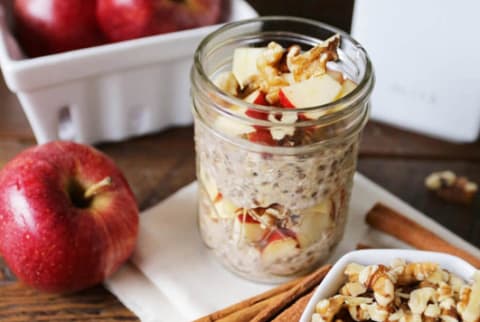 October 5, 2016
What if I told you that you could prepare enough breakfast for days without even cooking? Well, I'm about to make your wildest dreams come true.
If you haven't discovered the amazingness of overnight oats, let me bring you up to speed.
It's super simple. All you need to do is grab a bowl and mix together some oats, almond milk, chia seeds, and your favorite flavors. Let sit in the fridge overnight and in the morning, your oats will be thickened just as though you had cooked them on the stovetop.
From here, divide the oats into jars, layer in your favorite toppings, and voilà! Multiple breakfasts ready to go for days without even turning on the oven.
If you are ready to save time, money, and up your breakfast game with a delicious fall-inspired overnight oats recipe that will keep you feeling full and energized for hours, then keep reading.
Apple Cinnamon Overnight Oats
1½ cups quick or traditional oats
1½ cups unsweetened almond milk
2 tablespoons chia seeds
1 tablespoon honey or maple syrup
1 teaspoon cinnamon
¼ teaspoon nutmeg
½ teaspoon vanilla extract
½ cup water
1 apple (cored and diced)
1 cup walnuts (chopped)
1. Combine oats, almond milk, chia seeds, honey, cinnamon, nutmeg, vanilla extract, and water in a large glass container. Stir well to evenly mix. Cover and store in the fridge overnight.
2. Remove from fridge. Use single-serving-size jars (1 to 2 cups in size) and place a few spoonfuls of the oat mixture in the bottom of each. Then add a layer of diced apple followed by a layer of chopped walnuts. Repeat until all ingredients are used up.
3. Store in the fridge up to 4 days or until ready to eat.
Note: For some next-level deliciousness, warm the oats up for about 1 minute then add an extra splash of almond milk, a drizzle of honey or maple syrup, and a spoonful of your favorite nut butter. Enjoy!