This Superfood Breakfast Bowl Is Fuel For A Busy Morning
Contributing writer
By Matt Dustin, CSCS
Contributing writer
Matt Dustin, CSCS, is a personal trainer, author, and online fitness coach based out of San Diego, California. In addition to earning his bachelor's degree in exercise science, Matt is a certified strength and conditioning specialist, and a precision nutrition coach.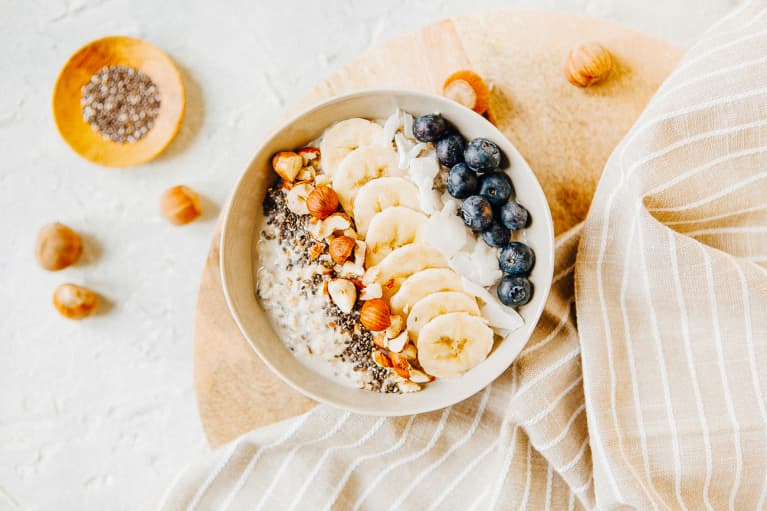 This high-carb recipe is loaded with micronutrients. This is the perfect fuel-up meal for high-activity days, as the carbohydrates and fiber will keep you full while providing electrolytes to keep you hydrated and energized during physical activity. Plus, it's flavorful, easy to make, and so delicious!
½ cup unsweetened plain almond milk
½ teaspoon cinnamon
½ teaspoon vanilla extract
¼ cup uncooked quinoa
1 medium banana, sliced
6 strawberries, sliced
½ cup blueberries
2 teaspoons hemp seeds
In a small saucepan, bring almond milk, cinnamon, and vanilla to a boil.
Stir in quinoa, reduce to a simmer, and cook 20 minutes or until desired consistency is reached.
Top with banana, berries, and hemp seeds. Enjoy warm.
Excerpted from Macronutrient Basics by Matt Dustin. Copyright © 2020 by Simon & Schuster Inc. Used with permission of the publisher, Adams Media, an imprint of Simon & Schuster. All rights reserved.