A 5-Ingredient Keto Breakfast Pizza? It's Not Too Good To Be True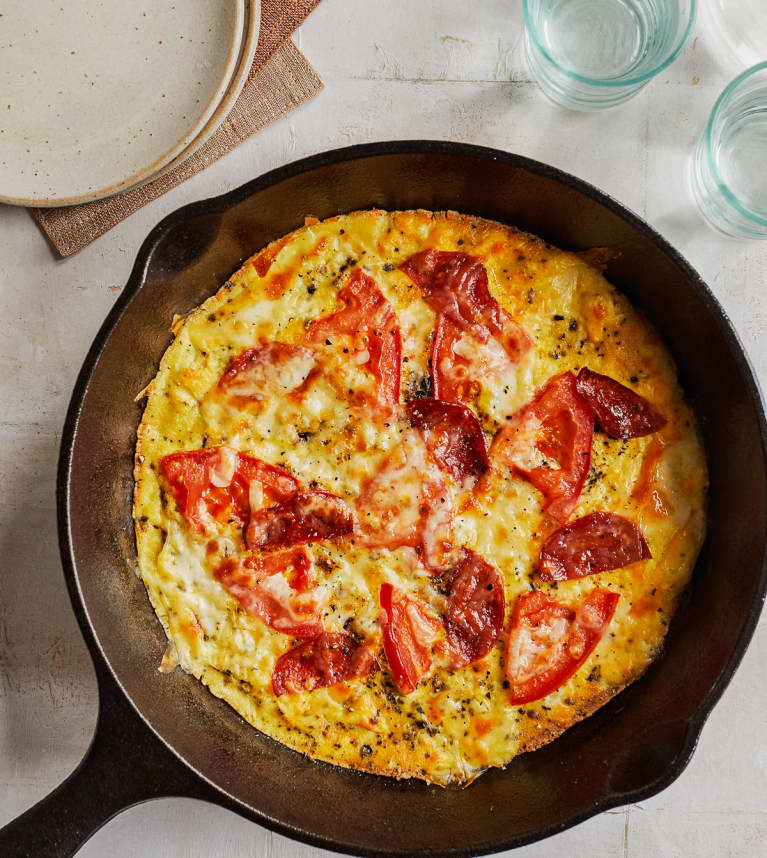 Our editors have independently chosen the products listed on this page. If you purchase something mentioned in this article, we may
earn a small commission
.
We've long since given up hope of quitting pizza entirely, but this gluten-free take on pizza for breakfast packs all the best things about it (cheese included) into a five-ingredient recipe that's sure to make your weekend mornings a little more fun, not to mention tasty.
The ketogenic diet is designed to be high in fat with moderate protein and a low intake of carbohydrates, which allows the body to enter ketosis—where the body begins using fat and ketones for fuel instead of glucose.
The best part is that this recipe can be changed to align with your favorite pizza combos. Vegetarian? Swap pepperoni for mushrooms. It's a quick and simple way to make a weekend breakfast without using too many ingredients, and the ones you have on hand in particular.
2 large eggs, beaten well
Italian seasoning
2 slices of tomato, quartered
4 slices pepperoni, in halves
1 ounce mozzarella cheese, grated
Salt and black pepper
Grease an oven-safe 8-inch round high-sided skillet (a seasoned cast-iron pan is perfect). Heat the prepared pan over medium heat. Set an oven rack 6 inches under the broiler and preheat the broiler.
Pour the eggs into the hot pan, then sprinkle on the Italian seasoning and season with salt and black pepper.
When the eggs have started to set on the bottom, top with the tomato slices, pepperoni, and mozzarella. Cover the pan and cook for 1 to 2 minutes to fully cook the eggs. Remove from the heat.
Place the pan under the broiler for 1 to 2 minutes to lightly brown the cheese.
Note: Other pizza toppings can be added or substituted, like cooked sausage, mushrooms, or spinach.