These 3 Morning Smoothies Will Give You Focus, Energy & Intention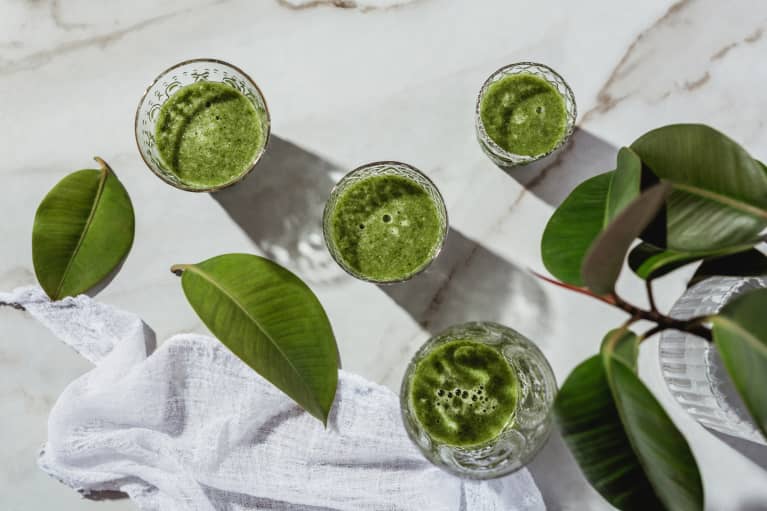 Our editors have independently chosen the products listed on this page. If you purchase something mentioned in this article, we may
earn a small commission
.
Our morning routine doesn't have to stop at brushing our teeth, washing our face, getting dressed, and practicing our seated meditation. Morning meditation can continue in moving form as we cook, offer up our meal, and enjoy its nourishment. A morning smoothie or meal will not only set the spiritual mood for the day but also fuel and empower us to carry out our daily tasks with focus, energy, and intention.
This idea of life as a moving meditation is set forth in the Yoga Sutras. At its heart, yoga is about transforming all of our daily activities into spiritual practices so that our entire life becomes one long life as a moving meditation. Believe it or not, everything from eating to working to praying to reading can be transformed into something transcendental. As you begin to incorporate this meditative mindset into your life, the practice will become more and more natural—habitual, even.
To get you started, here are three smoothie recipes that will set you on the path of infusing a meditative mindset into your daily life.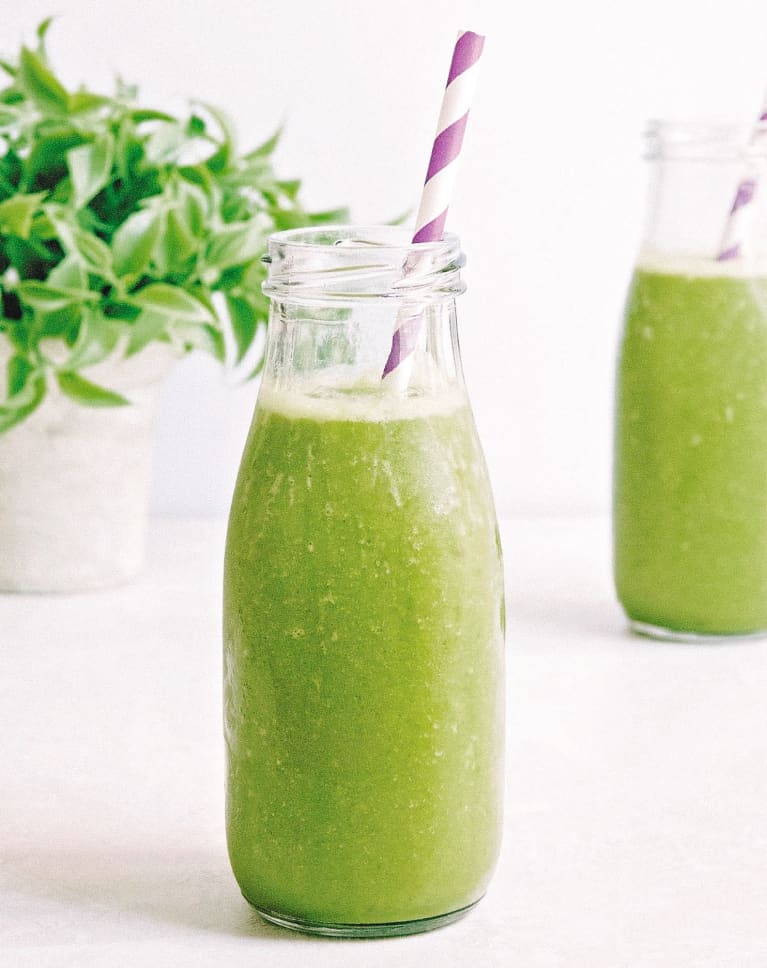 Serves 2
It's not always easy to squeeze in your daily dose of greens, but you can start your day off right by throwing those leafy veggies into your smoothie first thing in the morning. That way, you know you got at least one serving in. The Yogi offers that perfect start to set the pace and help you make healthier choices throughout the day. It is filled with wholesome nutrients, like fiber, calcium, potassium, vitamin E, and vitamin C. It's also a great drink to enjoy one hour before or after yoga class, to replenish those nutrients in your body.
1 cup unsweetened almond milk
1 cup organic spinach or kale
½ cup water
½ cup frozen pineapple chunks
1 celery stalk
1 frozen banana
½ organic Fuji apple, seeded and chopped
2 pitted dates
2 to 3 ice cubes
In a high-speed blender, combine all of the ingredients and blend until smooth.
Pour into glasses and enjoy!
*You can add 1 tbsp. of vegan protein powder to make a great post-workout recovery smoothie.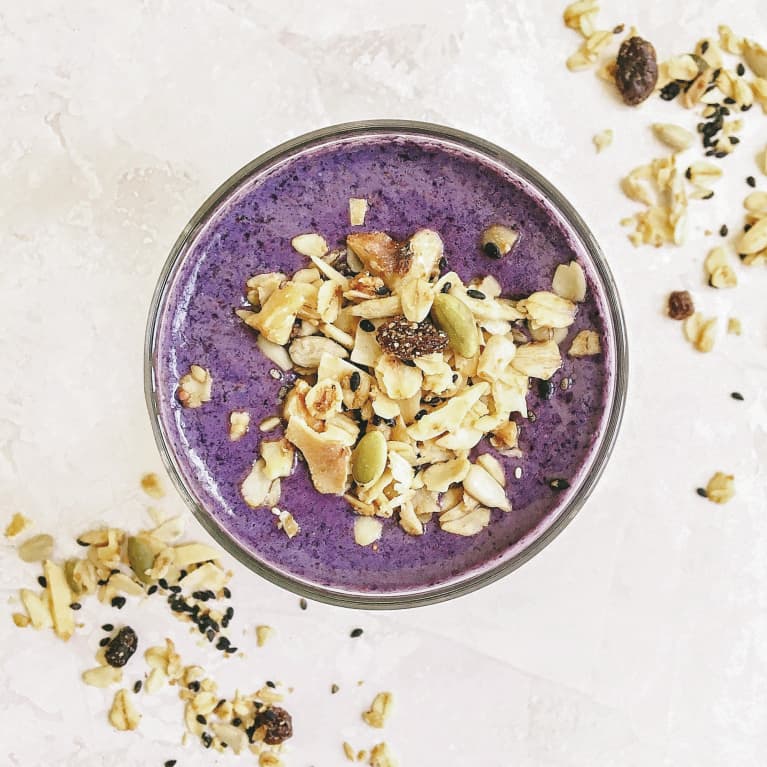 Blueberry Beauty Smoothie
Serves 2
Who doesn't love blueberries? They are so beautiful and vibrant in color. Loaded with antioxidants and fiber, these little gems are powerhouses. They are low on the glycemic scale and contain heaps of potassium, folate, vitamin C, and vitamin B6. The nutritional benefits also include healthy fats and omegas, protein, and vitamin E.
1 cup fresh or frozen blueberries
1 cup almond milk
2 pitted dates (preferably Medjool)
1 tbsp. coconut oil
1 tbsp. almond butter
1 tbsp. hemp seeds
½ tsp. vanilla extract
¼ tsp. cinnamon
4 to 5 ice cubes
Place all the ingredients into a high-speed blender and blend until smooth.
Add 1 to 2 tbsp. of water if you would like the smoothie to be a little thinner.
Garnish with a few more hemp seeds and a sprinkle of cinnamon before serving.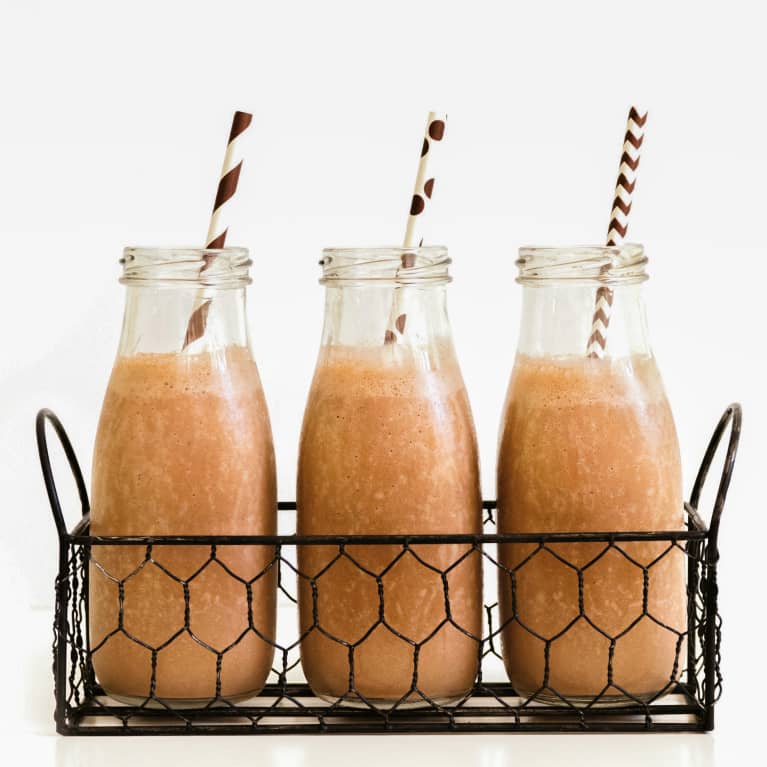 Chocolate–Peanut Butter Smoothie
Serves 2
Chocolate and peanut butter are the ultimate power couple. Sweet, creamy chocolate plus salty peanut butter, and then a banana to bring it all together...it won't last long in the glass! And it's so full of nutrition, you won't mind pouring a second helping. This smoothie delivers healthy fats, potassium, fiber, and loads of antioxidants. How often can you drink something that tastes like dessert and feel good about it?
1 cup raw almond milk
½ cup water
1 frozen banana
2 tbsp. peanut butter or almond butter
1 tbsp. raw cacao powder
1 scoop vegan vanilla protein powder
1 to 2 pitted dates, or 1 tsp. maple syrup (optional)
½ cup ice
Place all ingredients into a high-powered blender and blend until smooth.
Add a little water if you'd like it less thick.
If you are not using a vegan protein powder, you can blend in the dates or maple syrup to give it a little more sweetness.