These Vegan & Gluten-Free Cinnamon Rolls Are The Perfect Sunday Project
mbg Nutrition & Health Writer
By Eliza Sullivan
mbg Nutrition & Health Writer
Eliza Sullivan is a food writer and SEO editor at mindbodygreen. She writes about food, recipes, and nutrition—among other things. She studied journalism at Boston University.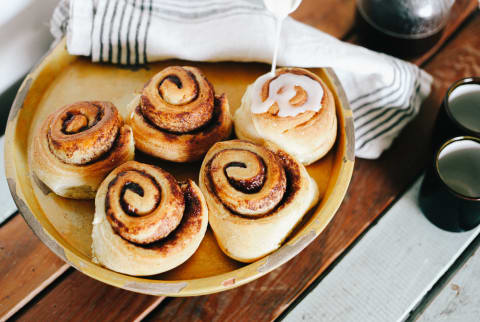 Image by Treasures & Travels / Stocksy
April 19, 2020
We carefully vet all products and services featured on mindbodygreen using our
commerce guidelines.
Our selections are never influenced by the commissions earned from our links.
With four locations in Southern California, Café Gratitude is a popular destination for plant-based treats for breakfast, lunch, dinner, and even more sweet treats than we could imagine.
In the recently published cookbook Love Is Served: Inspired Plant-Based Recipes From Southern California, chef Seizan Dreux Ellis and the café owners share recipes for menu favorites, including these cinnamon rolls. Each recipe in the book has its own affirmation pair with it, an expression of a founding component of the café, which has always looked to affirmations for inspiration. The rolls proclaim "I am serene" before launching into the recipe, and the rewarding process of making them can easily become a calming and meditative process with this mantra in mind.
Made using a special blend of gluten-free flour (which we've included the formula for below), these cinnamon rolls don't rely on yeast or dairy for their fluffy structure. One of the magic ingredients in getting the rolls perfect is psyllium husk powder, which acts as a binder in gluten-free and egg-free bakes.
According to the book's introduction to the recipe, these rolls "are the apex of our accomplishments as an organic, gluten-free, vegan bakery," but there's no reason to be intimidated. The step by step instructions make these gooey breakfast sweets an attainable goal—and they actually recommend making a double batch so you can freeze half and save yourself the process of making them next time a craving strikes.
Gluten-Free Cinnamon Rolls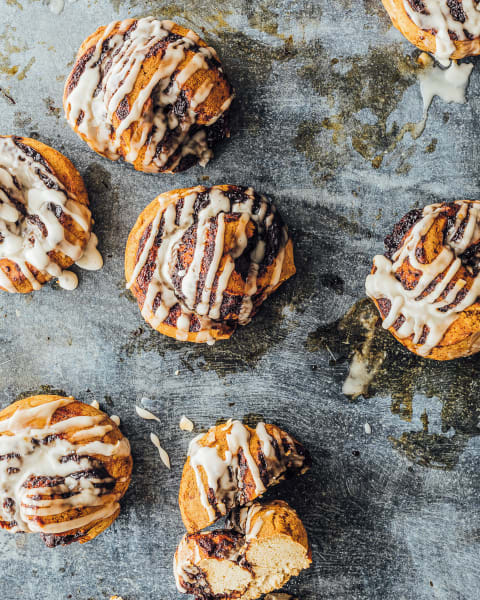 Image by Lisa Romerein / Contributor
Ingredients:
For the Cinnamon Filling:
1 cup coconut sugar
2 tablespoons ground cinnamon
1 tablespoon coconut oil
1 tablespoon maple syrup
¼ teaspoon Himalayan sea salt
1½ cups Gluten-Free All-Purpose Bakery Flour Blend (below), plus more for rolling out the dough
2 tablespoons psyllium husk powder
1 tablespoon coconut sugar
½ teaspoon baking soda
¼ teaspoon Himalayan sea salt
1½ cups coconut milk
3 tablespoons coconut oil, melted and slightly cooled
1 tablespoon fresh lemon juice
1 tablespoon apple cider vinegar
½ teaspoon vanilla extract
2 tablespoons fresh orange juice
½ cup powdered sugar
1 tablespoon coconut milk, plus more if needed
For the Gluten-Free All-Purpose Bakery Flour
Makes 6 cups, so you'll have some ready for future baking projects! It can be stored in an airtight jar for up to 1 month, or you can store it in the freezer to extend its shelf life.
2½ cups brown rice flour
2½ cups white rice flour
1 cup tapioca flour (sometimes called tapioca starch)
2 tablespoons baking soda
1 tablespoon baking powder
2¼ teaspoons guar gum
Method:
To make the flour blend: In a large bowl, sift the brown rice flour, white rice flour, tapioca flour, baking soda, baking powder, and guar gum together.
To make the cinnamon filling: In a medium bowl, combine the coconut sugar, cinnamon, coconut oil, maple syrup, and salt, and mix well. The mixture will be dense and crumbly. Set aside.
Make the dough: Line a baking sheet with parchment paper or a silicone baking mat and set aside.
In a large bowl, sift together the flour blend, baking powder, psyllium powder, coconut sugar, baking soda, and salt.
In a medium bowl, whisk together the coconut milk, coconut oil, lemon juice, apple cider vinegar, and vanilla.
Add the wet ingredient mixture to the sifted dry ingredients and mix to combine. The dough will be quite dense, so at some point, you'll want to start using your hands and begin kneading. Continue working the dough until it is smooth, 2 to 3 minutes.
Preheat the oven to 325°F.
To assemble the rolls: Lightly dust a board or clean surface with the flour blend. Transfer the dough to the prepared work surface. Using your hands, gently stretch and form the dough into a rectangular shape. Use a rolling pin to roll out the dough until it is roughly 12 inches by 4 inches and approximately ½ inch thick.
Spread the cinnamon filling over the dough in a thin, even layer, pressing it lightly into the dough.
Roll the dough up the long side into a long tube shape, rolling tightly to prevent the cinnamon filling from escaping. You should be able to roll the dough 2 full rotations.
Cut the tube into 6 rolls, each about 2 inches thick. Place each roll, swirl-side up, onto the prepared baking sheet. Take the opportunity to gently pat the rolls down so they're flat on top, and adjust them, if needed, to make sure they are nice and tight.
Using a pastry brush, brush each roll with the orange juice. This will give the rolls a nice golden tone when they're baked, much like a traditional egg wash.
Bake for 20 minutes. Check the rolls at 15 minutes to see how they are doing; they should be golden but still soft to the touch when they come out of the oven. Allow the rolls to cool completely in the pan.
Make the glaze: In a small bowl, whisk together the powdered sugar and the coconut milk. This will create a rather thick glaze. For a thinner glaze, you can add 1 or 2 more teaspoons of coconut milk. Drizzle over the cinnamon rolls.
Baker's tip: If you're baking previously assembled rolls straight from the freezer, just add 3 to 5 minutes to the baking time.
Reprinted with permission from
Love Is Served
published by Avery, an imprint of Penguin Publishing Group, A division of Penguin Random House, LLC. Copyright © 2020 by Dreux Ellis and Café Gratitude.
Eliza Sullivan
mbg Nutrition & Health Writer
Eliza Sullivan is an SEO Editor at mindbodygreen, where she writes about food, recipes, and nutrition—among other things. She received a B.S. in journalism and B.A. in english literature with honors from Boston University, and she has previously written for Boston Magazine, TheTaste.ie, and SUITCASE magazine.