Up Your Healthy Brunch Game With These Tomato & Chive Waffles
Registered Dietitian & Cookbook Author
By Maya Feller, M.S., R.D., CDN
Registered Dietitian & Cookbook Author
Maya Feller, MS, RD, CDN is a Registered Dietitian who specializes in nutrition for chronic disease prevention. She received her masters of science in nutrition at New York University and completed her clinical nutrition training at Memorial Sloan Kettering Cancer Center.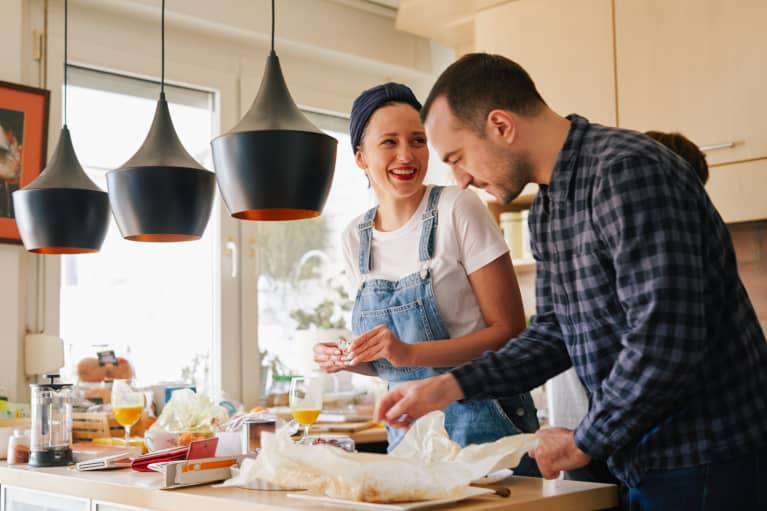 Our editors have independently chosen the products listed on this page. If you purchase something mentioned in this article, we may
earn a small commission
.
Waffles are an iconic breakfast tradition. This version is made with a combination of flours that have a lower glycemic index, so they are less likely to produce rapid blood glucose spikes. The addition of tomato and chive adds a savory twist, making it even easier to top the waffle with braised greens, shrimp, or chicken, as is commonly done at soul food establishments outside of the South.
2 cups low-fat buttermilk
½ cup crushed tomato
1 medium egg
2 medium egg whites
1 cup gluten-free all-purpose flour
½ cup almond flour
½ cup coconut flour
2 teaspoons baking powder
½ teaspoon baking soda
½ teaspoon dried chives
Nonstick cooking spray
Heat a waffle iron.
In a medium bowl, whisk the buttermilk, tomato, egg, and egg whites together.
In another bowl, whisk the all-purpose flour, almond flour, coconut flour, baking powder, baking soda, and chives together.
Add the wet ingredients to the dry ingredients.
Lightly spray the waffle iron with cooking spray.
Gently pour ¼- to ½-cup portions of batter into the waffle iron. Cook time for waffles will vary depending on the kind of waffle iron you use, but it is usually 5 minutes per waffle. (Note: Once the waffle iron is hot, the cooking process is a bit faster.) Repeat until no batter remains.
Enjoy the waffles warm!
Prep tip: Choosing a gluten-free flour similar to the one made by NOW Real Food® will yield a more tender, fluffy waffle. If you prefer a heartier texture, use a gluten-free flour made from beans and starchy vegetables.
Per serving: Calories: 143; Total Fat: 4 g; Cholesterol: 23 mg; Sodium: 170 mg; Total Carbohydrates: 21 g; Sugar: 3 g; Fiber: 5 g; Protein: 7 g
Recipe excerpted from The Southern Comfort Food Diabetic Cookbook: Over 100 Recipes for a Healthy Life, by Maya Feller, M.S., R.D., CDN, published by Rockridge Press. Copyright © 2019 by Callisto Media Inc. All rights reserved.