Repurpose Your Leftover Tea To Make These Rooibos & Barley Fig Rolls
mbg Editorial Assistant
By Jamie Schneider
mbg Editorial Assistant
Jamie Schneider is the Editorial Assistant at mindbodygreen with a B.A. in Organizational Studies and English from the University of Michigan. She's previously written for Coveteur, The Chill Times, and Wyld Skincare.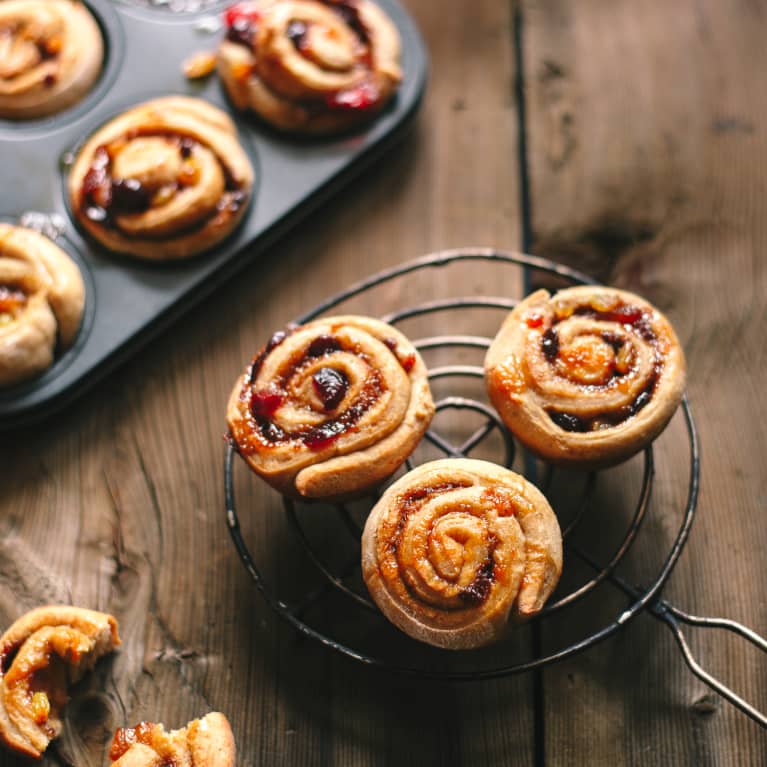 Our editors have independently chosen the products listed on this page. If you purchase something mentioned in this article, we may
earn a small commission
.
As the weather turns cooler, you better believe I'll be stocking my cupboards full of fragrant, fall-inspired teas. Admittedly, I tend to go a little overboard with the tea selection until my tiny kitchen is filled to the brim with a blend for every mood and flavor profile (if my roommates are reading this, I apologize in advance).
It's a good thing Emilie Holmes offers a great way to use up any extra tea I don't drink. In her new book, Good & Proper Tea, she offers a recipe for the fluffiest rooibos and barley fig rolls that practically scream fall baking. The full body and cherry notes of rooibos tea complement the rich sweetness of the fig filling, and it's all made with healthy, whole ingredients. I'll be adding some rooibos to my inventory in no time.
Rooibos & Barley Fig Rolls
6 g or 4 teaspoons rooibos tea leaves
80 g (3 oz.) whole-grain barley flour, plus extra for dusting
120 g (4½ oz.) whole-grain spelt flour
70 g (2½ oz.) light brown muscovado or coconut sugar
Pinch of sea salt flakes
Finely grated zest of 1 orange
100 g (3½ oz.) virgin coconut oil, melted
1 teaspoon vanilla extract
3 g or 2 teaspoons rooibos tea leaves
240 g (8½ oz.) dried figs, stalks removed, roughly chopped
Finely grated zest and juice of 1 orange
1 teaspoon vanilla extract
½ teaspoon ground cinnamon
15 g (½ oz.) honey
For the filling, add all the ingredients to a medium saucepan with 160 ml (5½ fl. oz.) water and bring to a boil. Cook gently until the liquids are just absorbed. Remove from the heat and blend with a handheld blender until relatively smooth. Set aside to cool.
For the dough, toast the tea leaves in a frying pan over medium heat for 2 minutes, just enough to release the tea's flavors. Set aside to cool.
Mix the cooled tea leaves with the flours, sugar, salt, and orange zest in a bowl. Add the coconut oil, 1 tablespoon of water, and the vanilla extract, and mix until well combined, bringing it together with your hands into a ball.
Flatten the dough out on a lightly floured piece of baking paper to form a rough rectangle. Lightly flour the dough, and place another piece of baking paper on top and roll it out to a 23-by-18-cm (9-by-7-inch) rectangle. The dough should be a bit less than 5 mm (¼ inch) thick. Remove the top sheet of baking paper.
Transfer the dough, still on the baking paper, to a baking tray. Form the cooled fig paste into a cylinder down the middle of the dough, leaving a rim of about 6 cm (2½ inches) at the top and bottom edges.
Carefully roll the bottom edge of the dough over the paste to meet the top edge, creating a cylinder shape with a flat bottom. Press along the joined edge to create a seal, and then trim any excess dough off the edges.
Refrigerate for 1 hour to firm up.
Preheat the oven to 180°C/350°F/Gas Mark 4. Line a baking tray with baking paper.
Cut the chilled dough into 1-cm (½-inch)-thick pieces using a sharp knife, and place on the prepared tray. Bake for 30 minutes, turning halfway so they color evenly on both sides.
Leave to cool slightly, then serve. These will keep for up to five days in an airtight container.
Recipe excerpted from Good & Proper Tea by Emilie Holmes, 2019. Reprinted with permission from Kyle Books, an imprint of Octopus Books.