This Keto Chicken & Waffles Recipe Is The Epitome Of Comfort Food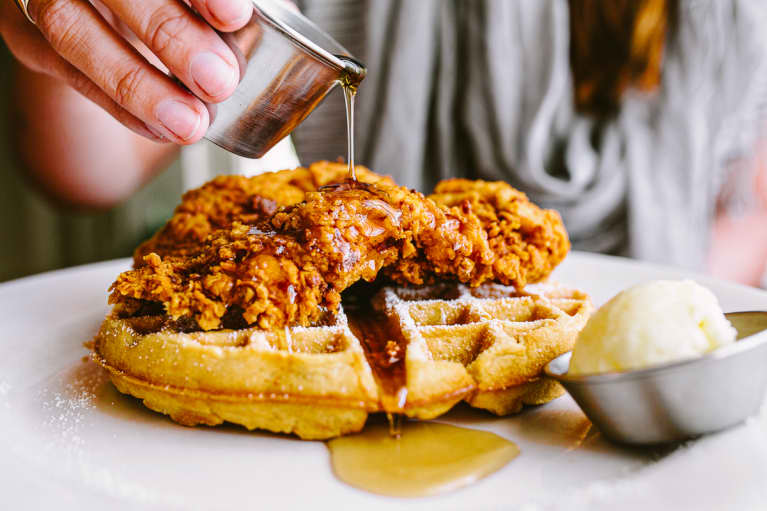 When I've shared this dinner with others, they always tell me it almost feels like too much of a treat to be healthy, but it is! And although it may seem complicated to make, nothing could be further from the truth, especially if you make everything in the right order.
The way I do it that always works: Once the chicken is cooking, then make the waffles, and this comforting dinner can be on the table in less than an hour.
For the oven-fried chicken:
½ cup almond meal
½ teaspoon dried oregano
½ teaspoon paprika
½ teaspoon garlic powder
½ teaspoon sea salt
Pepper to taste
4 medium chicken drumsticks, skin on
2 tablespoons softened butter or ghee
½ cup almond flour
¼ cup ground flaxseed
½ teaspoon baking soda
¼ teaspoon baking powder
¾ teaspoon Ceylon cinnamon
¼ teaspoon sea salt
1 egg, room temperature
⅛ cup full-fat coconut milk
1 tablespoon coconut oil or butter, melted
Grated zest of ½ lemon
To make the oven-fried chicken:
Preheat the oven to 400°F. Line a baking sheet with parchment.
Mix together the almond meal, oregano, paprika, garlic powder, salt, and pepper in a shallow baking dish.
Rub each chicken drumstick with a generous spoonful of butter.
Dredge each one in the almond-meal mixture, and place on the prepared baking sheet.
Bake for 45 minutes or until the chicken is cooked through and the juices run clear. The internal temperature should be around 170°F, and the skin will be crispy.
Preheat the waffle iron.
Stir together the almond flour, flaxseed, baking soda, baking powder, cinnamon, and salt in a medium bowl and set aside.
Put egg, coconut milk, oil, and lemon zest into a blender and blend just until mixed and frothy.
Pour the wet ingredients into the dry ingredients and stir until just combined.
When the waffle iron is hot, pour ¼ of the batter into the iron and cook until crisp. Repeat three times.
Serve with Oven-Fried Chicken.
And do you want to turn your passion for wellbeing into a fulfilling career? Become a Certified Health Coach! Learn more here.