paid content
 for

Can Comfort Food Be A Healthy Dinner? (You'll Love This Answer)
Senior Branded Content Editor
By Krista Soriano
Senior Branded Content Editor
Krista Soriano is the Senior Branded Content Editor at mindbodygreen.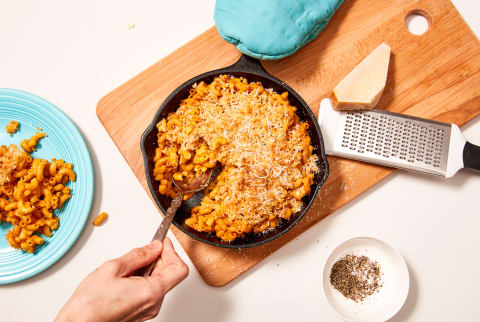 Image by Henry Hargreaves / Contributor
February 18, 2020
You don't need us to tell you that comfort food isn't always the healthiest. Whether it's the mac and cheese that reminds you of home or the boxed brownies that got you through college, everyone's got their go-to—and chances are it's high in fat, carbs, refined sugars, or salt. Sometimes we classify them as "treats" and "cheat meals" or save them for occasions like potlucks and Thanksgiving to keep us from having too much, too regularly.
But clean eating be damned, we all crave comfort food—physically and emotionally—probably more than anything else in our diet.
The comfort food conundrum.
Our comfort foods are often the dishes we had growing up that made us feel safe, loved, and taken care of. Now, we consistently gravitate toward them, particularly after a bad day1. Neuroscientists have long known that the act of eating food that's tied to feel-good memories can activate the brain's reward system and emotionally soothe us2—at least for a moment.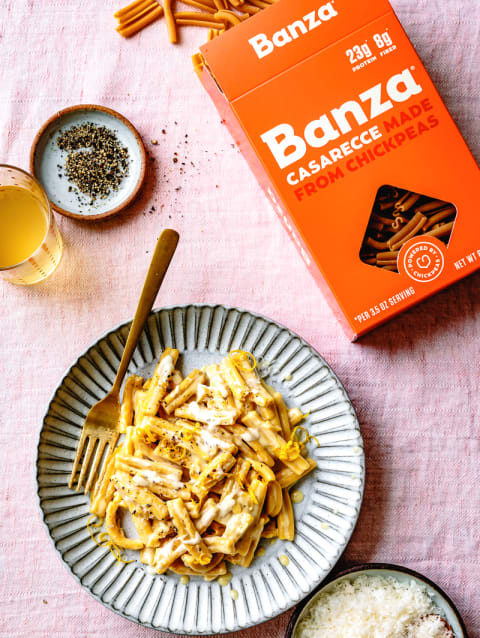 Banza's chickpea pasta has more protein and fewer carbs than traditional pasta.
Image by Alanna Taylor-Tobin / Contributor
The problem is, partaking is literally a guilty pleasure. Studies on comfort food3 have found a strong association with feelings of post-meal guilt, among women4 especially. A well-known Penn State study further proved this, thanks to students' food diaries that logged their meals and their moods over the course of a week. The study5 found that "consumption of calories, saturated fat, and sodium was significantly associated with increased negative mood two days later." We've all been there, and the science can't be more clear: We often feel major guilt from indulging in comfort food.
The fact that we long for comfort food but often restrict ourselves is, of course, nothing new. We try to balance it out or find ways to make our favorite recipes a little bit healthier. There are entire cookbooks devoted to that purpose, and they're godsends. But one trend is changing the game for good.
Banza, the No. 1 pasta brand at Whole Foods, makes its pasta out of chickpeas.
Healthier alternatives are finally hitting the spot.
Motivated by this comfort food conundrum, food brands are quickly innovating to make more affordable and tastier options. We're not just talking about plant-based burgers and vegan cheese; no section in the grocery store has gotten a better upgrade than the pasta aisle.
Banza, the No. 1 pasta brand at Whole Foods, makes its pasta out of chickpeas. Their orange boxes of pasta, rice, and mac and cheese mimic the flavor of traditional pasta while providing extra nutritional benefits like more protein and fiber. While traditional pasta contains only 13 g of protein, Banza's pasta contains 23 g of protein with twice the amount of fiber per serving and fewer net carbs. Plus, the texture of chickpea pasta is on point, too. Who can forget when gluten-free pasta first hit the market? The gummy-ish textures just didn't satisfy a true pasta lover's craving for that al dente chew.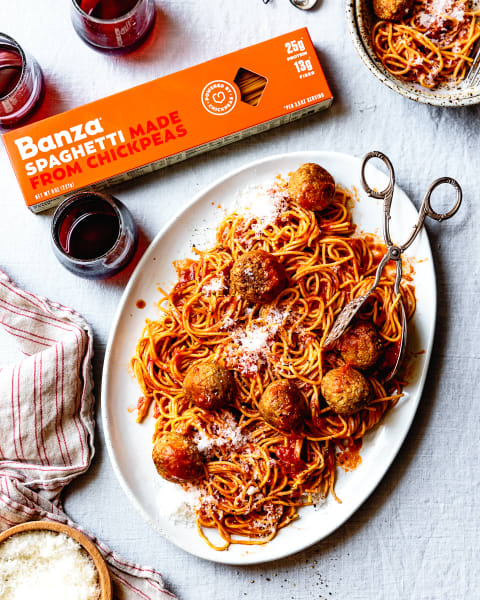 Image by Alanna Taylor-Tobin / Contributor
But perhaps the most exciting reason for the rise of better-for-you alternatives is not that it cancels out the post-meal guilt. Extensive scientific research6 shows a strong link between healthy eating and better mood and overall mental health. When we make healthier food choices, we actively boost our well-being7. So, thanks to brands like Banza, comfort food is no longer a double-edged sword of joy and guilt. It's our new favorite dinner option—with health-nurturing benefits.
Now that pasta night has finally gotten healthier, we can indulge in a comforting bowl of noods whenever we want, guilt-free. Stock up on angel hair, ziti, rice, mac and cheese, and whatever falls under your comfort food shortlist. And if you need inspiration for dinner tonight, check out one of our favorite Banza recipes below!
Cavatappi Cauliflower Bake
Ingredients:
1 box Banza Cavatappi
4 oz. Fontina cheese, grated
¾ cup whole milk
4 cloves garlic, minced
1 head cauliflower, chopped into small florets
1 yellow onion, chopped
1 bunch rosemary, de-stemmed & chopped
4 Tbsp. butter
⅓ cup gluten-free all-purpose flour
¼ cup gluten-free breadcrumbs
¼ cup grated Parmesan cheese
Method:
Preheat the oven to 475°F. Heat a large pot of salted water to boiling on high. Add the pasta to the pot of boiling water and cook 5 to 6 minutes, or until al dente (still slightly firm to the bite). Reserving 1½ cups of the pasta cooking water, drain thoroughly and transfer to a large bowl. Wipe out the pot.
While the pasta cooks, in a large, high-sided pan (or pot), heat 1 tablespoon of olive oil on medium-high until hot. Add the cauliflower and season with salt and pepper. Cook, stirring occasionally, 2 to 4 minutes, or until lightly browned. Add the onion and garlic; season with salt and pepper. Cook, stirring occasionally, 2 to 4 minutes, or until softened and fragrant. Add ½ cup of water; cook, stirring occasionally, 7 to 9 minutes, or until the water has cooked off. Add to cooked pasta.
While the vegetables cook, in the pot used to cook the pasta, heat the butter on medium-high until melted. Add the flour and stir frequently, 30 seconds to 1 minute, or until thoroughly combined. Slowly whisk in the milk and reserved pasta cooking water; cook, whisking frequently, 2 to 3 minutes, or until slightly thickened. Add ¾ of the Fontina cheese and up to half the rosemary; cook, whisking frequently, 1 to 2 minutes, or until thickened and thoroughly combined.
Transfer the sauce to the bowl of cooked pasta and vegetables. Toss to thoroughly coat and season with salt and pepper to taste; transfer to a baking dish. Top with Parmesan cheese, breadcrumbs, remaining Fontina, and remaining rosemary.
Place the assembled pasta in the oven and bake 15 to 17 minutes, or until golden brown on top. Remove from the oven and let stand for at least 3 minutes before serving. Enjoy!

Krista Soriano
Senior Branded Content Editor
Krista Soriano is the Senior Branded Content Editor at mindbodygreen. She holds a B.A. in journalism with a minor in communications from Messiah College, graduating summa cum laude. She has written and edited lifestyle content for over 15 magazines and websites, including ELLE, Esquire, Good Housekeeping, Cosmopolitan, Marie Claire, Women's Health, Men's Health, Runner's World, and DuJour. At mbg, Soriano helps our partners—which include non-profits and Fortune 500 companies—tell their stories, covering everything from the future of regenerative agriculture, ethical banking, and the endocannabinoid system. She lives in New York.