A Veggie Frittata With Lemon-Splashed Spring Greens Recipe, From A Functional Medicine Expert

Functional Medicine Practitioner
By William Cole, IFMCP, DNM, D.C.
Functional Medicine Practitioner
Will Cole, IFMCP, DNM, D.C., is a leading functional medicine practitioner with a certification in natural medicine and a doctor of chiropractic degree.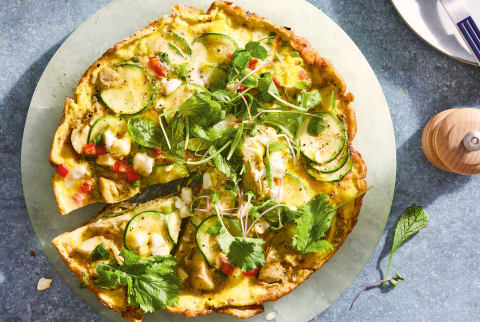 February 11, 2021
Our editors have independently chosen the products listed on this page. If you purchase something mentioned in this article, we may
earn a small commission
.
When I first meet patients in my telehealth functional medicine clinic, many find themselves on a blood sugar roller coaster, constantly snacking to curb their sugar and carb cravings, before crashing in a fit of hanger.
Ideally, our bodies should be metabolically flexible—able to effortlessly switch between burning glucose or fat for fuel depending on what is available. However, the journey to metabolic flexibility isn't always so simple.
Advertisement
This ad is displayed using third party content and we do not control its accessibility features.
That is why in my latest book Intuitive Fasting, I have developed a four-week flexible fasting plan that walks you through varying intermittent fasting windows. Each week is designed to focus on a different aspect of your health so that by the end of the four weeks, you will have all the tools necessary to become fat-adapted and recharge your metabolism.
And if you are worried about going hungry for four weeks, think again. Throughout the plan, I've put together delicious, nutrient-dense recipes to enjoy during your eating windows, which will keep you fully satisfied until your next meal. Not only will your body thank you, but your taste buds will also, as well.
This veggie frittata with lemon-splashed spring greens is one of my favorite recipes in the book. Besides tasting absolutely amazing, this ketotarian (my made-up word for mostly plant-based keto) dish can also do some awesome things to support your overall health.
The healthy fats in polyphenol-rich olive oil, along with the choline- and omega-rich egg yolks support brain and hormone health—plus, they'll keep you satiated when you start your intermittent fasting window. The folate in the spring greens support methylation, essential for supporting healthy hormones and lowering inflammation. In addition, the fiber in all the yummy plant foods like artichoke, zucchini greens, and onions further makes you feel fuller longer and supports gut microbiome health.
With intuitive fasting, we are definitely not trying to fast our way out of a poor diet. Instead, we're going for nutritious, flexible fasting and delicious, intuitive eating. This is the new age of fasting.
Veggie Frittata With Lemon-Splashed Spring Greens
Serves 2
Prep: 8 minutes
Cook: 15 minutes
Ingredients
5 large eggs
¼ cup unsweetened almond milk
½ teaspoon dried oregano
Sea salt and black pepper
2 tablespoons olive oil, divided
1 cup thinly sliced zucchini
⅓ cup chopped red bell pepper
2 garlic cloves, minced
½ (14-ounce) can quartered artichoke hearts, drained and coarsely chopped
1 medium green onion, finely chopped
2 ounces vegan feta cheese, crumbled
2 cups spring greens
2 teaspoons fresh lemon juice
Advertisement
This ad is displayed using third party content and we do not control its accessibility features.
Method
In a medium bowl, whisk together the eggs, almond milk, oregano, ⅛ teaspoon salt, and black pepper to taste. Set aside.
In a medium nonstick skillet, heat 1 tablespoon of oil over medium-high heat. Cook zucchini and bell pepper for 3 to 4 minutes or until lightly browned, stirring occasionally. Add garlic and cook for 15 seconds, stirring constantly.
Reduce heat to medium, stir in the artichokes, and spread evenly over the bottom of the skillet. Sprinkle with the green onion. Reduce heat to medium-low. Carefully pour egg mixture over all and cover and cook for 10 minutes or just until set. Remove from heat, sprinkle with cheese, cover, and let stand for 5 minutes.
Toss the spring greens with the remaining 1 tablespoon of oil, lemon juice, and salt and pepper to taste.
Cut the frittata into wedges, divide between 2 plates, and top with the spring greens.
If you're ready to start your own journey to metabolic flexibility, pre-order your copy of Intuitive Fasting today.
Recipe courtesy of Intuitive Fasting. Copyright © 2021 by Will Cole. Foreword by Gwyneth Paltrow. Published by goop Press, an imprint of Penguin Random House.
Advertisement
This ad is displayed using third party content and we do not control its accessibility features.

William Cole, IFMCP, DNM, D.C.
Will Cole, IFMCP, DNM, D.C., is a leading functional medicine expert who consults people around the globe, starting one of the first functional medicine telehealth centers in the world. Named one of the top 50 functional and integrative doctors in the nation, Dr. Will Cole provides a functional medicine approach for thyroid issues, autoimmune conditions, hormonal imbalances, digestive disorders, and brain problems. He is the host of the popular The Art Of Being Well podcast and the New York Times bestselling author of Intuitive Fasting, Ketotarian,The Inflammation Spectrum, and the brand new book Gut Feelings: Healing the Shame-Fueled Relationship Between What You Eat and How You Feel.
Read More