Meal Prep Sunday: Antioxidant-Rich Wild Rice Lentil Burgers + 5 Ways To Eat Them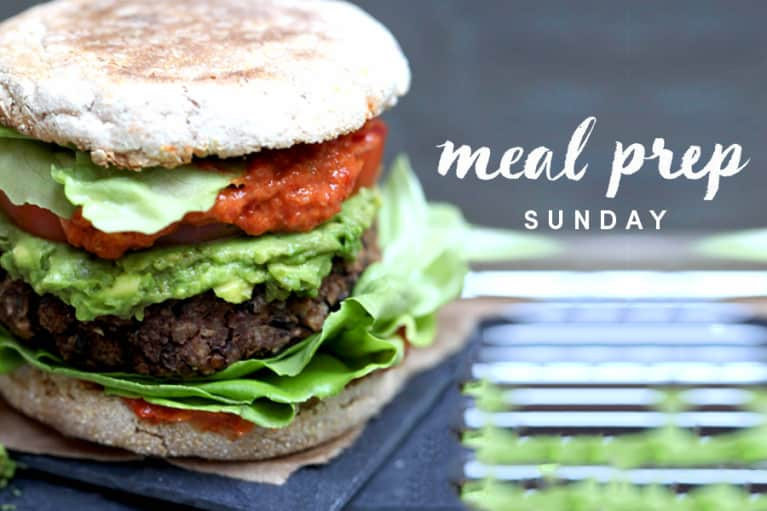 Our editors have independently chosen the products listed on this page. If you purchase something mentioned in this article, we may
earn a small commission
.
Welcome to Meal Prep Sunday, where you'll make a single, healthy recipe with serious bodily benefits, whether it makes your skin glow, helps soothe your gut, boosts your immunity, or more! Because it gets boring to eat the same thing every day, you'll do the bulk of the prep on the first day—and every day after that, there will be one small, five-minute-or-less tweak that will transform the leftovers into a new, amazing meal.
Laura Lea Goldberg is the author of the blog LL Balanced and the upcoming the book The Laura Lea Balanced Cookbook. As a certified health-supportive chef, LL is all about creating meals that are healthy, filling, and delicious enough for the whole family to get on board with. This week she's sharing her totally tasty, nutrition-packed veggie burgers.
The combination of wild rice and lentils makes a fiber-rich plant-based burger full of protein and antioxidants. Lentils are filled with both soluble and insoluble fiber, making them powerhouses for your gut that will help you feel satisfied for longer. The high mineral and antioxidant content of wild rice, "stimulates growth and repair throughout the body and slows the visible signs of aging," says health expert Elissa Goodman. "Wild rice contains 20 to 30 times more antioxidants than white rice, neutralizing free radicals that accumulate in the skin."
Here are five different ways to eat these veggie burgers throughout the week.
Shopping List for the Week
1 cup wild rice
2 medjool dates
1 cup pecans
1 avocado
sprouted buns or English muffins
1 small bunch carrots
1 small bunch radishes
2 to 3 ounces arugula or spinach
sprouted tortillas
1 bunch collard leaves
1 small red bell pepper
1 to 2 medium tomatoes
hummus
fresh mozzarella (optional)
1 lemon
Pantry Staples (purchase if you don't have)
1 (15-ounce) can brown lentils
olive oil
salt
pepper
garlic
1 teaspoon onion powder
½ cup rolled oats
dried basil
tahini
harissa paste
almonds
LL Balanced Wild Rice Lentil Burgers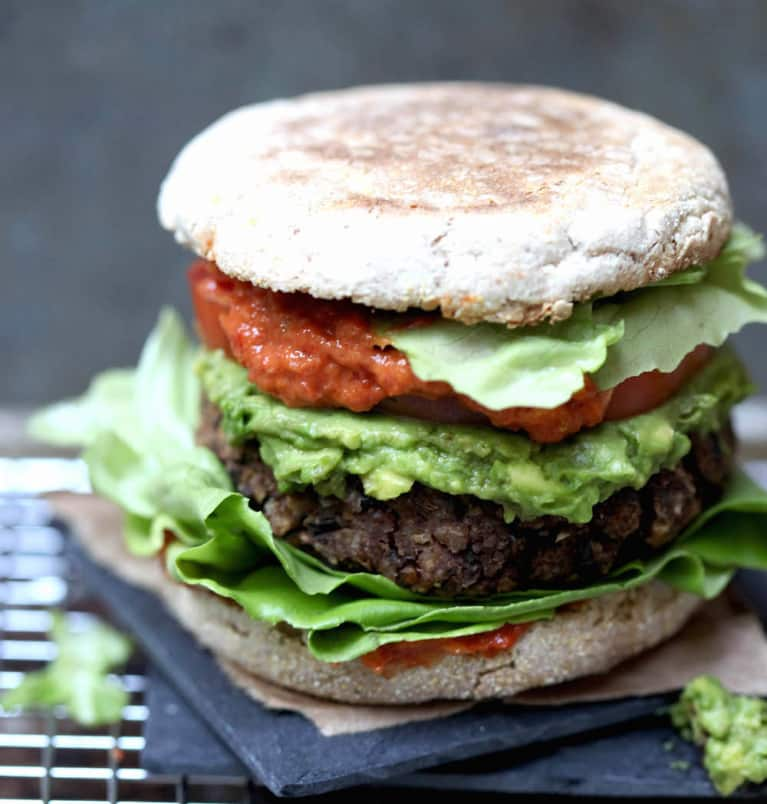 Makes 7 burgers
Ingredients
1 cup raw wild rice, rinsed and drained thoroughly
2⅓ cups water
1½ teaspoons sea salt, plus more to taste
1 cup raw pecans
3 teaspoons olive oil
4 cloves garlic, minced
2 large medjool dates, pitted and chopped into 1⁄4-inch pieces
1 teaspoon onion powder
1⁄2 cup rolled oats
1⁄4 teaspoon black pepper
1 teaspoon dried basil
1 15-ounce can brown lentils, rinsed and well-drained
Sprouted burger buns or English muffins
Mashed avocado
tomato
red onion
lettuce
When In Doubt Sauce (optional)
1⁄4 cup mayonnaise (can use vegan mayo)
1⁄4 cup ketchup (we like a refined sugar-free version)
1⁄4 cup Dijon mustard
Method
1. Preheat oven to 350°F.
2. Begin making the burgers. To a small sauce pot add wild rice, water, and 1 teaspoon sea salt. Bring to a boil, then reduce to a simmer on the lowest setting possible. Cover with a lid and cook for 45 to 50 minutes or until the water looks completely evaporated. Remove pot from the heat and keep covered another 5 minutes before fluffing with a fork. If you see leftover water when you fluff, just add rice to a colander and drain extra water. Place rice in the refrigerator to cool (either in the pot or colander) for 20 minutes.
3. While rice is cooking, place pecans on a baking sheet and roast for 10 minutes at 350°F. Remove and set aside to cool.
4. Heat a small sauté pan to low heat and add 2 teaspoons olive oil. When oil moves easily around the pan, add garlic, dates, and onion powder and cook, stirring constantly, until garlic is softened and fragrant, approximately 1 to 1½ minutes. Do not allow garlic to start turning brown. Remove mixture from the heat and set aside to cool to lukewarm temperature.
5. To a food processor add rolled oats, remaining ½ teaspoon sea salt, pepper, and dried basil. Pulse until the oats turn into a grainy flour consistency, similar to cornmeal. Add garlic/date mixture, cooked wild rice, pecans, and lentils. Pulse until the mixture forms a chunky paste—you should still see some whole pieces of wild rice. Taste for more salt and add accordingly—I usually add an extra ½ teaspoon.
6. Use slightly dampened hands to form mixture into 7 patties, using ½ packed cup mixture per patty. Flatten them to approximately 1-inch thickness. Note that this is a dry dough, so you can use a little water to smooth the sides. Place patties on a baking sheet or large plate.
7. Heat a grill pan to high heat and brush with remaining 1 teaspoon olive oil. When grill pan is smoking, add burgers. Allow to cook without touching, until patties have achieved nice grill marks, approximately 3 minutes. Flip using a flat spatula and repeat. Turn heat to low and cover patties with a piece of aluminum foil or a large stainless-steel lid. Allow burgers to steam for 3 minutes before serving.
Serve burgers on bun or English muffin with smashed avocado, lettuce, and any other desired toppings. Burgers will keep tightly sealed in the refrigerator for 4 days.
DAY 2: Tahini-Harissa Salad Bowl
In a jar, combine 2 tablespoons well-mixed tahini, juice of half a lemon, and 1 teaspoon of harissa paste. Add 2 tablespoons warm water, and shake vigorously to combine. In a bowl, toss 2 handfuls of arugula or spinach, a carrot peeled into ribbons, sliced red bell pepper, and thinly sliced radish with a spoonful of dressing. Toss well to combine. Top with a warmed veggie burger, toasted almonds, and another drizzle of dressing.
Serves these babies up warm in toasted tortillas. Top with fresh salsa, more guac or smashed avocado (if you've got it), thinly sliced radishes, and fresh cilantro. Easy, colorful, with tons of great flavor and texture.
DAY 4: Pesto Caprese Burger
Grab another toasted sprouted English muffins or lettuce wraps. Fill with a burger, pesto, sliced tomato, and a slice of fresh mozzarella (optional) or serve traditionally on a plate with slices of tomato and mozzarella and a burger on top; drizzle with pesto and a sprinkle of sea salt.
DAY 5: Collard Wrap with Crunchy Veggies
Grab a collard leaf (a quickly cooked one works extremely well). Fill with hummus, grated carrot, thinly sliced bell pepper, and a broken-up veggie burger. Wrap it up like a burrito and call it a day.