Make This Vegetable-Packed Vegan Curry For Dinner Tonight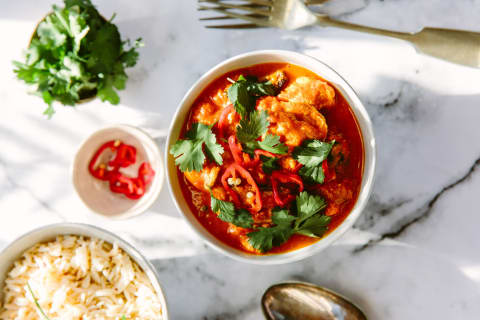 Image by Helen Rushbrook / Stocksy
I love squash. It's tasty, filling and absorbs other flavors amazingly. Meanwhile, spinach provides an abundance of iron and a bit of color for those who like to make their dishes look pretty. I certainly do.
Squash Curry With Ginger + Lime Cauliflower Rice
1 cup/50g fresh cilantro, leaves cut from the stalks and finely chopped
2 tablespoon red curry paste
1 14 oz. can coconut milk
1 tablespoon tomato pureé
½ teaspoon turmeric
1 tablespoon coconut oil
1 white onion, finely chopped
pinch salt
14oz/400g butternut squash or pumpkin, peeled and cubed
5oz/150g green beans, ends cut off
2oz/50g spinach
juice of 1 lime
Ginger + Lime Cauliflower Rice Ingredients
1 cauliflower, outer leaves discarded and roughly chopped
1 tablespoon coconut oil
zest and juice of 1 lime
1 tablespoon fresh grated ginger
2 tablespoon chopped fresh coriander
3 tablespoon water
1. In a food processor or blender blend the coriander stalks, red curry paste, coconut milk, tomato purée and turmeric.
2. Heat the coconut oil in a pan over a medium heat for 1 minute. Put the onions into the pan. Sauté them for 5 minutes with a pinch of salt. Add the squash and stir-fry for 1 minute, then pour in the blended mix, bring to a simmer and let this cook for 10 minutes. Add the green beans and spinach and cook for another 20 minutes until the pumpkin is cooked through.
3. Meanwhile, make the Ginger + Lime Rice. Put the roughly chopped cauliflower into a food processor and process for a few minutes until you get a rice-like consistency.
4. Heat the coconut oil in a large frying pan, and throw in the lime zest with the ginger and coriander. Stir for 30 seconds, then add the cauliflower, 3 tablespoons water and the juice of the lime. Cook for 5 minutes, until cooked through.
5. Scatter the cilantro leaves over the curry with a squeeze of fresh lime juice, and serve with the 'rice'.

Madeleine Shaw
Not so long ago, Madeleine Shaw would wake up feeling bloated, tired and unhealthy. So she decided to turn her life around and embarked on a journey to health that saw her travel to Sydney where she learned the art of eating well. Inspired to share her story with others, she is now a trained nutritional health coach, food blogger and creative cook.
Her six-week 'Get the Glow' program is in-demand by an impressive list of high-profile clients, all of whom Madeleine has helped enliven the hottest, healthiest and happiest versions of themselves. For now at least, Madeleine lives in London, where she is never too far away from her healthy staples: a blender, a yoga mat and a coconut!
Madeleine is an Ambassador for Savse Smoothies - a brand she believes shares the same passion as her for creating both delicious and nutritious choices for all. www.savse.com