The Best Way To Use Mushrooms For Age-Reversing & Potent Detoxification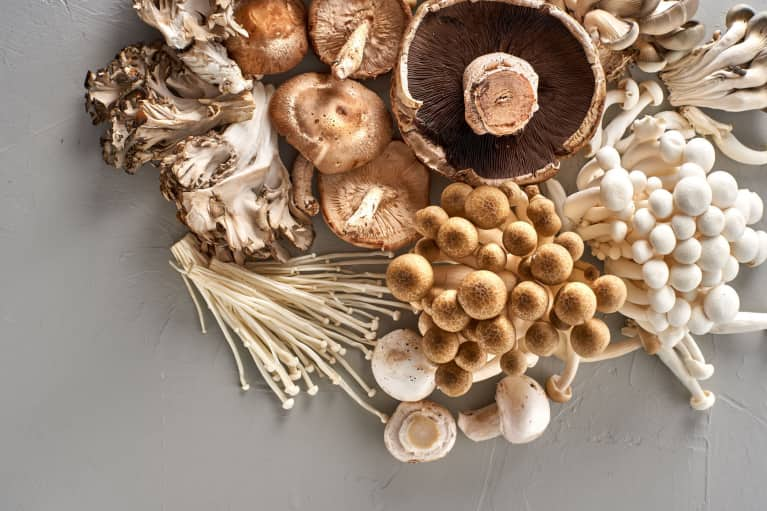 Our editors have independently chosen the products listed on this page. If you purchase something mentioned in this article, we may
earn a small commission
.
Mushrooms are often used as a tasty addition to many meals without much thought given to their nutritional value. While fungi aren't always the most appealing choice to everyone, mushrooms have been used for thousands of years in many cultures for their medicinal properties, and research is now starting to prove what people have known for years—mushrooms are one powerful superfood group.
In my functional medicine clinic, I encourage regular consumption of mushrooms to my patients. There are thousands of mushrooms in existence ranging from poisonous to psychedelic, but I focus on the ones that are considered adaptogenic. These varieties support and bring balance to different areas of the body that are out of whack while also still being sulfuric to aid in methylation—your body's regulator of detox and inflammation pathways.
So next time you hit the grocery store, step away from your usual Portobello, and reach for these other next-level varieties to seriously elevate your health:
If you are really looking for natural beauty support, look no further than cordyceps. This mushroom will act as your fountain of youth by increasing the antioxidants glutathione peroxidase and superoxide dismutase while decreasing lipid peroxidation activity and pro-inflammatory monoamine oxidase, which contribute to signs of aging. Cordyceps also does wonders to rebalance hormones and help restore energy for those struggling with adrenal fatigue.
For anyone looking for added brain support, my first recommendation is Lion's mane. Its neuroprotective properties are second to none and the perfect choice for alleviating brain fog and enhancing cognitive function due to its amount of nerve growth factors, which protect and regenerate brain tissue. One study found that those who took a lion's mane supplement for 16 weeks showed significantly higher cognitive function compared to those who didn't.
Maitake can improve glucose tolerance and blood sugar in cases of diabetes.
Perhaps one of my personal favorites from this list, and the most well-researched, it is my go-to choice for patients dealing with small intestinal bacterial overgrowth (SIBO) and candida yeast overgrowth.
Are mushrooms safe for everyone?
The beauty of adaptogens is that they are generally safe for everyone. Since every person's health case is different, what works for one person may not be the most relevant for another. Specific dosages can vary, but I like to recommend to my patients having some type of adaptogenic mushroom three times a week minimum. Start out small and give your body time to adjust before gradually increasing your dosage.
What's the best way to eat therapeutic mushrooms?
I personally like to incorporate whole mushrooms into my regular meals sautéed as a side dish or on top of my salads. When buying whole mushrooms, it is essential to look for organically grown varieties as conventional mushrooms can be highly toxic due to the fact that mushrooms are extremely porous in nature and easily absorb pesticides and other chemicals. Depending on the stores in your area, it may be more difficult to find organic versions of adaptogenic mushrooms since they are such a specialty item. If this is the case, you can buy dried mushrooms online or, to save on cost, buy an organic kit online and grow your own! Not only will you be getting nutritious food medicines, you'll have a fun new hobby!
If you're not a fan of the taste or texture of mushrooms, you can get these in powdered form, extracts, or in supplement form. Just like the whole food versions, you need to make sure these are organic. Some of my favorite brands include OM and Four Sigmatic. When you are in a hurry, powders are a great way to get your serving in of adaptogenic mushrooms for the day as they can be added to any beverage, smoothies, soups, or sprinkled on top of your favorite meals. I love to add these to my coffee to make an elevated adaptogenic latte.
Age-Reversing Mushroom Latte
1 cup organic hot coffee
½ teaspoon each powdered chaga and cordyceps
Desired amount of almond or coconut milk
2 tablespoons raw cacao powder
1 tablespoon raw organic honey or other desired sweetener; add more or less to taste
Add hot coffee into a large coffee mug.
Add in mushroom powder, cacao powder, and desired sweetener to coffee and stir to combine.
Pour in milk and froth with a milk frother.