Loaded Sweet Potato Nachos Are Making All Our Snacking Dreams Come True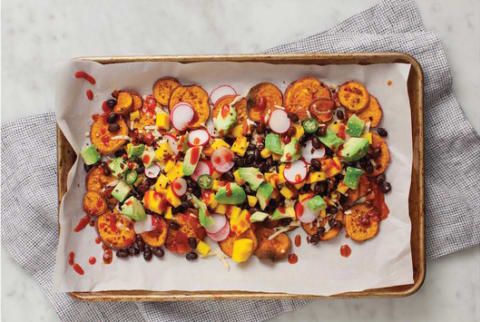 April 3, 2016
If you're not familiar with the food blog Love & Lemons, do yourself a favor and check it out. Jeanine Donofrio's plant-centric recipes are as beautiful as they are tasty, and her new cookbook, The Love & Lemons Cookbook, gives the blog new life on the page.
Today's recipe is a veggie lover's dream: nachos made with thinly sliced and roasted sweet potatoes in the place of regular corn chips and loaded with black beans, cheese, mango, and avocado.
Loaded Sweet Potato Nachos
2 sweet potatoes, thinly sliced
Extra-virgin olive oil, for drizzling
1 cup (250 mL) shredded Monterey Jack cheese
1 cup (250 mL) cooked black beans, drained and rinsed
1 mango, peeled and diced
3 radishes, sliced
1 avocado, diced
1 serrano pepper, thinly sliced
1 small lime, sliced into wedges
¼ cup (60 mL) adobo sauce from canned chipotles in adobo sauce
Sea salt and freshly ground black pepper
1. Preheat the oven to 400°F (200°C) and line a large baking sheet with parchment paper.
2. Toss the sweet potatoes with a drizzle of olive oil and a pinch of salt and pepper. Spread in a thin layer on the baking sheet and bake for 15 minutes. Top with the cheese and bake for an additional 10 minutes or until the cheese is melted and the sweet potatoes are golden brown.
3. Remove the baking sheet from the oven and top the sweet potatoes with the black beans, mango, radishes, avocado, and serrano pepper. Add a squeeze of lime, drizzle with the adobo sauce, and sprinkle with a few pinches of salt. Serve straight from the pan with extra lime slices on the side.
Tip: Use a mandoline, if you have one, to slice the sweet potatoes into thin, uniform slices so that they cook evenly.
​Reprinted from
The Love & Lemons Cookbook
by arrangement with Avery Books, a member of Penguin Group (USA) LLC, A Penguin Random House Company. Copyright © 2016, Jeanine Donofrio