This Herbalist's Fermented Cranberry Salsa Is Gut-Healing & Tasty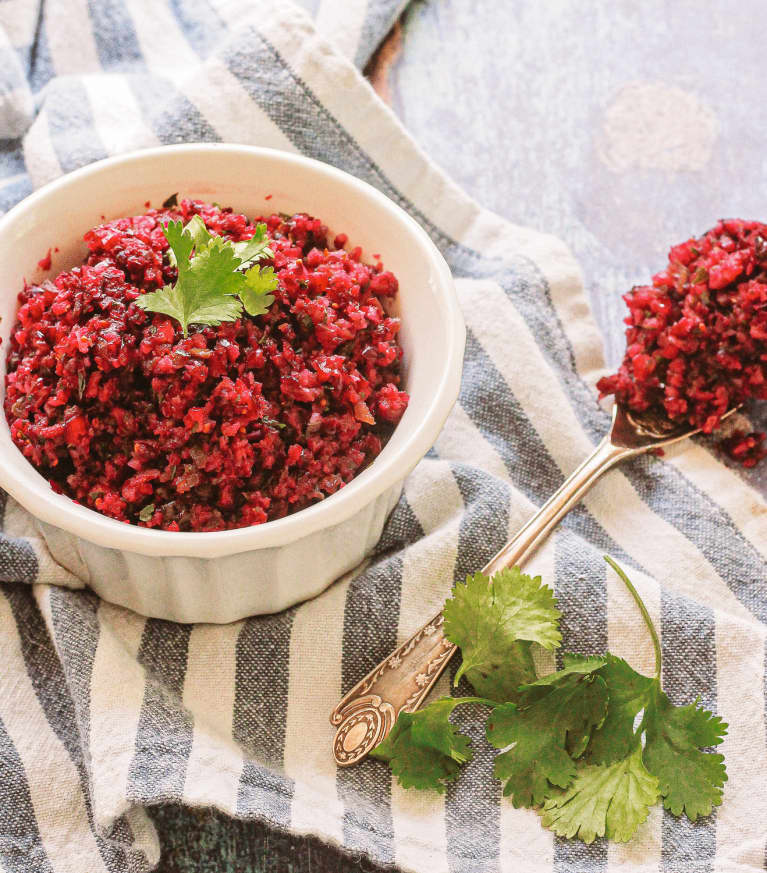 Our editors have independently chosen the products listed on this page. If you purchase something mentioned in this article, we may
earn a small commission
.
Cranberries are a classic example of how food serves as medicine. We've all heard cranberry juice suggested for bladder complaints, such as urinary tract infections. But, my friends, store-bought cranberry juice often just isn't the best answer because of the added sugar. If you are up for drinking a few shots of tart cranberry juice to relieve urinary tract discomfort, more power to you. But this spicy, tangy, fruity salsa is a perfect treat. It also brings even more medicinal benefits, including ginger, which is traditionally used by herbalists for pelvic complaints. The yogurt whey is optional; some fermentation purists argue that it is unnecessary, but I personally like the results.
Serve this salsa with corn chips or over grilled chicken, pork or even labneh—a cheese made from strained yogurt—or with cream cheese.
Fermented Cranberry Salsa
Makes 1 generous pint (about 500 g)
1 (12-oz. [340-g]) package fresh cranberries
1 to 3 jalapeños, minced
2 tbsp. (12 g) finely grated fresh ginger
2 tbsp. (28 ml) fresh lime juice
Zest of 1 lime
¼ cup (60 ml) whey drained from organic yogurt (optional—see my herbalist tips below)
½ cup (170 g) raw honey
100% cranberry juice or distilled water, as needed to cover
¼ cup (12 g) sliced scallions
¼ cup (4 g) fresh cilantro leaves, minced
Sea salt, to taste
In a food processor, pulse the cranberries until they are well minced. Transfer the cranberries to a medium-size bowl.
Add the jalapeños, ginger, lime juice and zest, whey, if using, and honey. Mix thoroughly.
Pack the mixture firmly into a quart-size (940-ml) glass jar. After a few hours, the juice should cover the mixture; if there is not enough juice, add cranberry juice to cover. Cover the jar with several layers of cheesecloth secured with a rubber band or with an airlock lid.
Ferment the salsa at room temperature for 7 to 10 days, tasting after about 5 days for preference. When you are satisfied with the fermentation, mix in the scallions, cilantro, and sea salt to taste.
Serve immediately or store it in the refrigerator for up to 1 week.
I like to add the scallions and cilantro just before serving to add freshness to the fermented salsa.
To gather the whey used in this recipe, drain plain, unflavored yogurt in a fine-mesh sieve lined with muslin or cheesecloth, over a bowl. The whey collected in the bowl is an excellent source of lactic acid bacteria, which promote fermentation. The thickened yogurt can be used as Greek yogurt or drained further for a cream-cheese-like consistency. This process can take anywhere from 4 to 12 hours, depending on the desired consistency.
And do you want to turn your passion for wellbeing into a fulfilling career? Become a Certified Health Coach! Learn more here.