Google's Top Trending Beauty Searches Are In & (No Surprise) There's Tons Of DIY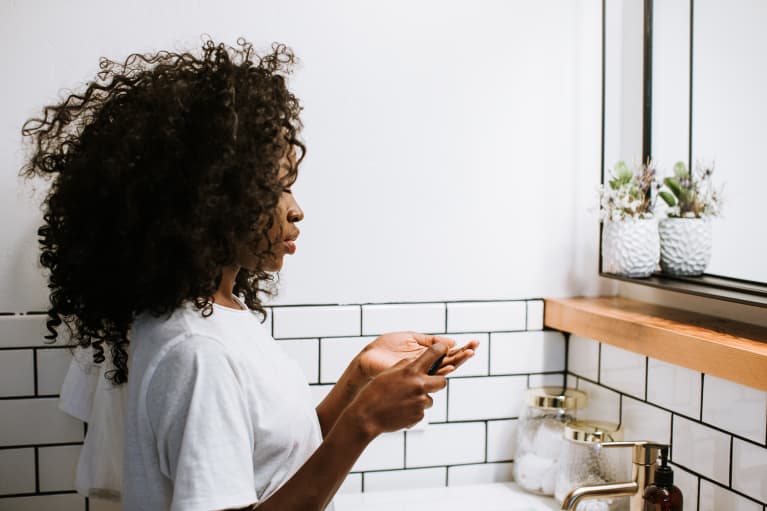 December 10, 2020 — 19:07 PM
Each year, Google's top search trends provide a snapshot into our lives—an insight into all of our curiosity spikes, news breaks, panic-searches, and everything in between. So, of course, this year's list is shaped by the pandemic: For beauty, in particular, the queries reveal an affinity for taking matters into our own hands—as we remained cooped up in our homes for the better part of the year, perhaps you, too, discovered novel ways to fulfill your beauty fix. Or, perhaps you mastered an at-home skill that would otherwise have you skipping to the salon chair. Maybe you asked your dear friend Google about it before diving straight into the venture; maybe others did, too.
Here, we break down the highlights from Google's 2020 beauty search trends:
1.
How to cut men's hair at home.
The at-home trim is already tricky to master (pro tip: invest in a pair of really good shears), but cutting men's hair is arguably much more difficult. Especially if your man sports a shorter cut—shorter hair requires more frequent trims to maintain the style, and it requires a much closer eye than, say, snipping off frayed ends. That's why stylists recommend enlisting help for the job; it's not impossible to turn your barbershop DIY, but you'll need someone to help you through the process. (Find our exact how-to guide here.)
As trips to the salon became few and far between, many decided to ditch the daily hot tools altogether and make hair health a priority. Enter: hair plopping, a no-fuss technique for bouncy, defined ringlets, sans heat styling. While any hair texture—from pin-straight to coily—can effectively plop their hair, it works best if your strands tolerate scrunching (since that's essentially what "plopping" entails). See exactly how to plop your hair over here.
3.
How to color your hair at home.
Another result of reduced salon visits? An abundance of at-home dyes. While some decided to forgo the hair color altogether, letting those silver strands weave through their roots and embracing the gray, others chose to dabble in the mighty box dye. It does take some practice to truly grasp (we suggest using a dye that washes out easily, especially if you're experimenting with a brand-new hue), but you can find all those details and the best at-home products to use here.
4.
How to wash your hands.
Of course, the handwashing queries were thrown into the mix. Before COVID, you might have scrubbed up for 30 seconds (or the "Happy Birthday" song twice) and toweled off without a second thought. But this year, as you find yourself frequently at the faucet, your paws may feel cracked, dry, sometimes even itchy. It's no excuse to stop washing your hands altogether (adhering to proper COVID safety guidelines is crucial), but it also brings up the importance of tending to your skin microbiome. Make no mistake: The right soap matters, as does your water temperature and how long you wait to slap on a hand cream.
5.
How to style curtain bangs.
It makes total sense why curtain bangs practically exploded in popularity this year: They're the most versatile type of bangs, as the fringe blends in seamlessly with the rest of your hair—perfect for those wanting to change up their look without any fear of an awkward grow-out phase. And if you're a bit timid to dive into the bang-laden waters, you can even create the beloved curtain bangs with zero chop (or hot tools!).
Think of all the benefits you get from exfoliating; now enhance it twofold. Dermaplaning essentially gently "shaves" off all the dead skin and peach fuzz clinging to your skin—as a result, your makeup looks airbrushed, your skin care products can penetrate better, and it offers an overall glow.
Plus, it's so easy to do it at home: With a disposable, handheld tool, it's a lot gentler than professional dermaplaning treatments (professionals typically use a surgical-grade blade), and there's little to no downtime involved. Just pull your skin taut, scrape downward with feathery-light strokes, and see all the gunk and vellus hairs gather up on the blade. (Find a full step-by-step guide here.)
This year, Google's beauty search trends were all about DIY. This, of course, makes sense: In a time when you might not have access to the same professionals and treatments, you might have taken matters into your own hands—perhaps you even had fun with it.