Close Banner
Advertisement
This ad is displayed using third party content and we do not control its accessibility features.
This Is What The "Perfect" Man Looks Like In 19 Different Countries

By Emi Boscamp
mbg Contributor
Emi Boscamp is the former News Editor at mindbodygreen. She received a BA in English and minors in Spanish and Art History from Cornell University.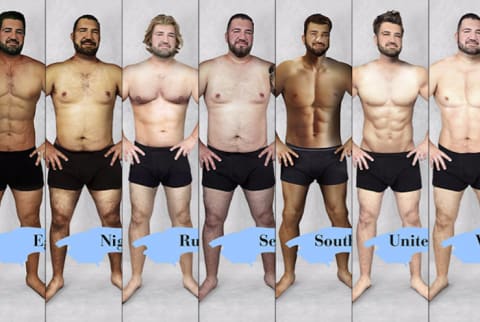 Photo by NYPhotoNY / onlinedoctor.superdrug.com
Breaking news: Body image isn't just a women's issue.
Last year, UK online pharmacy Superdrug Online Doctors launched a project called "Perceptions Of Perfection," which asked 18 female graphic designers from around the world to Photoshop a photo of the same woman with the goal of making her more attractive to the people of their respective countries.
The results were startling: Each country's representative had her own distinct take on beauty. Those from Spain and Venezuela preferred a more voluptuous body type — tiny waists, large breasts and curvy hips — while others, like those from China and Italy, idealize a body that's stick-thin all over.
Now, the same company has released Part II of the project — and this time, the subject is a man.
They asked they asked 11 female and eight male designers from all different countries to manipulate a photo of one brave New York photographer to make him more attractive to their fellow citizens.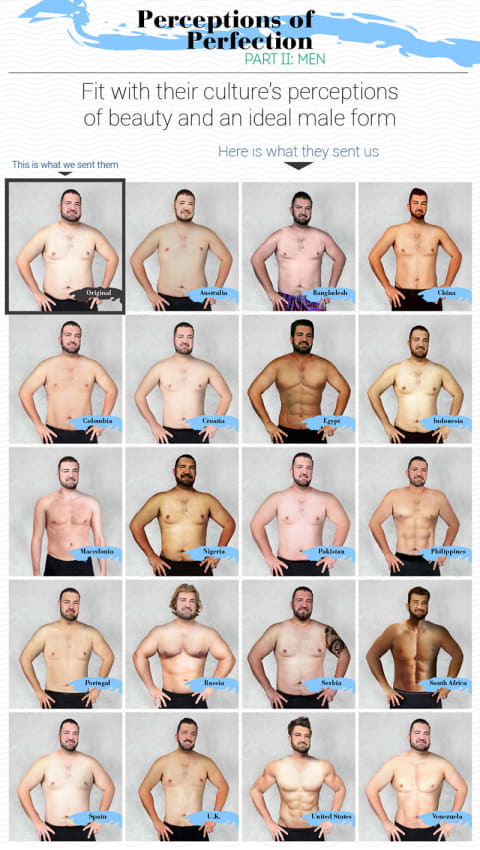 Photo: NYPhotoNY / onlinedoctor.superdrug.com
Just like in the initial female-focused project, the results show that there is not a one-size-fits-all global standard of beauty. The designer from the U.S. finds chiseled abs, arms, and shoulders attractive, whereas the one from Australia prefers what we now so lovingly refer to as the "Dad Bod."
But as the body positivity movement continues to make big strides for women, men are being left in the dust. We're seeing more and more female body diversity in magazines and advertisements, but plus-size male models are a rare sighting. Meanwhile, according to the National Association for Males with Eating Disorders, one in four individuals with an eating disorder is male, and body dysmorphic disorder in men is rampant but rarely spoken about.
By demonstrating the wide range of appearances — even in men — that the world considers beautiful, this project shows that beauty is just a societal construct. It's their hope that this will "spark real change about body image, to empower people to prioritize health above appearance, and to promote body confidence around the world."

Emi Boscamp
Emi Boscamp is the former News Editor at mindbodygreen. She received a BA in English and minors in Spanish and Art History from Cornell University. She's a writer living in Manhattan and enjoys cooking, eating, traveling, and writing about all three of those things. She loves anything pickled. And anything punny. (She's kind of a big dill.)