Fragrance-Free Shampoo: 9 Options For Sensitive Scalps

mbg Beauty Director
By Alexandra Engler
mbg Beauty Director
Alexandra Engler is the Beauty Director. Previously she worked at Harper's Bazaar, Marie Claire, SELF, and Cosmopolitan; her byline has appeared in Esquire, Sports Illustrated, and Allure.com.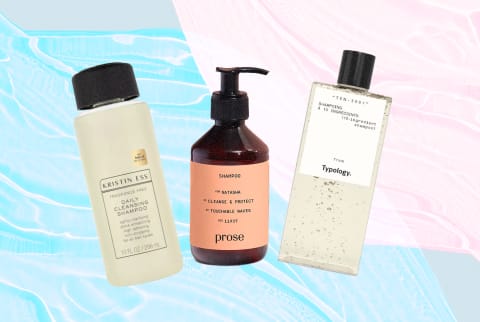 Image by mindbodygreen creative
Our editors have independently chosen the products listed on this page. If you purchase something mentioned in this article, we may
earn a small commission
.
December 15, 2020
If you have sensitive skin, you likely know that one trigger for some people is fragrance. Yes, the ingredients that perfume your beauty products may cause the skin to become itchy, inflamed, tight, ashy, or red. "[Artificial fragrance] is one of the most common ingredients to cause sensitivity, puffiness, itch, and rash," says board-certified dermatologist Loretta Ciraldo, M.D., FAAD.
Essentially, hypoallergenic and artificial-fragrance-free follow the same beat. That's why board-certified dermatologist Hadley King, M.D., says to look for "fragrance-free" on the label, in addition to the overarching hypoallergenic. "Even products that are labeled 'unscented' may still contain fragrance and can therefore still cause an allergic reaction," she advises.
Advertisement
This ad is displayed using third party content and we do not control its accessibility features.
And while many people go straight for their face creams when looking for their irritation culprits, don't overlook your hair care. Shampoos, conditioners, and styling products are commonly scented in some capacity, and thus may be the cause of your tight, itchy, and inflamed scalp—but also any irritation that shows up around the hairline, neck, shoulders, and the back (especially if you have long hair).
If this sounds like you, it may be time to look into fragrance-free shampoos. Here, nine of the best.
SEEN Fragrance Free Shampoo
This hair-care brand was developed by dermatologists, so it keeps your skin top of mind. Not only will it help keep your irritation at bay by keeping out the perfume, but the blend is noncomedogenic, so it won't clog pores. So if you find that your skin is sensitive to hair care—and you see pimples along the scalp, hairline, or back, reach for this option.
Fragrance Free Shampoo, SEEN ($29)
mindbodygreen
Prose Custom Shampoo in Fragrance Free
Because Prose is customizable, you can make their products work for you. One option they give you? Nix the scent (they have several perfume options to choose, from their signature to floral to citrusy). From there, the shampoo options take into account your hair type, density, styling routine, and so much more. You can't go wrong.
Custom Shampoo in Fragrance Free, Prose ($25)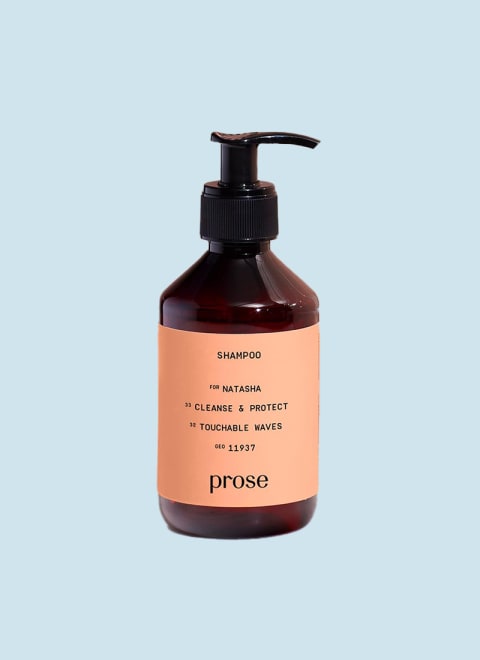 mindbodygreen
Desert Essence Fragrance Free Shampoo
Looking for high-quality organic hair care at a reasonable price? This shampoo is made with plant-based cleansers to remove oil and debris, as well as nurturing jojoba oil, organic comfrey, and organic green tea for antioxidants and strength.
Fragrance Free Shampoo, Desert Essence ($8.99)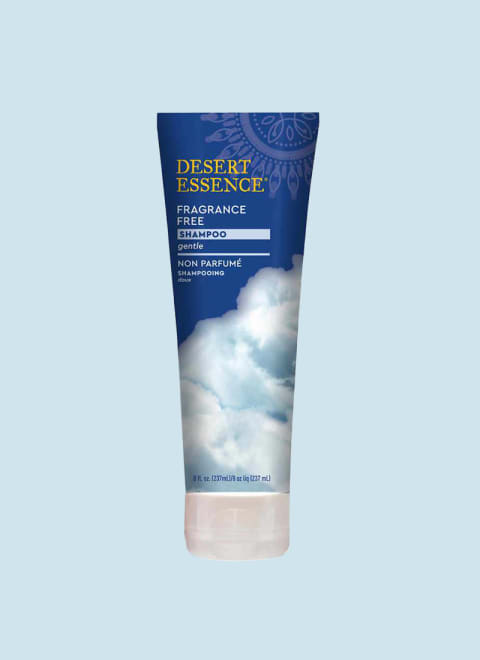 mindbodygreen
Phillip Adam Shampoo In Fragrance Free
Looking for a proper cleanse? This clean shampoo helps remove debris from the scalp and strands with apple cider vinegar, which also helps balance your pH and seals the cuticle shut so your strands are extra smooth, lifted, and shiny.
Shampoo In Fragrance Free, Phillip Adam ($12.99)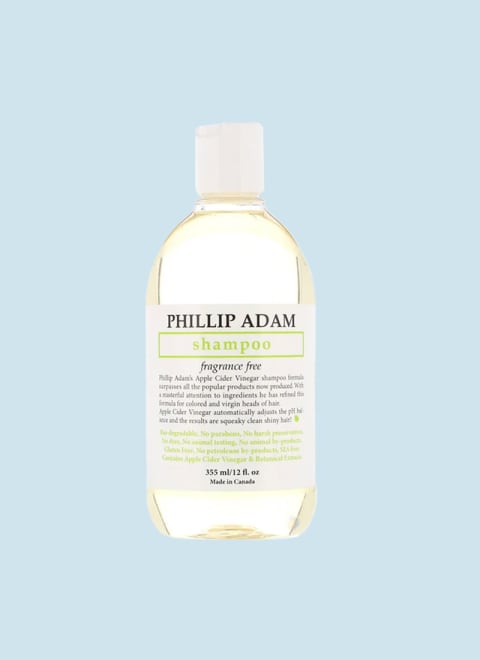 mindbodygreen
Kristin Ess Fragrance Free Daily Cleansing Shampoo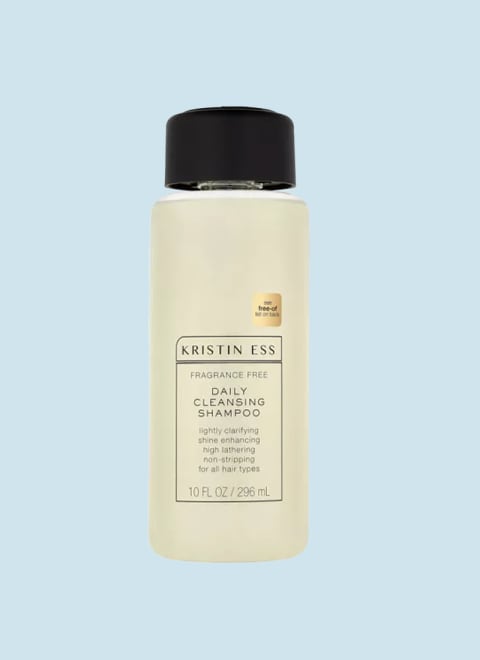 mindbodygreen
CurlMix Clarifying Moisture Shampoo
A curl-friendly blend that loads in aloe vera, making it ideal for sensitive scalps in two ways. First, it's, of course, fragrance-free. But then aloe vera is a known and beloved ingredient to soothe easily irritated skin—not to mention deeply hydrating and full of antioxidants.
Clarifying Moisture Shampoo, CurlMix ($18)
mindbodygreen
We Are Paradoxx Super Natural Shampoo
A 91% natural option, this blend is full of good-for-you herbs and botanical extracts to help give you the full-of-life hair of your dreams. Hops and nettle extracts help create bounce. Babassu oil, matcha green tea, and carrageen moss extract help give an easy, silky finish.
Super Natural Shampoo, We Are Paradoxx ($22)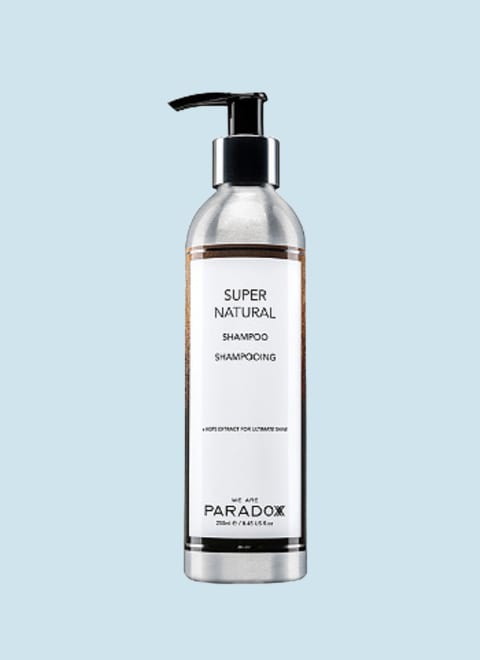 mindbodygreen
Briogeo Be Gentle, Be Kind Aloe + Oat Milk Ultra Soothing Fragrance-free Hypoallergenic Shampoo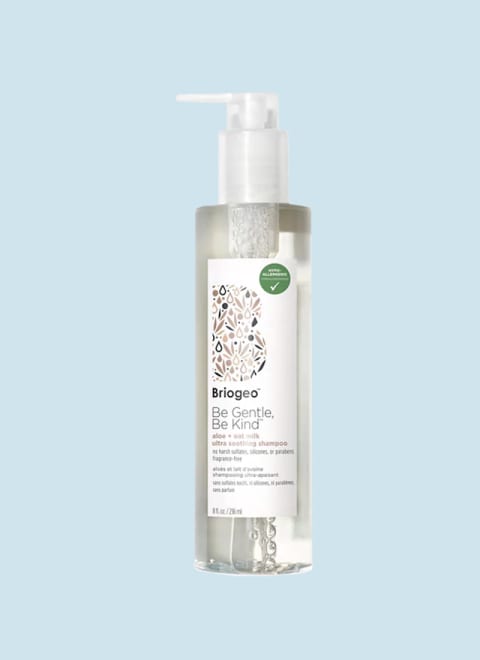 mindbodygreen
Typology 10-Ingredient Shampoo
A chic, simple shampoo that does just what you need it to—and nothing more. Not only does this not contain fragrance, but it also leaves out silicones, filler, and sulfates. But it does contain wheat proteins to help repair and protect hair fibers.
10-Ingredient Shampoo, Typology ($14.80)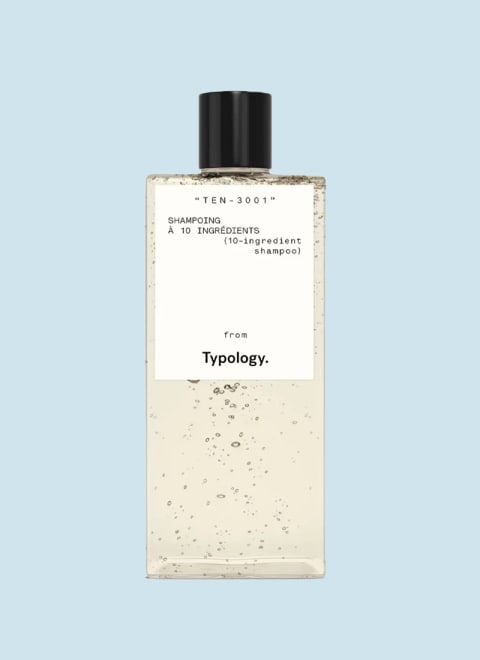 mindbodygreen
Want to turn your passion for wellbeing into a fulfilling career? Become a Certified Health Coach! Learn more here.
Advertisement
This ad is displayed using third party content and we do not control its accessibility features.

Alexandra Engler
mbg Beauty Director
Alexandra Engler is the Beauty Director at mindbodygreen. She received her journalism degree from Marquette University, graduating first in the department. She has worked at many top publications and brands including Harper's Bazaar, Marie Claire, SELF, and Cosmopolitan; her byline has appeared in Esquire, Sports Illustrated, and Allure.com. In her current role, she covers all the latest trends and updates in the clean and natural beauty space, as well as travel, financial wellness, and parenting. She has reported on the intricacies of product formulations, the diversification of the beauty industry, and and in-depth look on how to treat acne from the inside, out (after a decade-long struggle with the skin condition herself). She lives in Brooklyn, New York.