Yes, It's OK To Eat Before Yoga! 5 Foods To Enjoy
Many of my yoga students come straight after work to my afternoon classes and haven't eaten since lunch. I hear things like: I'm just not 100% there when my belly growls, but I know I'm not supposed to eat before class. I can recall countless times where students couldn't enjoy another down dog simply because they'd eaten too much.
Personally, if it's been too long since my last meal, I make sure that I charge up with a nutrient-dense and easy-to-digest food that picks me up without feeling bloated or heavy. An hour before class usually works well for me.
Eating something before class is not a crime. As a holistic health coach I teach my clients the importance of keeping the blood sugar levels balanced. To avoid mood swings and energy lows during the yoga session, I suggest to try out different eating strategies like adjusting the timing, amounts and types of food consumed and to pay attention to what works best for a straight up downward facing dog.
Here is a list of five foods that keeps you flying and focused during your next afternoon yoga flow:
Bananas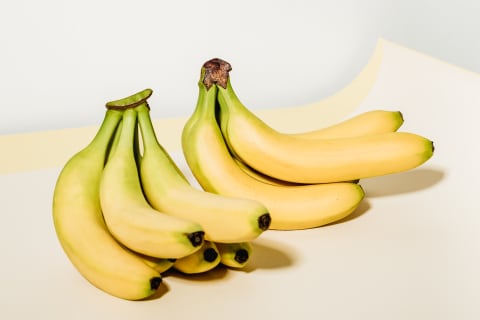 Image by Tatjana Zlatkovic / Stocksy
This sweet fruit is potassium-rich, which makes it a great pre-workout snack. Potassium interacts with sodium and keeps your body properly hydrated. The magnesium prevents cramps and bloating. It's the perfect snack for your Vinyasa class.
Almonds
These little superstars boost energy and will keep your hunger at bay. They contain potassium, magnesium, and vitamin E, helping you to stay hydrated and giving your muscles staying power. Be sure to eat the plain and unsalted version. (M&Ms almond don't count.)
Avocados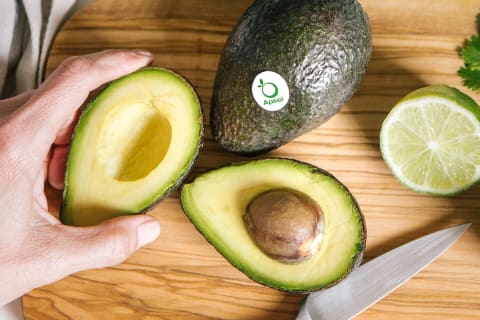 Most yogis love avocados. They contain critical electrolytes like magnesium and potassium (60% more than a banana), which contributes to proper cell and muscle function. Avocados are nutrient-dense and don't have a lot of volume, so you feel full for longer, light in triangle and strong for your handstand. Most of the fat in avocados helps to lower bad cholesterol and promote lean muscle growth. What's not to love?
Dark Chocolate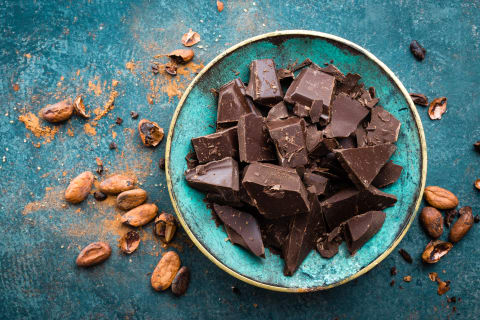 Image by Yelena Yemchuk / Getty
Dark chocolate is great for keeping your blood sugar levels in check and increasing the blood flow to your brain. Eating a little bit before class will boost your concentration and the ability to focus. It also contains phenyl ethylamine (the same chemical your brain creates to release endorphins) and caffeine, which stimulates and enhances alertness, without getting the jitters.
Smoothies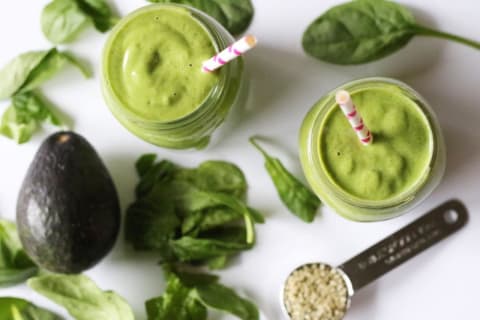 To create a light-yet-mighty elixir, simply blend all or a selection of the four musketeers (bananas, almonds, avocado, cacao) with coconut water. This will set you in motion and help you getting the most out of your practice.

Alexa Nehter
Alexa Nehter is a yoga teacher, retreat facilitator, author of THE CLEAN YOGI and keen surfer. She is known and loved for her relatable and encouraging approach to both yoga and holistic living. With her background in biological and exercise sciences, Hatha Vinyasa and Kundalini Yoga, Alexa's approach is nurturing, innovative and transformative, while teaching safe, intelligent yet intuitive alignment. Alexa leads retreats, workshops and classes in Fiji, Sri Lanka, New Zealand, Australia and Europe to inspire the fire of a joyful yoga practice and a life that is balanced, uplifting and juicy.