There's A Fashion Revolution Taking Over The Planet. Here's How To Join In

mbg Sustainability + Health Director
By Emma Loewe
mbg Sustainability + Health Director
Emma Loewe is the Senior Sustainability Editor at mindbodygreen and the author of "Return to Nature: The New Science of How Natural Landscapes Restore Us."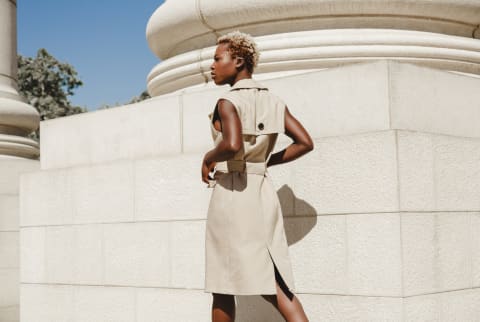 Image by Leandro Crespi / Stocksy
April 25, 2019
Six years ago, on April 24, 2013, a garment factory called Rana Plaza collapsed in Bangladesh. Earlier in the day, the building began to crack, and workers evacuated. The tragedy should have been prevented right then and there—but the workers were then told to go back inside. Their factory, which made pieces for fast-fashion brands around the world, had strict deadlines to meet.
In the destruction that followed, 1,138 workers were killed; over 2,000 more seriously injured.
Advertisement
This ad is displayed using third party content and we do not control its accessibility features.
"That was a time when most of us who were already active in the field very much felt that something had to be done," Orsola de Castro, a co-founder of Fashion Revolution, an advocacy group fighting for a more equitable fashion industry, tells mindbodygreen.
Rana Plaza was a wake-up call, but it wasn't an isolated incident. Dangerous working conditions still plague clothing factories around the world. The average price of a garment continues to plummet, leaving manufacturers looking for places to cut corners, whether it means using cheaper machinery or paying workers less to produce more.
This week, at Fashion Revolution roundtable held at 1 Hotel Brooklyn, Mark Anner, Ph.D., shed light on how the fast fashion we've all grown accustomed to is contributing to a human rights crisis.
"Production quotas used to be by the day. They are now by the hour. They go from 60 to 80 to 100 operations per hour. That's the quota to keep your job and get the minimum wage," the professor of Labor and Employment Relations at Penn State University told a room full of industry insiders. "In India, I'm hearing that workers are given a token for reaching those hourly quotas. If you get a token, that means you're allowed to go to the bathroom. If not, you need to stay and make up for it by working harder the next hour."
Fashion Revolution is working to clean up the industry. Here's how you can help.
In response to the Rana Plaza disaster, de Castro and Carry Somers, both former fashion designers, set out to raise awareness about what's going on in the industry's shadows. By encouraging people to ask one question—"Who made my clothes?"—they're spearheading a movement toward more radical transparency.
In the past six years, they've done more than just encourage conversation between consumers and brands. Fashion Revolution has worked with the U.K. government to establish stricter policies in the clothing industry, published public reviews of some of the world's largest names in fashion, and pushed brands to be more transparent about their supply chains (the latest to do so being H&M, which announced this week that its website will start listing the supplier or factories where each garment was made). Every year, their work culminates in a weeklong series of events, panels, and social media campaigns.
The Fashion Revolution Week is happening right now, from April 22 to 28, and there are plenty of meaningful ways for anyone and everyone to get involved.
"We tend to think of the fashion supply chain as something far away, but actually our wardrobes are in the chain—so it's literally every morning that we can inspire a change," de Castro explains. "We always say: Be curious, find out, and do something. It's a little bit like going on a diet. You have to look at your relationship with clothes and decide what's right for you."
How to get involved in Fashion Revolution Week, no matter what your wardrobe looks like.
Get in touch with your favorite brands.
One thing Fashion Revolution does really well is make it easier for consumers to ask questions and voice their concerns. Their website has draft language that you can copy, paste, and email to your favorite brands asking about their supply chains and purchasing practices. You can also reach out to a brand publicly on social media this week. And again, Fashion Revolution has you covered with imagery and draft messaging. Their resources are thoughtfully put together and beautifully designed, something you'd want to have gracing your feed.
Last year, almost 3.25 million people engaged with Fashion Revolution in April by attending events, posting on social media, viewing videos, or downloading their reviews. In 2019, let's get this number even higher.
Advertisement
This ad is displayed using third party content and we do not control its accessibility features.
Shop sustainably.
While the work Fashion Revolution does may seem separate from the eco-fashion movement, it's all related. "Climate change is very closely linked to people," de Castro says. A more equitable fashion industry is also a more sustainable one, so do your part to buy garments made using natural and sustainable fabrics and dyes and take care of them in a way that won't damage the planet.
Make sure your clothes go the distance.
According to Orsola, the most sustainable thing you can wear is what's already in your closet. Buying new pieces every season based on what's trending only exacerbates the problem. We'd be a lot better off buying fewer new clothes, so fall back in love with what you already own by mending or repairing, supporting your local secondhand shops, and swapping clothes with friends.
Let's do the world a solid and dress for the future we want to see.
Advertisement
This ad is displayed using third party content and we do not control its accessibility features.