This Report Reveals The Dangers Of Formaldehyde. Here's How To Avoid It
Contributing Food Editor
By Liz Moody
Contributing Food Editor
Liz Moody is a food editor, recipe developer and green smoothie enthusiast. She received her creative writing and psychology degree from The University of California, Berkeley. Moody is the author of two cookbooks: Healthier Together and Glow Pops and the host of the Healthier Together podcast.
Medical review by
Heather Moday, M.D.
Allergist & Immunologist
Heather Moday, M.D. is the founder of the Moday Center for Functional and Integrative Medicine in Philadelphia, where she practices both traditional medicine and integrative medicine.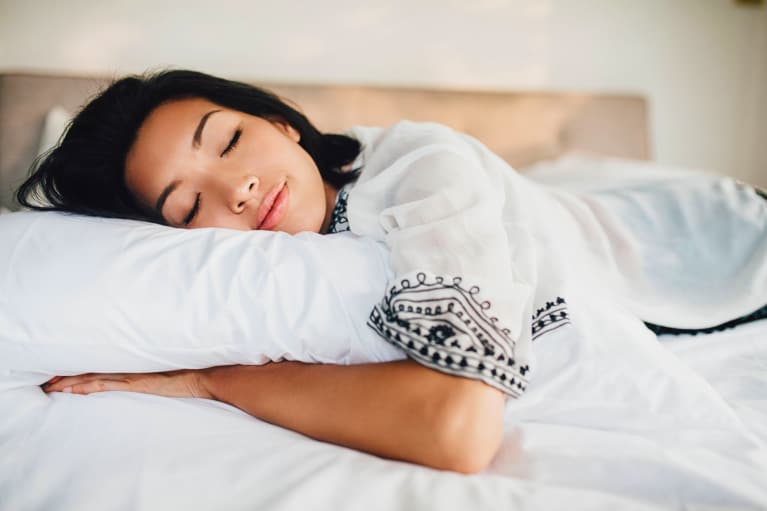 Our editors have independently chosen the products listed on this page. If you purchase something mentioned in this article, we may
earn a small commission
.
Last updated on September 18, 2019
If you've been following the news, you may have seen Politico's explosive new report, which details how the current government administration is suppressing an Environmental Protection Agency report that links the inhalation of formaldehyde with an increased risk of developing leukemia, nose and throat cancer, and other illnesses, according to two unnamed current and former officials involved with the EPA.
Here at mbg, we've long warned about the dangers of formaldehyde, and how difficult it can be to avoid the chemical, since it's often found in resins for pressed-wood products and in preservatives for cosmetics and hair-straightening treatments. The EPA itself acknowledges how common it is on its own website, stating that "everyone is exposed to small amounts of formaldehyde in the air that has off-gassed from products, including composite wood products." The National Toxicology Program, made up of the National Institutes of Health (NIH), the Centers for Disease Control and Prevention (CDC), and the Food and Drug Administration (FDA), has declared that formaldehyde is "known to be a human carcinogen."
Regardless of the EPA's next steps, you can take control of your own health by limiting your formaldehyde exposure as much as possible.
These are common places formaldehyde is found and some easy formaldehyde-free alternatives:
Sheets labeled "wrinkle-free," "easy care," or "permanent press" were likely treated with formaldehyde resin. Look for brands like Boll & Branch or Coyuchi, which make chemical-free options—especially important because you'll be spending up to eight hours of your day curled up in these.
"The majority of mattresses on the market are made from polyurethane foam based on petroleum chemicals, so it can off-gas volatile organic compounds, which can cause respiratory irritation, skin irritation, etc.," Environmental Working Group senior scientist and co-author of the group's Healthy Living Home Guide Tasha Stoiber told mbg earlier this year. One study found that babies are particularly susceptible to these chemicals, and their cribs may be the source of up to 30 volatile organic compounds (VOCs) that run the gamut from phenols (often used as antiseptics) to formaldehyde. The EWG's top choice is 100 percent natural latex foam, which is extracted from rubber trees and isn't treated with as many chemicals as polyurethane during manufacturing. Brands like Spindle and Avocado Green Mattress make good options.
Formaldehyde is often part of the glue that holds particle board together, making it fairly common in lower-quality furniture, including tables, chairs, dressers, bed frames, and couches. The best way to avoid formaldehyde in your furniture is to eschew particle-board furniture altogether, opting instead for anything labeled "real wood." IKEA has some good options, and antiques stores are both fun to scour and sources of great deals. You can also buy high-quality used furniture on sites like AptDeco—even if it's made from particle board, it will have already off-gassed some of its dangerous compounds. Plus, it's better for the environment!
Similar to sheets, clothing is often treated with formaldehyde to become "wrinkle-resistant" or "stain-free." Avoid clothing with these designations, and consider buying organic fabrics when possible (H&M has some great, wallet-friendly options). You can also buy used clothing, which is far less likely to off-gas chemicals and is better for the environment.
Brazilian blowouts made headlines recently when they were found to contain high levels of formaldehyde, and there's evidence that newer, formaldehyde-free treatments aren't much better. Traditional nail polish also often contains the chemical compound. Short of embracing your natural hair texture, there's not much you can do about the straightening issue—we haven't yet developed a truly eco-friendly way to change hair texture. For nail polish, though, there are tons of bright, trendy colors in "five-, seven-, or nine-free" (referencing the number of chemicals excluded) formulations—check out brands like Pacifica and Butter London.
Want more ways to detox your home? We rank the top 8 here.