Is 2021 The Year You Start A Collagen Routine? 7 Simple, Easy Ways Experts Love Taking The Supplement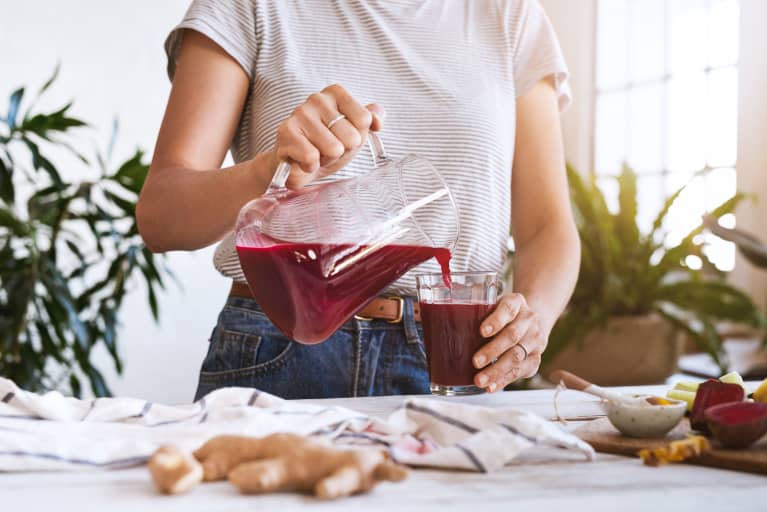 The great thing about collagen supplements is there are endless possibilities and ways to add it to your routine. Like to keep your morning routine simple and fuss-free? It's as easy as dissolving a few spoonfuls into your brew. An avid baker who is looking for healthy ways to upgrade their recipe? There are countless breads and desserts to try.
The best part is that no matter your routine, you can feel good about how you are supporting your skin and body. Collagen supplements have been shown to help the body in a variety of ways, from enhancing natural collagen and elastin production to helping the gut, supporting joints and muscles, and managing digestion.*
So if 2021 is the year you've decided to add a special spoonful of skin-supporting supplements? Well, we rounded up several ways our favorite experts love taking theirs—from easy daily recipes to special occasion cocktails or sweets:
Our sustainability and wellness editor Emma Loewe blends her collagen into an antioxidant-packed smoothie, made with frozen berries, spinach, and warming spices. "It's a decadent, rich, and delicious way to start the day or enjoy a midday snack. Since I've started making this part of my go-to morning routine, my skin looks and feels more hydrated, and my locks appear shinier and more nourished, even though I haven't changed any other part of my hair care routine,*" she writes about the blend. If you want her go-to recipe, check it out here.
2.
Refreshing smoothie bowl
Smoothie bowls make for a lovely hybrid snack or meal option: They're light and refreshing (like a smoothie) but usually come with a bit more sustenance (via toppings) for those who feel that a blended drink won't cut it. This tropical smoothie bowl, formulated by recipe developer Tyna Hoang, uses tons of fresh, decadent fruits, but feel free to play around with yours. If you don't have all the same toppings or would rather swap in another frozen fruit, by all means! Think of this as a guided suggestion, which you can riff on. The real mainstay is the power-packed collagen powder; as long as you've got your two scoops of that? You can glow on.
There's a reason breakfast breads became so popular of late: They're comforting, delicious, easy to add in nutrients, and perfect for making on the weekends for your weekday needs. "This collagen powder banana breakfast bread is made with simple, nourishing ingredients and supercharged with collagen," writes registered dietitian Maggie Michalczyk, R.D., founder of Once Upon A Pumpkin, about her go-to breakfast bread recipe. "The recipe is gluten- and dairy-free, low in sugar, packed with healthy fat and fiber—and an added dose of amino acids and antioxidants thanks to the collagen. With breakfast, as a snack, or as a treat, you can know you're not only comforting your body, but you're taking care of it too."
Social media is ripe for creating fun food trends—this year, we definitely saw that with focaccia art, interesting takes on sourdough, and whipped coffee. Well, don't be shy about adding collagen to your favorite viral sensations. Take this whipped coffee, for example—a playful upgrade on the year's favorite drink. "You can totally make this elevated whipped coffee at home with just a few simple ingredients—all it takes is a few tweaks, and it can easily brighten up your morning," writes Michalczyk. "Taking a few minutes to make one (for you and your family, perhaps) can add a little more joy to your cup of joe!"
Let's say you're like me and prefer a less-is-more approach to your morning routine. Well, the good news is that adding in collagen literally takes no more work than scooping out two spoonfuls and mixing it into your coffee. Take it from someone who opts for the bare minimum nearly every single morning: If I can add collagen to my routine, you can too.
6.
Playful evening cocktail.
Now if you're really looking for a way to have fun with your collagen, look no further than a cocktail. This watermelon-berry collagen marg from Jessica Cording, M.S., R.D., CDN, is tangy, sweet, and oh-so-refreshing. "Watermelon is such a refreshing treat, and the frozen berries add a nice flavor, texture, and gorgeous color, plus more antioxidants and fiber—who doesn't want that?" she says.
Here's an excuse to eat dessert more regularly: "The secret of this chocolate mousse will surprise you: The base is avocado! It's creamy and rich, but the best part is that you can't really taste the avocado at all. This mousse is so delicious, you might forget you're actually reaping amazing health benefits, too," writes Mascha Davis, R.D., MPH. "With the addition of collagen, you're amping up the nutrient profile and transforming this dreamy dessert into a satisfying, collagen-packed snack.*"