We Searched High & Low: These Are The Easiest Nail Art Designs For Beginners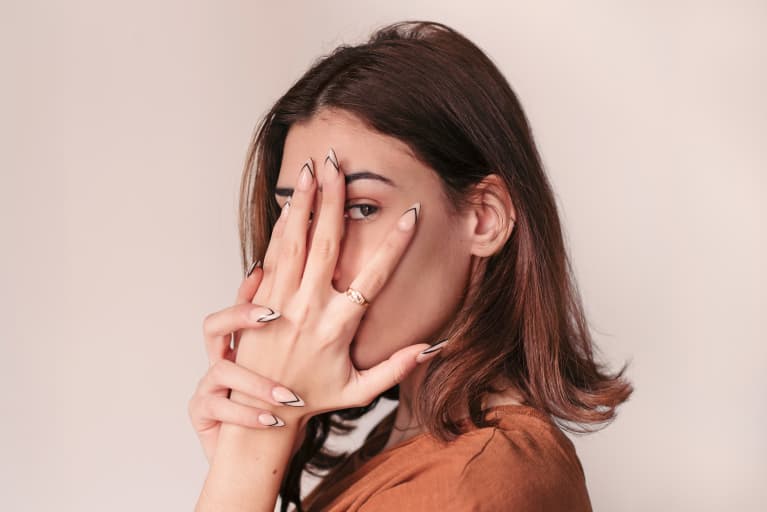 Our editors have independently chosen the products listed on this page. If you purchase something mentioned in this article, we may
earn a small commission
.
The term "easy nail art" is somewhat of an oxymoron. For those who have quivering, unsteady fingers (self very much included), adorning the tiny nail plate can sound pretty daunting—and to decorate with your nondominant hand? Forget it.
Amateur illustrators, I'm right there with you: So I reached out to a few experts to determine whether we beginners can really create bold nail art designs without streaks and splatters across our digits. And, well, my aptly painted fingers and I are happy to report that these simple designs can help you achieve nail art success.
Now, before attempting any of these techniques, you'll want to have your nails primed and prepped. Meaning: Clip, file, shape, cuticle oil—all of your basic nail maintenance. See here to learn how to care for those tips and here to learn how to finesse your desired nail shape.
OK! Onto the artistry. Below, we've rounded up three expert-looking nail art designs that truly anyone can master.
The multicolored French mani.
A striking twist to the chic French mani: still classic and clean, with a pop of color to add some whimsy. Here, Amy Lin, the founder of sundays—a nail care brand focused on wellness—walks us through.
Nail art brush (optional)
Wooden stick
Polish remover
Top coat
Base coat
A minimum of 2 polish colors
Paint one layer of any base color (either an opaque shade or clear base coat). We love this Nail Strengthening Base Coat or this crisp white shade from sundays.
If you do choose to use an opaque color for your base, Lin suggests applying two coats of polish, waiting at least 3 minutes after each layer. "After that, wait at least 10 minutes before moving on to the French tips," she notes, lest you smudge the foundation.
Once your base coat dries, choose another polish color and paint a thin line at the end of your nail from one side to the other in one smooth stroke—the end result should resemble a tiny half-moon. "Imagine you're lightly pressing the tip of your polish brush and sweeping it from one side to the other," says Lin.
Either use a small nail art brush or the tip of your standard polish brush to achieve that thin line. You can also opt for nail tape (like these polish guides from Orly) to help outline the shape—just make sure your base coat is completely dry before you stick them on.
Repeat on all your digits, switching up the colors if you so choose. "If the tip colors are not visible, you may come back and apply a second layer," says Lin.
If you mess up, Lin suggests cleaning up any errors with a wooden stick (or toothpick) dipped in polish remover.
Finally, apply a clear top coat for a lacquer-like finish. "You should apply at least two coats and wait at least 3 minutes for each layer to dry," says Lin.
If painting precise, tiny strokes proves too intricate, you're not alone. That's why Rachel James, founder of the vegan, cruelty-free, and 10-free nail brand Pear Nova, touts this polka-dotted mani—stamping down a few spots sounds much easier than wielding the paintbrush, no?
Small pieces of tin foil
Ballpoint pen (preferably dried-out), or a bobby pin, or a chopstick. Anything that can create tiny dots.
Base coat
Top coat
Polish shade(s) of your choice. We love the contrast of the tangerine shade with this periwinkle hue from Pear Nova.
Sweep on a clear base coat. You can then either apply a base polish color or stick to a clear nail for a negative space mani. If you do choose a color for your base, apply two coats of polish, waiting at least 3 minutes after each layer.
Once the base completely dries, dribble a polish color of your choice onto a piece of tin foil (tin foil works better than a paper towel, as the latter can soak up the pigment). If you want multiple colored dots on your nail plate, drip each shade onto separate pieces of tin foil so the colors don't bleed together.
Dip your dotting tool (pen, bobby pin, chopstick, etc.) into the polish. "Dip lightly for a smaller dot, heavy for a larger dot," says James.
Dot the polish onto the nail with light pressure. Be sure to dip into the polish again before each dot for the most color payoff and clean your dotting tool before switching colors.
Repeat on all of your digits and finish with a top coat. Let air-dry completely.
If you have the polka dot technique down to a T, try this evil eye design to punch up your skill set. Mytien Le, a nail specialist at sundays, says it's oh-so-easy to master, even for nail art novices.
3 nail dotting tools of different sizes (ballpoint pen, bobby pin, chopstick, etc.)
Small plate (or tin foil)
Base coat polish
White polish
Black polish
Blue polish
Top coat polish
Apply your base coat and let it dry for a moment before painting on your first coat of white paint. Allow the polish to dry for 3 minutes between coats.
After painting your digits white, let your nails dry for 5 to 10 minutes before attempting the nail art—otherwise, your base color will dent or two polish colors will bleed together.
Grab your three nail art tools, ideally all different sizes. A dotting set (like this option) might make the job a touch easier, but you can use a chopstick for the biggest dot, a ballpoint pen for the medium-sized dot, and a bobby pin for the smallest dot.
Grab a small ceramic or glass plate to use as a palette (or tin foil, like in the previous tutorial), and dot a heaping glob of each color onto the surface. You should have a blue, black, and white spot—make sure they don't fuse together.
Dip your largest dotting tool into the blue polish, and gently dot the color onto the nail plate. Then dip your medium-sized tool into the white polish and create a smaller white spot on top of each blue circle. Finally, dip your smallest tool into the black polish and lightly tap it on each white dot to create the pupil.
Repeat on your other nails, if you like: You can either choose one finger to feature the evil eye, or you can stamp one (or multiple) on each nail—artist's choice.
Let your fingers dry for at least 5 minutes, then apply a glaze of top coat.
No need to fear intricate nail art designs: These three techniques are simple yet chic—perfect for beginners to master.