This 'Pore Vacuuming' Facial Before & After Is Pretty Dramatic
Contributing Wellness & Beauty Editor
By Lindsay Kellner
Contributing Wellness & Beauty Editor
Lindsay is a freelance writer and certified yoga instructor based in Brooklyn, NY. She holds a journalism and psychology degree from New York University. Kellner is the co-author of "The Spirit Almanac: A Modern Guide to Ancient Self Care," with mbg Sustainability Editor Emma Loewe.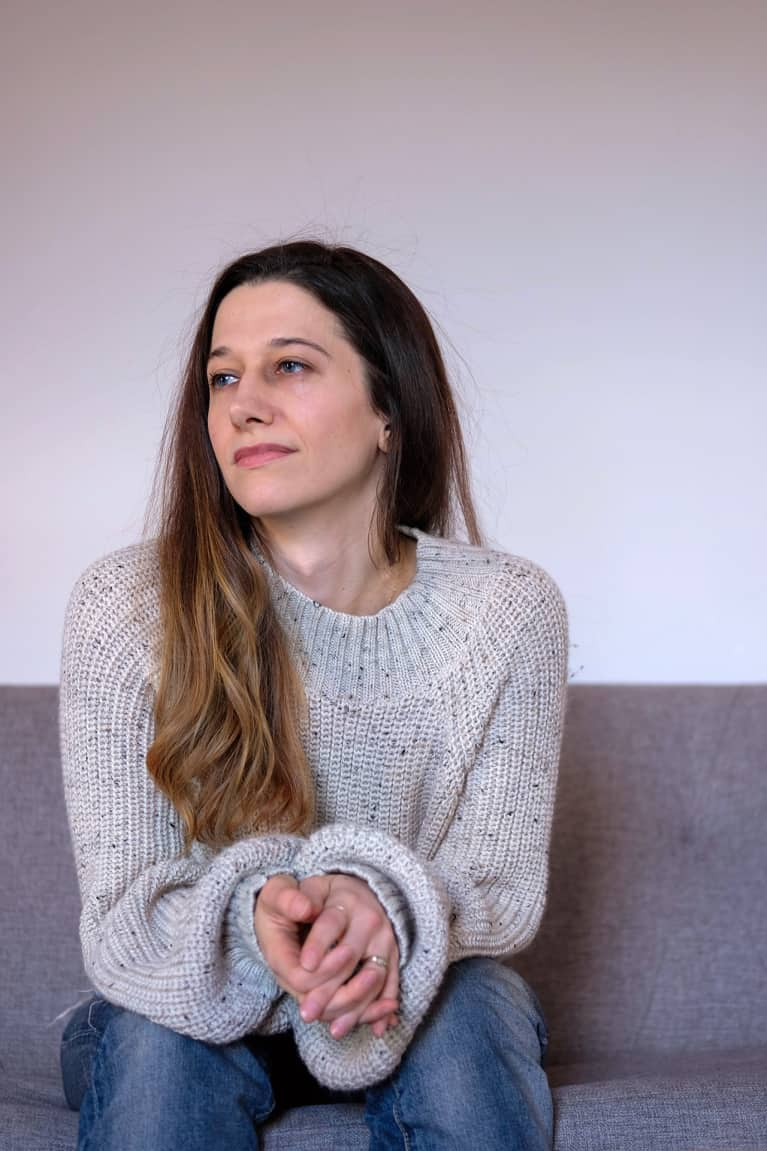 I arrived at GLO Skin & Laser with anticipation, having seen the buzz on social media—the famously satisfying "pore vacuuming" treatment that comes with a very special parting gift. When it's over, you get to see a vial of the gunk extracted from your face. If ogling at the blackheads, dead cells, and other floaty bits the skin forfeits during a dermalinfusion session is wrong, I don't want to be right. Sensitive stomachs, take heart—looking is not a requirement. You can experience the facial and all its benefits and skip the reservoir viewing. It's simply an option that people prone to picking will likely appreciate.
The spa I visited is in New York City's Financial District, tucked away in its own cozy corner of a towering office building. While it was on the small side, the space was clean and inviting as were the people who work there. It was like a modern version of a med spa: clean, minimalist, and efficient.
What is dermalinfusion, and why is it so trendy?
The facial started with a standard milky massage-driven cleanse that prepped the skin for what was about to happen: dermalinfusion. Essentially, a dermalinfusion is a special type of microdermabrasion. Instead of the standard microderm treatment, which entails blasting the face with micro crystals to remove dead skin and grime on the surface, and vacuuming it all up, the machine also infuses the skin with a serum at the same time. New, fresh skin that's revealed in the process is targeted with said serum, which is chosen by the esthetician depending on your personal skin concerns and how it looks that day. Mine was a hydrating one.
I was excited about this because I'm a big fan of facials that don't include extractions. I love a clean face—don't get me wrong—but if the main goal of a facial is glowing skin that's not too red or irritated, many estheticians miss the mark. They do too many, go too hard, or potentially worsen the situation. I was hoping that dermalinfusion would be the happy medium I've been looking for.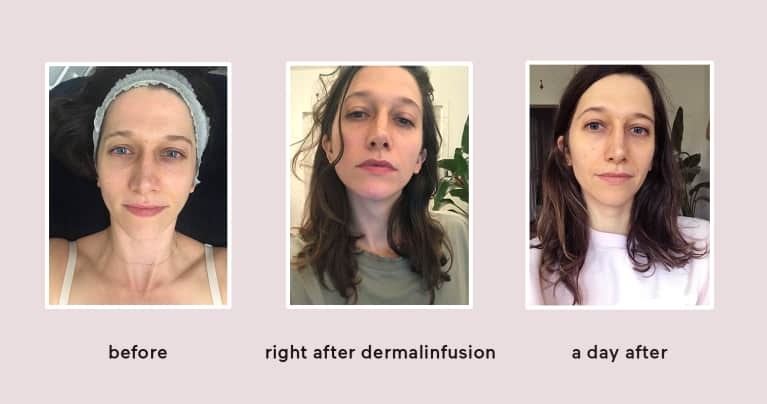 Dermalinfusion—the play by play.
The facial was booked for an hour, and the dermalinfusion itself lasted 30 minutes. Not one square centimeter of real estate was spared. Using the wand, she started with the larger less sensitive areas of my face like the chin, cheeks, forehead, and neck. After adjusting the crystals to a more sensitive setting, she followed the contours of my nose, the eye area, and even traced over my lips. It didn't hurt or sting at all. In fact, the only mildly unpleasant sensations during treatment were the sound of the machine (it was loud but almost soothing in a white noise way) and the feeling of serum dripping down my face, which happens all the time, according to my esthetician.
She asked me if I was claustrophobic. I shook my head, and she proceeded to drape a thin sheath of gauze over my entire face, eyes, nose, lips included. On top of that, she put a beautiful hydrating, calming rose mask that stayed on for about 10 minutes. I wish she stayed in the room during that time, but I think she was alone manning the front desk too, so she didn't. Once the mask gelled, she came in, used towels to remove the remnants, and proceeded to do a facial massage with serum and moisturizer. It felt wonderful.
The pros and cons you need to know before booking.
To be frank, it's not the most relaxing facial—there are relaxing elements, but I recommend dermalinfusion for anyone with a dull complexion looking for some pep and clarity. While I don't think it could "replace" classic extractions (a few larger whiteheads remained in better shape but intact), the dermalinfusion definitely brightened my complexion, took care of a few smaller blackheads, cleared the hard-to-get pores around my nose, and, perhaps most notably, plumped up my lips. They're filler-free in the before and after, but the difference in size is dramatic. The fully realized results took about a day to settle in, but all in all, I was impressed with the results and would definitely do it again.